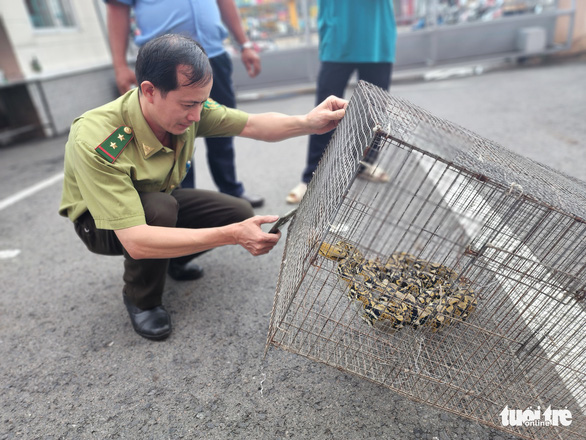 Forest rangers arrive at Duong Van Thi High School (Thu Duc City) to receive the brocade python – Photo: NGOC KHAI
On September 23, the Ho Chi Minh City Forest Protection Department said that this unit has just received a brocade python assigned by a security guard of Duong Van Thi High School (Tang Nhon Phu A ward, Thu Duc city).
Mr. Nguyen Trong Nghia – the school's security guard – said that in the morning of September 21, Mr. Huynh Hoang Tuan (a colleague of Mr. Nghia) heard the dog barking, went to check, and discovered the python was wrapped around a bonsai. in the school lobby.
Mr. Tuan called another person to help catch the python and informed the school administration. Ms. Pham Thi Tinh – vice principal – said that the school as well as the security guards wanted to hand it over to the HCMC Forest Protection Department.
On the afternoon of September 22, the rangers went to the school to receive the python.
Initially, the rangers identified this as a brocade python, gender: female, about 2 meters long, weighing about 5kg, scientific name is Reticulated Pythonbelongs to group IIB in the list of rare and endangered forest animals.
The school guard said this python crawled into the school from outside.