Among the new champions added to Teamfight Tactics season 7.5, Seraphine is probably the most underrated chess piece. This is not only a shield support champion, but also helps your whole squad deal a lot more damage. If used well, Seraphine also helps you climb the rank extremely quickly.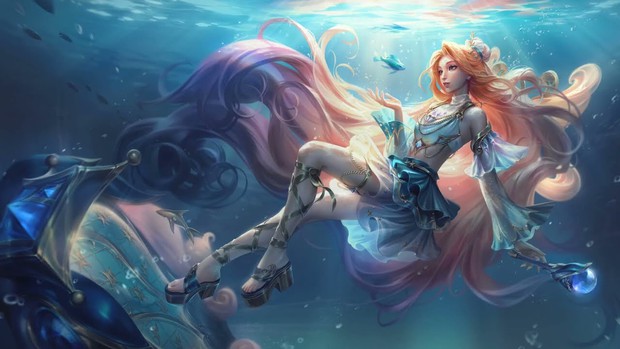 Seraphine is considered an extremely strong champion thanks to its ability to greatly increase damage to the squad
And after just a few days of season 7.5, the Tactics players finally found a way to make the most of Seraphine. Let's find out how the squad around Seraphine is built for maximum efficiency.
Starting the game, you should find a way to build a balanced squad between the front and back lines. For example, a squad of 2 Gladiators or 2 Guardians comes with 2 Archers or 2 Gunners to ensure resistance as well as output damage. Ideally, you should be able to activate the 3 Water Dragon milestone early, but this is not mandatory and you should only do it when you are too lucky.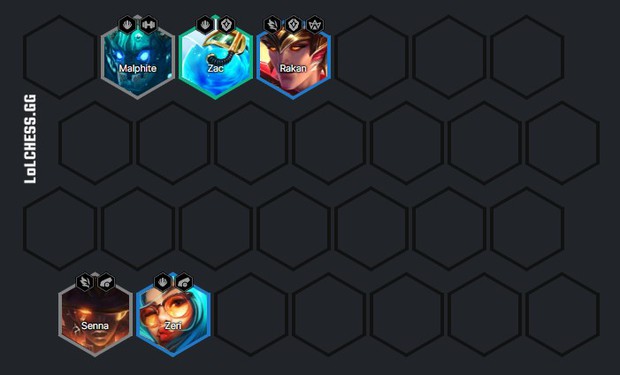 The lineup you should aim for in the early game
Going to the mid game, you should consider improving the quality of the squad by adding strong champions like Zeri, Aphelios, Zyra in the backline. For the frontline generals, Zac is the key piece, you can combine it with Leona, Braum to ensure resistance. Of course, you also need to buy as many Seraphines as possible at this stage.
At level 7, the players recommend that you stop to rotate the shop to upgrade the squad to 2 stars with the goal of keeping blood in the most effective way. Even with luck, you can find important 4-star pieces like Pantheon and Graves. These are champions that combine extremely well with Seraphine when they activate this champion's damage increase effect many times.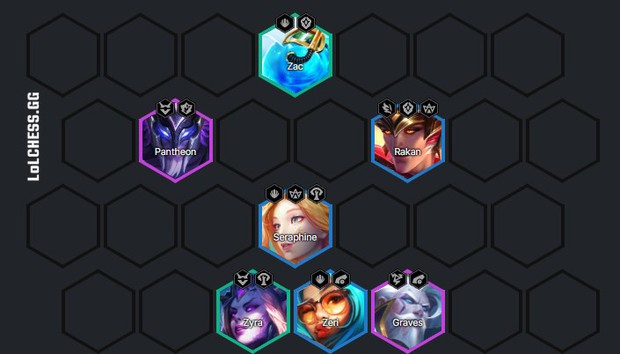 Very strong squad at level 7 that gamers should build
After that, you will continue to keep gold and go up to level 8 to add expensive generals with high versatility to end the game. You can even add Yasuo to the squad if you feel you are still burning damage and need a solution to the opponent.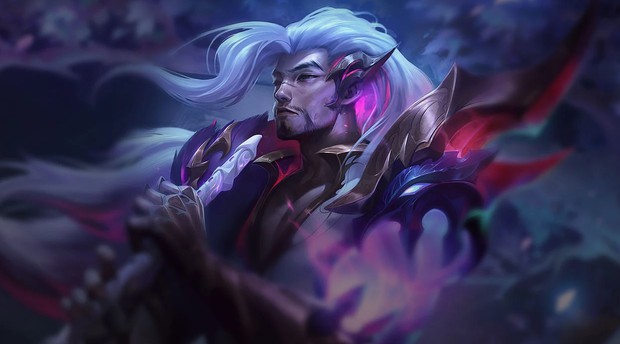 Yasuo is always a very strong supplement at the end of the game
As for the technology core, this squad uses a lot of Zeke Flags, so the Unity Strength core is extremely important. In addition, cores that add energy like Super Tech Intelligence or heal with Loots are also very good for this squad. You can use Trading Zone cores to save money on Seraphine upgrades.
In terms of equipment, the Zeke Flag is the most important item for this squad, you should pair it as much as possible and give it to Zeri. Next, resistance items like Zz'Rot Tong, Ice Armor… are also extremely necessary to help frontline champions better withstand. For Seraphine, Morello's Demon Book and Shojin's Spear will be the most necessary items.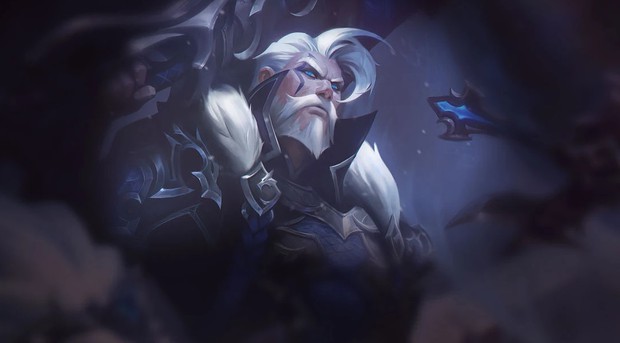 In addition, you should also pair a Dark Cloak for Graves