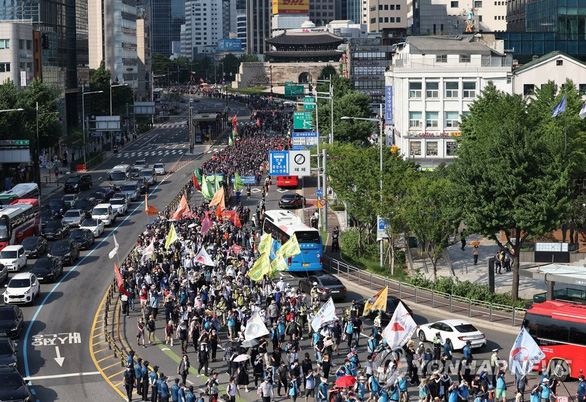 The group of protesters marched along Sejong Avenue in Jung-gu, Seoul under the sun of more than 33 degrees Celsius at noon on July 3 – Photo: YONHAP News
Newspaper Chosun Ilbo On July 4, it was reported that thousands of laborers as well as members of the National Construction Workers Union of KCTU held a protest at the square in front of Seoul City Hall in Jung-gu, Seoul capital. at 3:30 p.m. on July 3.
At the same time, several unions belonging to the Confederation of Trade Unions of Korea, such as the Public Transport Union, the Construction Union, and the National Courier Union, also held small demonstrations in the area near the City Hall station. at 12 noon (local time).
Protesters held up banners calling on President Yoon Seok Yeol's government to quickly come up with measures to improve workers' rights, ensure working conditions and increase the minimum wage for workers. labor in the context of increasing inflation in this country.
Protesters marched around the area where the Presidential Office is located and dispersed at 4:30 pm on the same day.
Earlier, at noon on July 2, more than 60,000 people held another protest at the square in front of Seoul City Hall.
This is one of the biggest protests in the last 7 years. The last large-scale protest took place in November 2015 to protest against a series of government policies under President Park Eun Hye. There are more than 80,000 people participated in this protest.
The events of July 2 and 3 were also the first large-scale protests organized by KCTU since President Yoon Seok Yeol took office on May 10.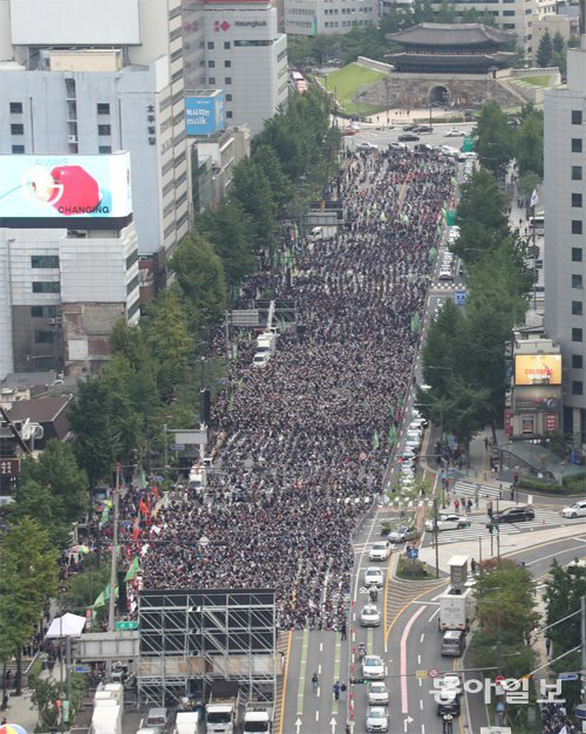 Crowds of protesters gathered on the streets near Seoul City Hall, causing traffic jams in the central Seoul area from 10 am to more than 4 pm on July 2 – Photo: donga ilbo
In addition to the issue of raising the minimum wage for workers, KCTU is also criticizing and strongly opposing the 52-hour work week policy that has just been set out by President Yoon's administration when announcing economic policy directions on June 24.
In fact, the 52-hour work week proposal was introduced in 2018 under the administration of former president Moon Jae In, but was criticized by some for not meeting the needs of both businesses and workers. .
Earlier, the Korean police side issued a notice banning all KCTU gatherings and will mobilize all available police forces to deal with unauthorized protests.
However, the day before the protest in front of Seoul City Hall on July 2, the Seoul city government allowed KCTU to hold a conditional protest, with the requirement to register the number of participants. love as well as the roads will organize marches.