The guy in his 30s is a huge fan of the professional baseball team Hanwha Eagles. He revealed his strategy after completing 90 minutes of competition and was named the winner. "I've been a Hanwha fan for 10 years, so I just need to naturally focus on watching Hanwha's match.".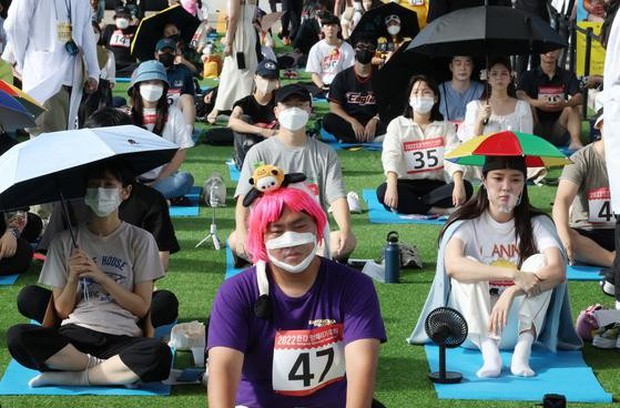 The contest requires participants to sit on the grass and do nothing. They were asked to say nothing, keep their eyes fixed on the space in front of them, and remain that way for the duration of the test. Event organizers will measure each participant's heart rate every 15 minutes, along with audience votes, and then choose who has a stable heart rate to win.
This year's competition took place at the Jamsugyo Bridge, located just below the Banpo Bridge, connecting the Yongsan district in central Seoul and the Seocho district in southern Seoul.
A total of 3,800 people participated in this year's competition, including high school students, small business owners, police officers and even celebrities.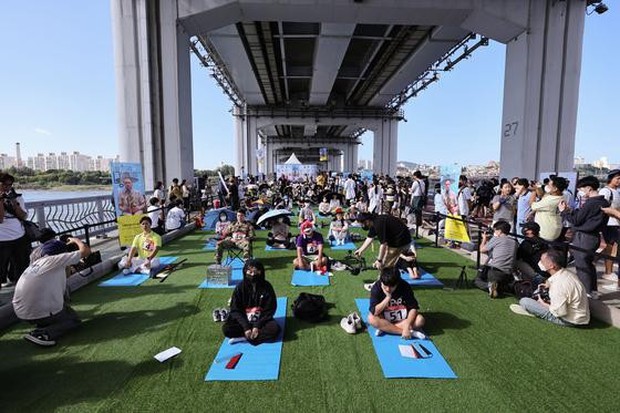 The contest attracts a large number of young people to participate
Actor Um Hyeon-kyung who attended the recent event said: "I can sit idle for 24 hours. My strategy is to get my heart rate high at the beginning and slowly bring it down.".
The sit-in contest began in 2016 to protest against the notion that not doing anything productive is a waste of time. This year's competition was originally scheduled for September 4 but was postponed due to Hurricane Hinnamnor.
According to JoongAng