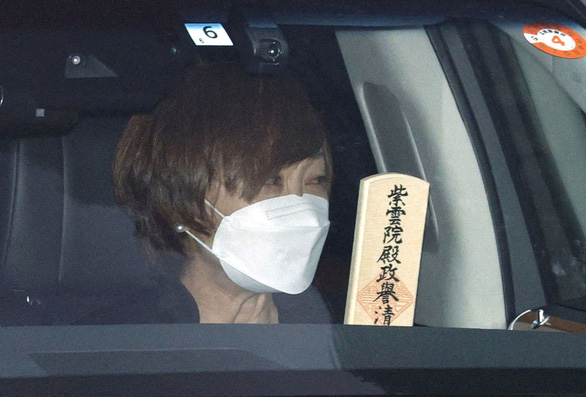 Akie carrying her husband's tablet in the front seat of the car carrying the casket of the late Prime Minister Abe on July 12 – Photo: REUTERS
Sheet Asahi Shimbun Japan said it was a minor collision and did not appear to be intentional. The incident happened on the morning of July 25 at the Miyakezaka intersection, Tokyo.
According to Tokyo police, when the vehicle carrying Ms. Akie was slowing down to merge into another lane, the police escort vehicle behind crashed into the rear of the vehicle carrying Ms. Akie.
The male police sergeant driving the car later admitted that he was not paying attention and was distracted, leading to the collision.
Tokyo police pledged to guide police officers more carefully to avoid similar incidents.
A video on Japanese television showed the two cars colliding within a few meters of each other, and the damage was barely noticeable without a closer look.
Up to now, Akie has remained silent after the incident with her husband. Former Prime Minister Abe was assassinated on July 8 while campaigning in support of a senatorial candidate of the Liberal Democratic Party.
Mr. Abe is Japan's longest serving prime minister. He left the prime minister's seat for health reasons in August 2020. His sudden death shocked many people.
During her husband's time in office, Akie was known for not shying away from expressing opposing views with Mr. Abe on a number of issues. The couple married in 1987 and had no children despite trying many methods.
According to some sources, Akie cried a lot during her husband's funeral. The Japanese government has planned to hold a national mourning for Mr. Abe on September 27.