On the evening of August 12, police leaders of Phu Hoa ward, Thu Dau Mot city, Binh Duong province said that they had arrested subjects including: Mai Hoang Phuoc (self-titled "Brother Ty Thu Dau Mot", 21 years old), Nguyen Thanh Nhan (21 years old); Nguyen Duc Tri Dung (20 years old) about robbery.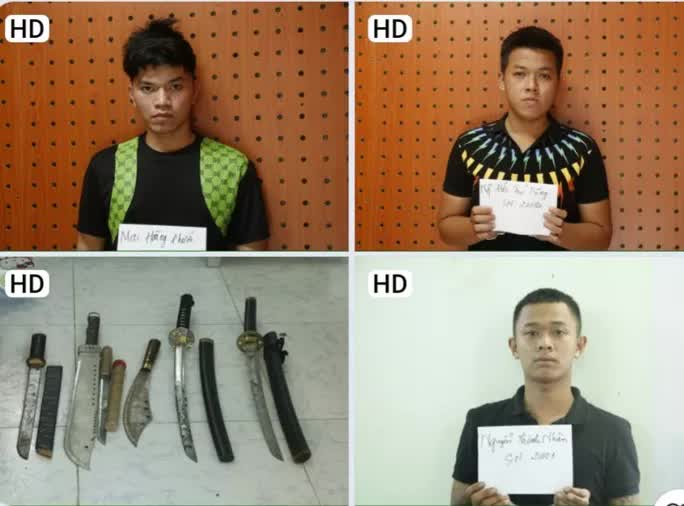 "Brother Ty Thu Dau Mot" (left cover) and Dung, Nhan at the police office with exhibits
According to the investigation, at dawn on the same day, this group of young people and Nguyen Minh Dung (22 years old), after drinking, invited each other to steal moon cakes. Phuoc drove a four-seat car carrying Nhan, while Tri Dung took Minh Dung on a motorbike to follow.
At the mooncake shop on Highway 13, Minh Dung took off the canvas covering the front of the store. Meanwhile, Nhan threatened with a machete, asked two employees to give 5 boxes of moon cakes and two lanterns, then got in the car and left.
Receiving information, criminal detectives arrested Nhan's group, seized many weapons, cars used to commit crimes and many boxes of evidence.
According to the police, the group of suspects lives in the locality, does not have a stable job, often gathers to eat, drink, and use stimulants.
At the time of arrest, all three tested positive for drugs. The suspect Nguyen Minh Dung has escaped and is being pursued by the police.