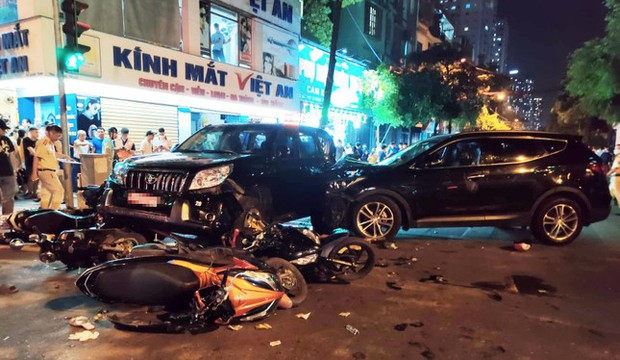 The scene of the accident
According to Ha Dong District Police, the reason is because there are vehicles and victims related to the army.
In addition, according to the initial investigation and the testimony of the driver of the Hyundai Santafe Ha Thanh Hung, the cause was that the driver tried to overtake the regulations, unable to control the speed.
Before that, around 8pm on July 28, Hung drove a Hyundai Santafe BKS Hanoi car, which was traveling in the direction from Ngo Thi Nham Street to Quang Trung intersection, which was said to collide with 2 other cars on the road.
Not stopping there, this car continued to run about 300m and crashed into many other motorbikes and cars that were stopping at red lights.
At the scene, there was 1 person who died on the spot, Mrs. Mai Thi T.Th (SN 1976, residing in Ha Dong, Hanoi), 5 injured people were taken to the emergency room. In addition, up to 4 cars and 6 motorbikes were badly damaged.
After the incident, Ha Dong District Police were present at the scene to coordinate with professional units to blockade the scene to investigate and clarify the cause of the incident.
Through the initial inspection, no alcohol or drug levels were detected in the driver's body. The initial cause may be due to the driver not being able to control the speed. The male driver is being detained for investigation.