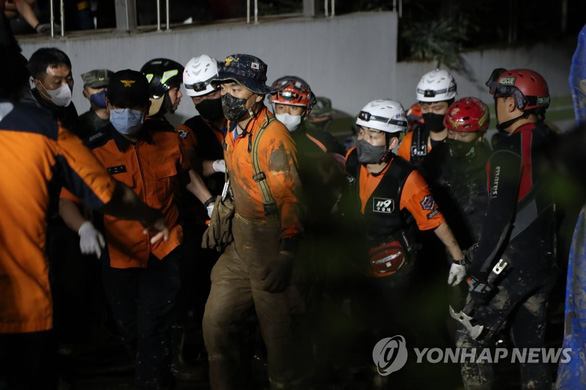 Firefighters bring out the dead victims in the parking basement of an apartment complex in Pohang city, the most heavily flooded place due to the impact of super typhoon Hinnamnor – Photo: YONHAP
According to Hankyoreh newspaper, as of the morning of September 7, the rescue force had found 9 missing victims in the parking basement of an apartment complex in Indeok ward, South district, Pohang city, of which 7 died. .
Two lucky survivors are Mr. Jeon (39 years old) who was found at 8:15 pm and Ms. Kim (52 ​​years old) who were found at 9:41 pm on September 6.
Both victims escaped death by climbing the only 30cm area between the ceiling of the garage and the water pipe.
After being found, Mr. Jeon said, he took off some clothes, got into an air bag to keep his body temperature from falling too low, and remained like that for more than 14 hours until the team was taken away. Rescue found him.
"There was a time when I wanted to give up, but thinking about my children, I tried," said Jeon.
The youngest victim is only about 10 years old and is the son of Ms. Kim, who is lucky to survive among the 9 missing victims.
On September 6, the local police agency received news that 7 people were missing, but up to now, the rescue force has found 9 victims, including 2 victims who are not on the missing list. above.
The police and rescue forces also said that the number of victims is expected to increase.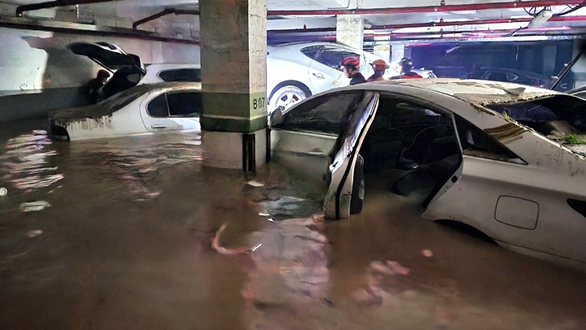 Rescuers are searching for victims trapped in the basement parking of an apartment building in Pohang on the morning of September 7 – Photo: YONHAP
It is known that the local government has mobilized 14 drainage devices, including 9 powered fire pumps, 2 fire engines, 3 water pumps from the maritime police station, and 50 special scouts from the armed forces. Marines and 5 lifeguards from the local Coast Guard.
According to residents living in buildings 1 and 2, after receiving a notice from the apartment management, some people went down to the basement to move their cars out at 6:30 am on September 6 when the super typhoon hit. Walk into the Pohang city area.
Due to the water overflowing into the parking tunnel too quickly, the victims were trapped, leading to death.
Yonhap news agency reported that the North Gyeongsang Provincial Police Agency had set up a special team to investigate the incident, including 68 people, including 21 staff from the South Pohang police station.
The police also aim to find out the identities of all the victims who died in the basement of the parking lot as well as conduct investigations and take statements from the apartment management and residents living in the common area. to investigate this tragic incident.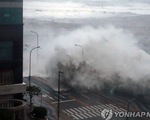 Super Typhoon Hinnamnor makes landfall in Korea