Since the COVID-19 epidemic was brought under control, socio-economic activities have returned to their previous pace, and blood donation activities have gone very smoothly. With the coordination of the Steering Committee for Voluntary Blood Donation Campaign at all levels and agencies and units, many Blood Transfusion Centers across the country have developed plans to receive blood until the end of November 2022. .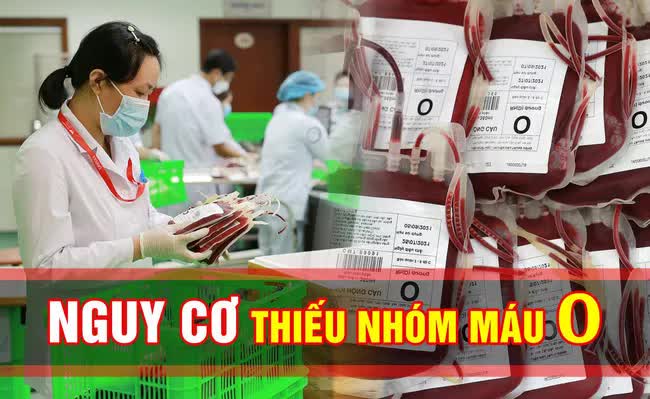 Over the past several months, on average, the National Institute of Hematology and Blood Transfusion has received 1,000-1,200 units of blood every day, ensuring adequate and timely supply to 180 medical facilities in 28 provinces and cities.
However, from the beginning of August 2022 to now, the demand for group O blood in many hospitals has increased, causing the reserve of group O blood to decrease completely.
About 45% of Vietnam's population has blood type O, so the number of patients who need blood transfusion is always higher than that of other blood groups. Therefore, the National Institute of Hematology – Blood Transfusion is calling for people with type O blood to donate blood to get more units of type O blood from the heart of the community.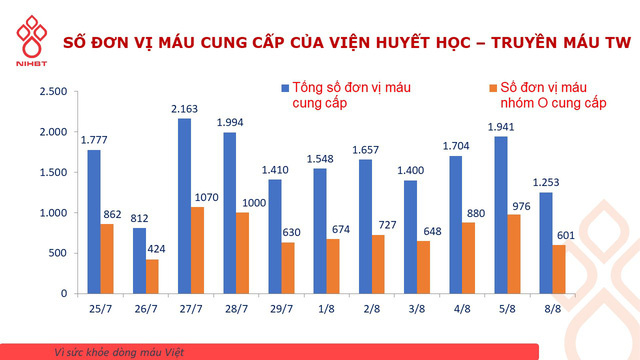 There are many days, the National Institute of Hematology – Blood Transfusion provides a huge amount of group O blood.
The Institute is very eager to have more blood group O and cordially invites people with this blood type to donate at the Institute and at blood donation points posted on the "Blood Donor" App, including:
1. National Institute of Hematology and Blood Transfusion (Pham Van Bach Street, Cau Giay District, Hanoi): 7:30 am – 7:00 pm all days (including Saturdays, Sundays and public holidays).
2. Fixed blood donation points in Hanoi:
– Time: 8am-12pm and 13h30-17h from Tuesday to Sunday (closed on Monday and public holidays). Please arrive 45 minutes before the closing time for a health check before donating blood.
– Location: 26 Luong Ngoc Quyen (Hoan Kiem), No. 10, Lane 122 Lang Street (Dong Da), Agricultural General Hospital (Km13+500, National Highway 1A, Thanh Tri).