From the beginning of August 2022, visitors can book a tour to discover the first destinations included in the tour in Go Vap district, Ho Chi Minh City.
More new tours
The tour "Go Vap – One Hundred Years of Finding the Ancient Traces" has just been put into operation by TST tourist company with interesting destinations such as: Phu Chau ancient temple (present for 300 years on Vam Thuat river), Thong Tay Hoi communal house (the oldest house of the ancient Gia Dinh land and of the southern land that exists until now)…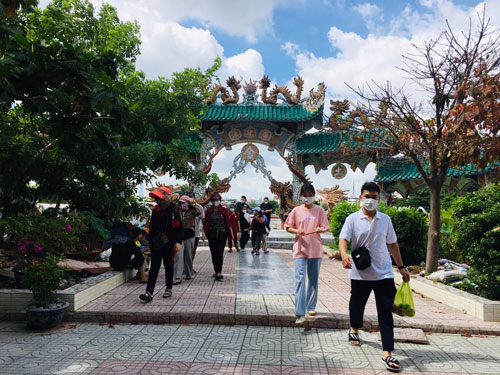 Phu Chau ancient temple with 300 years old is put into operation tour in Go Vap district, Ho Chi Minh City (Photo: BINH AN)
Go Vap is the next district to have destinations put into operation for the first time in tours, in the strategy of building new tourism products or completing and renewing the available tourism resources of the tourism industry in Ho Chi Minh City. .
Previously, many monuments, historical sites and unique destinations in districts: 5, 8, Tan Phu, Hoc Mon, Binh Chanh and Thu Duc city were also established by travel agencies and tourism industry. City put on tour to complete, welcome guests.
Nguyen Minh Man, Marketing and Communication Director of TST tourist company, said that in 2022, Ho Chi Minh City will become a "hot" keyword, surpassing many famous tourist cities in Vietnam, rising to the top of the list. the most favorite domestic destination of Vietnamese people".
Lots of growth potential
To turn familiar perspectives into interesting and attractive things is a problem that travel companies have worked with districts to find a solution to. The "familiar but strange" places that are included in tourism products are attracting the attention of tourists living in the city because of their unique things, giving visitors interesting experiences.
At Vietravel Tourism Company, Ms. Huynh Phan Phuong Hoang, deputy general director, said the company has built and exploited many sets of products related to the city. Vietravel has 3 sets of products to introduce Can Gio – "the green lung of the city", tourism products to explore Thu Duc city… Currently, Vietravel has completed 10 sets of its own products on city tourism, ready to introduce. to international friends, overseas Vietnamese when coming to Ho Chi Minh City to visit and experience their own unique features.
"Ho Chi Minh City tourism is really more attractive in the eyes of tourists thanks to a series of great efforts of the tourism industry. City tourism is no longer a market that provides a source of visitors for other provinces and cities, but becomes a destination. attractive destination for tourists from all over the country and people right in the 'home yard'" – Mr. Nguyen Minh Man said.
Ho Chi Minh City's tourism industry is identified as one of the key economic sectors, which has been developing in the direction of building unique tourism products. Director of Ho Chi Minh City Department of Tourism Nguyen Thi Anh Hoa said that the more you survey and learn, the more you see that the city's tourism has a lot of potential to build new attractive products.
Connectivity in business activities and promotion of tourism products of tourism service businesses in the city; focus on improving the quality of tourism products and services, investment in construction new products … contribute to the city's tourism positioning in the summer of 2022 and the following years," – Ms. Anh Hoa said.
Data from the HCM City Department of Tourism shows that the total number of visitors to the city in the past seven months is over 13.3 million. According to the Ho Chi Minh City Department of Statistics, tourism and travel revenue reached more than VND 4,292 billion, up 72.4% over the same period.