Pho is a traditional dish that is quite famous not only in Vietnam but also in other countries. At present, it can be said that this is one of the characteristics of Vietnamese cuisine.
Pho is a familiar dish, it seems that it is possible to remember the aroma, taste, and shape but in reality it is not quite. In each region, there will be a different recipe and way of eating pho. Not to mention the diverse variations in processing also make "pho specialties" specific to each region.
Hanoi pho
The two most popular types of pho are probably Hanoi Pho and Saigon Pho. Hanoi is said to be the birthplace of the symbol of Vietnamese pho with a clear broth, sweet taste from beef bones and little MSG (main noodles). When eating, Hanoi people often use smooth spices such as garlic vinegar, ground chili sauce, accompanied with quarts and absolutely no vegetables.
Photo: @phuonganh.uni, @lipulipulipu
Pho Saigon
Meanwhile in the South, there will be a stronger bowl of pho. They often like to eat cloudy, fatty broth from the fat of beef bones with a variety of "toppings" such as beef balls, rare, encrusted, cilantro, scallions and onions. In Nam, we will season a bowl of pho before eating with many spices such as chili sauce, sweet black sauce, satay and drop into the bowl a variety of vegetables: cinnamon, coriander, basil, braised coriander, raw bean sprouts. In addition, quarries are only eaten with porridge, but have never appeared with a bowl of pho in the South.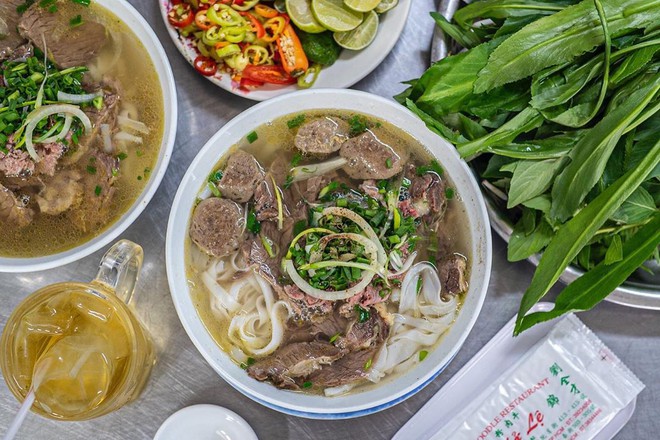 Pho with wine sauce Bac Giang
Pho with wine sauce is not uncommon in Hanoi, but when it comes to this type of pho, it must be mentioned in Bac Giang. People usually eat pho with beef that will be marinated with wine, turmeric, five spices, ginger… and stir-fried before cooking the broth. When brought to the table, there must be peanuts in the bowl.
Bac Ninh Burned Liver Pho
It is still a pho with a delicate and sophisticated taste in the way of cooking with many ingredients, but in Bac Ninh, pho also has a special piece of burnt liver. Pork liver is preliminarily processed many times to ensure the elimination of odors, then it is pan-fried until the edges are burnt. At the same time, the water secreted during frying is often used to mix in the broth to create the unique aroma of burnt liver pho. Picking up a piece of crispy, crunchy liver mixed with soft noodle soup, is guaranteed to be a new experience for those who love Vietnamese pho.
Cao Bang Roast Duck Pho
Not only in Cao Bang but Lang Son also has this pho. Locals will eat pho with roasted duck instead of beef or chicken. For a standard Cao Bang duck noodle soup, the duck must be a firm roast duck with smooth skin, fragrant leaves and nectarines. Pho is a dry noodle soup that needs boiling water when scooped out to cook.
In addition, people also eat pho with crispy bacon, sometimes with sausages, grilled rolls. Bacon is only slightly boiled, the skin is tattooed with sharp points, brushed on the surface of the skin with a little vinegar or lemon juice, then dropped into a pan of boiling fat. Fry the pork belly until the skin is blistered like a rice cake, crispy but not hard, the lean meat is not dry, and the fatty layer is not crushed, then it is called a perfect bowl of pork belly noodle.
Eating a bowl of pho with roasted duck or crispy fried bacon will be a bit greasy, but the sweet broth will adjust the flavor to keep the core of the normal pho.
Lang Son Sour Pho
What makes this pho different is the broth. The thick brown sauce is made from duck broth and has tapioca starch to match it. People will make a small amount of broth until they are put into a bowl of pho, when eating, they will mix well and have a cup of broth next to it.
The taste of this noodle soup will be sweet and sour, the bowl of pho will be eaten cold instead of hot broth. In sour pho, there are many kinds of "toppings" such as sliced ​​potatoes, char siu, stomach, fried pork liver, roasted duck meat, roasted peanuts, dried onions, herbs, cucumbers…
Gia Lai Dry Pho
Although cooking the same recipe, but Gia Lai people have a more sophisticated way of eating pho, which is to separate the noodle soup and the broth. When serving the dish, there will be a separate bowl of pho and some ingredients such as onions, satay sauce, tofu, bean sprouts,… and another bowl of beef or chicken broth. The beauty of this way of eating pho is the feeling of the texture of the pho and the softness of the meat, which is full of spices in the mouth, and then sometimes mixed with the sweetness of the broth. For a good dry pho, it is also decided that the seasonings such as chili sauce, satay, fish sauce, lemon… have the right amount when mixing.
Quang Nam cassava noodle soup
This famous Quang noodle dish brings a very different impression to the Vietnamese pho map. Pho in different regions is varied, but the most new and strange thing is not to mention cassava noodle soup. People here use noodle soup made from tapioca starch (tapioca), meat served with shrimp, snakehead fish, eel… with a special broth also cooked from fish. There are 2 most popular types, mixed cassava noodle soup and water noodle soup, the chewy taste of cassava noodle soup, the fatness of snakehead fish and the extremely flavorful broth will conquer those who try it for the first time.