Federal Reserve Chairman Jerome Powell has pledged to take all possible measures to curb high inflation. However, doing so risks leading to the scenario the Fed wants to avoid: the economy falls into a recession.
A new report on inflation in May 2022, according to which the consumer price index increased by 8.6% over the same period in 2021 (the highest increase since 1981), contributed to the FED's decision to raise interest rates. base increased by 0.75 percentage points on June 15.
According to the radio CNBC, this is the highest rate hike since 1994 and Mr. Powell also signaled similar increases in the near future. After the latest decision, the base interest rate range is currently at 1.5% – 1.75% and the Fed officials forecast this range will increase to 3.25% – 3.5% by the end of this year.
The Fed is hoping to achieve a "soft landing" (which causes inflation to fall to 2% as the target without derailing the economy") but this seems to be increasingly challenging.
Each rate hike means higher borrowing costs for consumers and businesses. Every time borrowers see high interest rates, they reduce spending, which in turn dents confidence, job growth, and overall economic health. History also shows that this is not an easy task. According to AP, the Fed has not conquered the "soft landing" goal since the mid-1990s.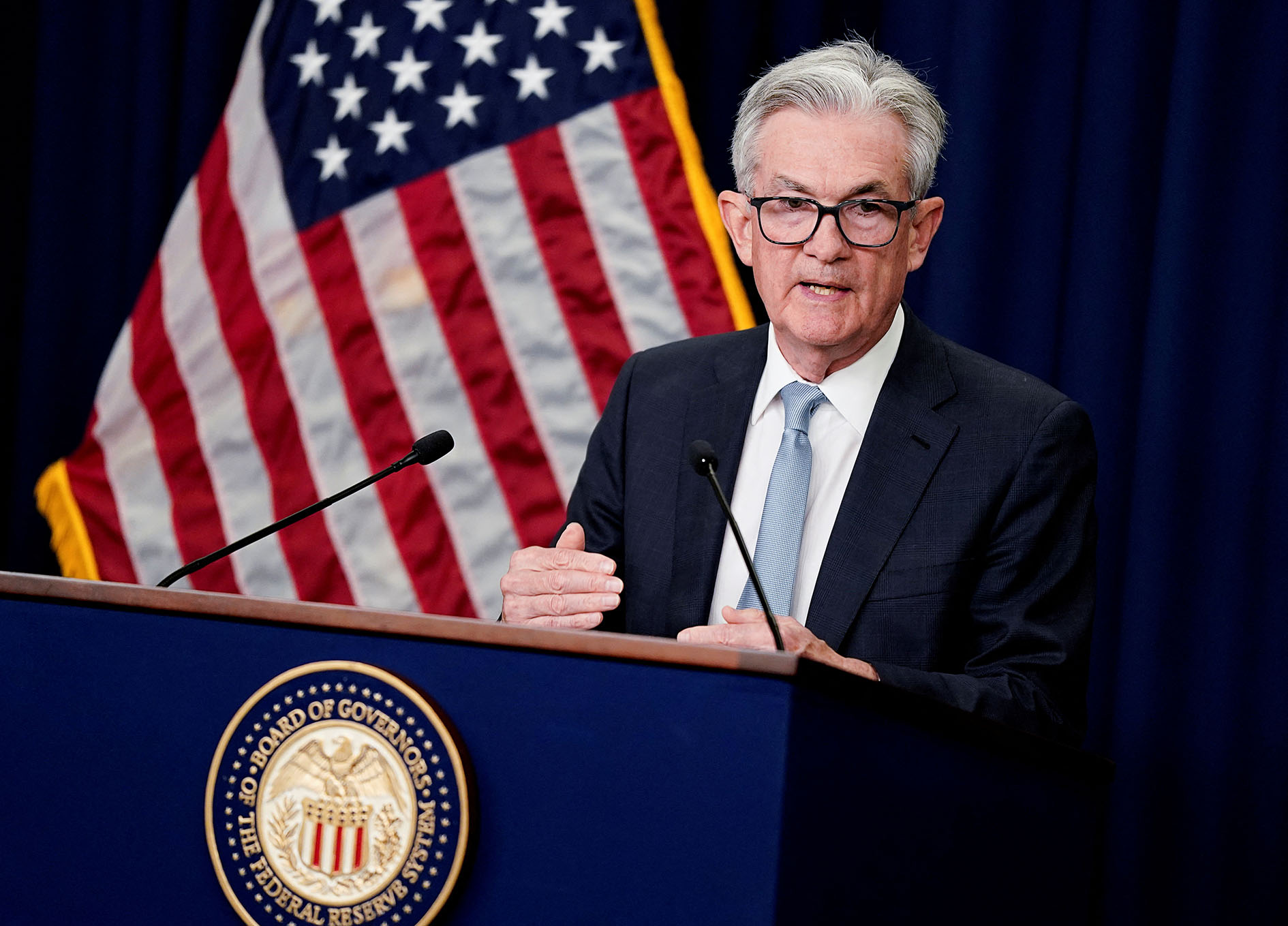 US Federal Reserve Chairman Jerome Powell at a press conference on June 15 Photo: Reuters
The Fed itself acknowledges that higher interest rates will cause some damage but does not expect a recession will occur. According to the agency's latest forecast on June 15, the US economy will grow 1.7% this year, down from 2.8% released in March. In addition, the unemployment rate average of 3.7% at the end of 2022.
At a press conference on the same day, Mr. Powell rejected the view that it is difficult for the Fed to avoid a recession as the price to pay to control inflation.
According to a study published last month by former US Treasury Secretary Lawrence Summers and expert Alex Domash at Harvard University (USA), since 1955, each time inflation has been 4% higher and unemployment has fallen below 5%, the US economy will fall into recession within 2 years.
The US currently has an unemployment rate of 3.6% while monthly inflation has been higher than 8% since March 2022. "When inflation in the US is high and unemployment is as low as it is now, a recession is likely to happen within two years," Mr. Summers reiterated the findings of the study in an interview with CNN on June 12. .
Overall, the US economy is still strong, notably the booming job market. Last year, an average of 545,000 jobs were added monthly while unemployment is now at its lowest level in nearly 50 years. In addition, households are no longer in debt as they were before the 2007-2009 Great Recession. Banks also did not have risky loans like then.
However, Mr. Robert Tipp, an expert of PGIM Fixed Income Company (USA), said that the risk of recession is increasing due to high inflation figures. This makes the Fed's efforts to both control inflation and avoid a recession more risky.
Overwhelming anxiety
A new survey by the University of Michigan (USA) shows that the fear of high inflation caused the consumer sentiment index to drop from 58.4 in May to 50.2 in early June. According to CNN, this is the level. lowest since this data began to be collected in November 1952.
According to the director of consumer surveys Joanne Hsu of the University of Michigan, the survey results showed that many people rated their financial situation as having deteriorated significantly and this contributed a lot to the decline in the index. consumer psychology. Notably, about 46% of surveyed consumers blamed inflation for the aforementioned drop, up from 38% in May.
Meanwhile, survey results released by the National Association of American Manufacturers (NAM) on June 15 showed that 59% of manufacturing leaders think inflationary pressures are making a recession likely. happen next year. Additionally, 75% of manufacturers think inflationary pressures are worse than six months ago, with 54% saying higher prices make it harder to stay competitive and profitable.
According to the survey, the top business challenge cited by executives of manufacturing corporations is the rising cost of raw materials (mentioned by 90% of respondents). Meanwhile, the main sources of inflation are the prices of raw materials (97% of respondents mentioned), transportation and goods costs (84%), wages and salaries (80%), expenses. energy costs (56%) and labor shortages (49%).
Jay Timmons, CEO of NAM, said that the Russia-Ukraine conflict has undeniably increased food and energy costs, while the US federal government's spending deficit has also contributed to it. increase inflation. NAM urged lawmakers to refrain from imposing new taxes and focus on reducing supply pressures.
Heroine