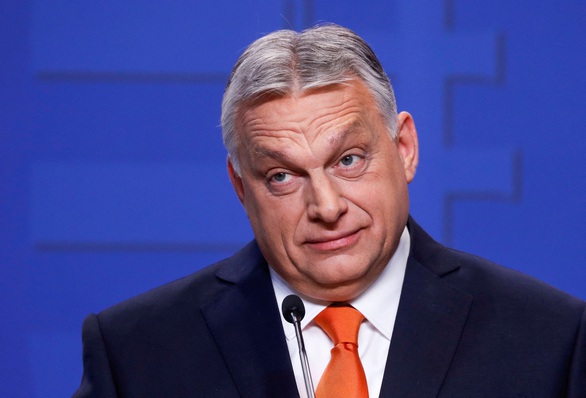 Hungarian Prime Minister Viktor Orban – Photo: REUTERS
The EU introduced the financial sanctions two years ago, with the goal of responding to what it sees as the subversion of democracy in Poland and Hungary.
According to Reuters news agency, Hungary is the first case facing the risk of funding suspension for this reason in the EU 27-nation bloc.
Earlier, the EU accused Hungarian Prime Minister Viktor Orban of limiting the power of the courts, controlling the media, NGOs and academia, as well as restricting the rights of migrants, gays and women. for more than 10 years in power.
EU Budget Commissioner Johannes Hahn considers the situation in Hungary typical of "a violation of the rule of law that will affect the use and management of EU funds". "We cannot be sure that the EU budget is preserved," Mr Hahn said.
Mr. Hahn highlighted the problems Hungary is facing such as systemic irregularities in the public procurement law, the lack of measures against conflicts of interest, the weakness in effective prosecution and the shortcomings in the law. other anti-corruption measures.
According to Mr Hahn, the EU Budget Committee recommended suspending about a third of the association funds planned for Hungary. This fund is extracted from the EU's general budget of 1.1 trillion euros for the period 2021-2027.
The €7.5 billion fund for Hungary, equivalent to 5% of the country's GDP, is estimated to be reached in 2022. EU countries now have three months to decide on the Budget Committee's proposal.
Prime Minister Orban's government has proposed the creation of a new anti-corruption body in recent weeks. Mr Orban denied that Hungary was facing more serious corruption than other countries in the EU.
Commissioner Hahn said Hungary's latest promise to address EU criticism was a significant step forward, but still had to be translated into new legislation and practical actions for the EU to rest assured.
The EU Budget Committee has frozen another €6 billion fund over similar concerns. This is a provisional fund for Hungary for post-COVID-19 economic recovery.
On September 14, EU MPs voted on a resolution that said Hungary had "seriously violated" EU democratic standards, with 433 votes in favor and 123 against.
A day later, Hungary reacted angrily to the vote in the European Parliament, when EU MPs agreed that the country was no longer a "comprehensive democracy" and the EU needed to act.
But on September 17, the Hungarian government announced that next week the National Assembly of this country will vote on a series of laws to ease current tensions. The prime minister's chief of staff, Gergely Gulyas, said the laws were expected to come into force in November, including the creation of an independent body to oversee the use of EU subsidies.