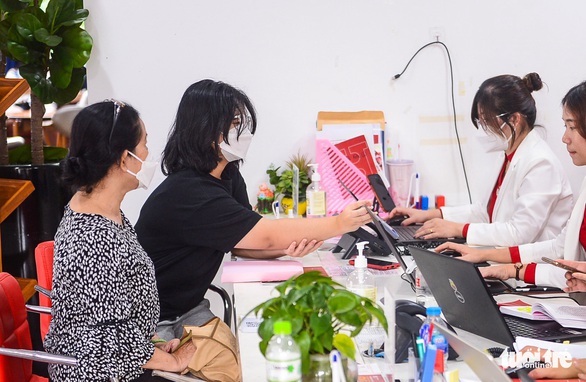 "Are you tired?" I asked. In response, she said she was tired, because she rarely rides the car. Before going, even though she took anti-sickness medicine, she was still lightheaded because … vomited a few times. The new student girl, her daughter, shared, "My mother and I are a few kilograms sick these days, maybe because we are worried about our children's exams".
The child seems to understand. I just graduated from school, she got married and gave birth, but now my son has entered the university like when I was a toddler in Saigon more than twenty years ago.
I said to her, "I'm much happier going to school now than you are. At that time, you went by yourself, and there were no cell phones at that time. I went to sleep well in the car, but you took the seat they crammed with. terrible…". After listening to my story for a while, she was very happy, perhaps because she felt that she was luckier than the old boy.
At the university yard that she will attend, I took her and her daughter near the place where the admission application is being held, and she said: "If only you could guide me …". I reassured her to rest assured, "he's here", I turned back to her.
The girl's profile was also quickly completed. But nowadays, going to school costs too much, the tuition fee is tens of millions per year. "You have two children, so you should spend as much money as you can, so that they can all go to school. I always talk about you – when you were able to go to school but also went to university – so your family is going to be a little kid soon. consider him as an idol, never stop trying," she shared.
I am glad that I am also a motivation for someone. It turns out that just trying for myself can help someone mentally.
Looking around in that large yard, there were new students who came to enroll themselves, I guess they were in Saigon so they were familiar with the road. Many other young people, innocent faces like me when I was 18, were taken to school by their father or mother. The looks of parents taking their children to the lecture hall are so familiar, like my sister, and like many other parents, saving every penny to "invest" in their children's education.
The worry and love of your parents is what you bring with you to stay in a strange street, continue to work hard for your desire to succeed in your studies and create the future. Saying parents are the child's launch pad, letting them fly further is therefore always true.
I told her to go back home safely, the baby will be fine. I will be here to visit and help her when needed. I often do this with other freshmen from my country, let alone my grandchildren. Then the young people will be loaded with more knowledge and skills, living more independently when their parents are not around.
The journey of adulthood doesn't begin with the times away from home, away from family – from the time when your father or mother took you to the city so that we could go to the lecture hall with news, love and affection…