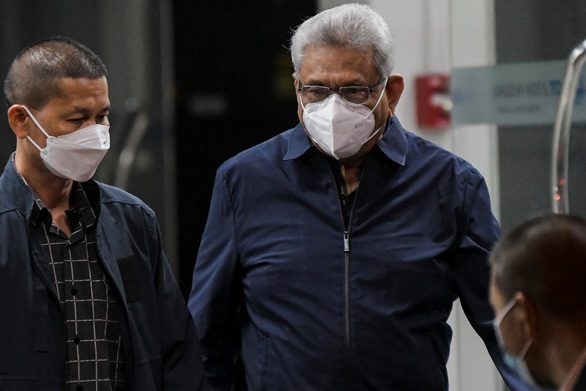 Former President Gotabaya Rajapaksa of Sri Lanka arrives in Thailand on August 11 – Photo: REUTERS
On August 18, general secretary Sagara Kariyawasam of Sri Lanka's ruling Podujana Peramuna Party said that his party had contacted President Ranil Wickremesinghe asking for Rajapaksa's return.
"We ask the president to create the conditions and provide the necessary means and security for former president Gotabaya Rajapaksa to return home. The date of his return has not been fixed yet," Mr. Kariyawasam told Reuters news agency.
Speaking to Reuters on August 18, Mr. Wickremesinghe said he was unaware of the plan for his predecessor to return. Earlier, Mr. Wickremesinghe said that Mr. Rajapaksa should limit his return to Sri Lanka in the near future. Legal experts say if he returns, Rajapaksa will not be protected under the law against the charges.
Mr. Rajapaksa fled to Singapore in mid-July 2022 to avoid a wave of protests that emerged in the context of Sri Lanka's economic crisis. He submitted his resignation letter from the lion island nation and then continued to fly to Thailand on August 11.
After Mr. Rajapaksa resigned, Mr. Wickremesinghe was elected president by the Sri Lankan Parliament.
Sri Lanka's Newsfirst radio said Mr Rajapaksa could return home next week. The station quoted a source from Mr. Udayanga Weeratunga, a former Sri Lankan ambassador to Russia and a relative of Mr. Rajapaksa, as saying that the former president might return on August 24.
Mr. Rajapaksa has not appeared or spoken publicly since leaving Sri Lanka.
The 73-year-old leader served in the Sri Lankan army and later served as defense minister. During that time, the Sri Lankan army defeated the Tamil Liberation Tigers (LTTE) rebels in 2009, ending the bloody civil war.