This morning (September 8), the Hanoi People's Court reopened the first-instance trial, and at the same time, sentenced defendant Doan Phuong Anh (born 1988, residing in Long Bien district, Hanoi) to a prison term of 9 years. The crime of "depriving property".
According to the indictment, Doan Phuong Anh is a beautiful girl with a husband and two children. At the end of 2017, Phuong Anh knew and had a romantic relationship with Mr. PNA (SN 1985, resident in Hai Ba Trung district, is the General Director of a company operating in the field of construction and real estate).
In early 2018, Mr. A divorced his wife, Phuong Anh also divorced her husband and rented a house in Times City urban area (Hoang Mai district) to live together as husband and wife. During this time, between Mr. A. and Phuong Anh and some other men, there were many times of unhealthy group sex relationships.
According to the prosecution agency, after 3 years of living together, between Phuong Anh and Mr. A. gradually came into conflict. Around February 2021, Mr. A. proposed to end the relationship, Phuong Anh got angry and asked his lover to compensate for his physical loss.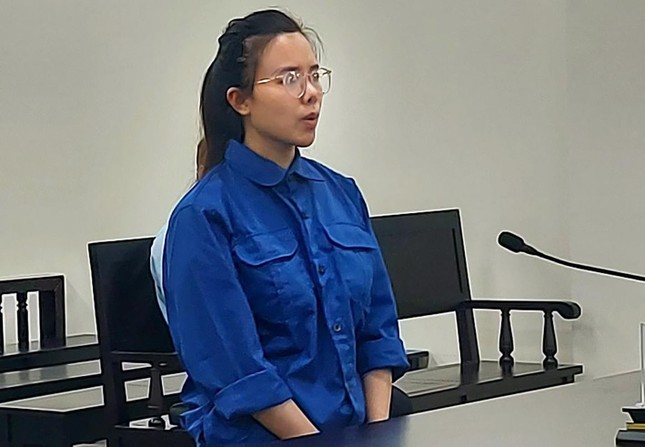 Defendant Doan Phuong Anh at the first instance court.
At Phuong Anh's request, on February 19, 2021, Mr. A. made a written agreement when he could afford it, he would buy Phuong Anh an apartment in Times City urban area worth about 5 billion VND. VND, opened a fashion store about VND 1 billion and set up a savings book of VND 2 billion.
During the time that it was not done, he had to pay the rent of 15 million VND/month and transfer money for living and medical treatment to Phuong Anh, on the contrary, Phuong Anh must not disturb Mr. A.
Some time later, due to the influence of the Covid 19 epidemic, Mr. A's company had difficulties and did not have money to comply with the agreement, so the General Director blocked contact with Phuong Anh.
Meanwhile, Doan Phuong Anh tried to contact his ex-girlfriend by phone, calling his colleague A. to ask for word or directly to the company to find it, but could not.
Annoyed, Phuong Anh used "sensitive" information and images to send to Mr. A's friends and partners for the purpose of threatening and putting pressure on Mr. A. to be afraid to come to see and pay for the victim. reported the amount of more than 13 billion.
Unable to bear the "pressure" from his lover, from October 22 to November 2, 2021, Mr. A. twice transferred to Phuong Anh a total of 650 million VND. In the second time, when Phuong Anh was receiving 400 million VND from the victim at a bank in Hai Ba Trung district, the police discovered and made a record of the incident.
On February 17, 2022, the Investigation Agency decided to prosecute a criminal case, prosecute the accused, temporarily detained for investigation against Doan Phuong Anh for the crime of "extorting property".