Appeared in "Want to Date?" In episode 811, glass shop owner Bui Hoang Kim (33 years old, Hau Giang) was in love with supermarket manager Nguyen Thi Ngoc Diem (25 years old, Tay Ninh). Self-proclaimed shy girl, but the way Hoang Kim "saw" Ngoc Diem with grace, even a bit resolute, surprised everyone. In particular, the launch gift is a bouquet of flowers arranged from 50 bills of 50,000 VND with the meaning "hope to be with you happily for 50 years", making the beautiful girl fall down.
Right from the introduction, Hoang Kim impressed the matchmaker Quyen Linh with his poise, gentle appearance but strong will to advance, when he was alone in his career from North to South. However, in love, he is quite shy, so he has experienced 4 love affairs but was "kicked" mercilessly.
At the age of 33, Hoang Kim had a modest income just enough to live on, but had so much time to build a private home; with the criteria for choosing a life partner is also very simple: "My ideal model is Ngoc Lan. A girlfriend just needs to be gentle, easygoing, and take care of her family. I don't like girlfriends who talk a lot, it's a headache!".
Neither objecting nor disagreeing, MC Quyen Linh immediately conveyed the "bloody" experience: "You keep listening to me: the voice of a woman in the family is a golden sound to men. It's almost like complaining has become a love in every family." His humor made the couple and the whole audience burst into laughter.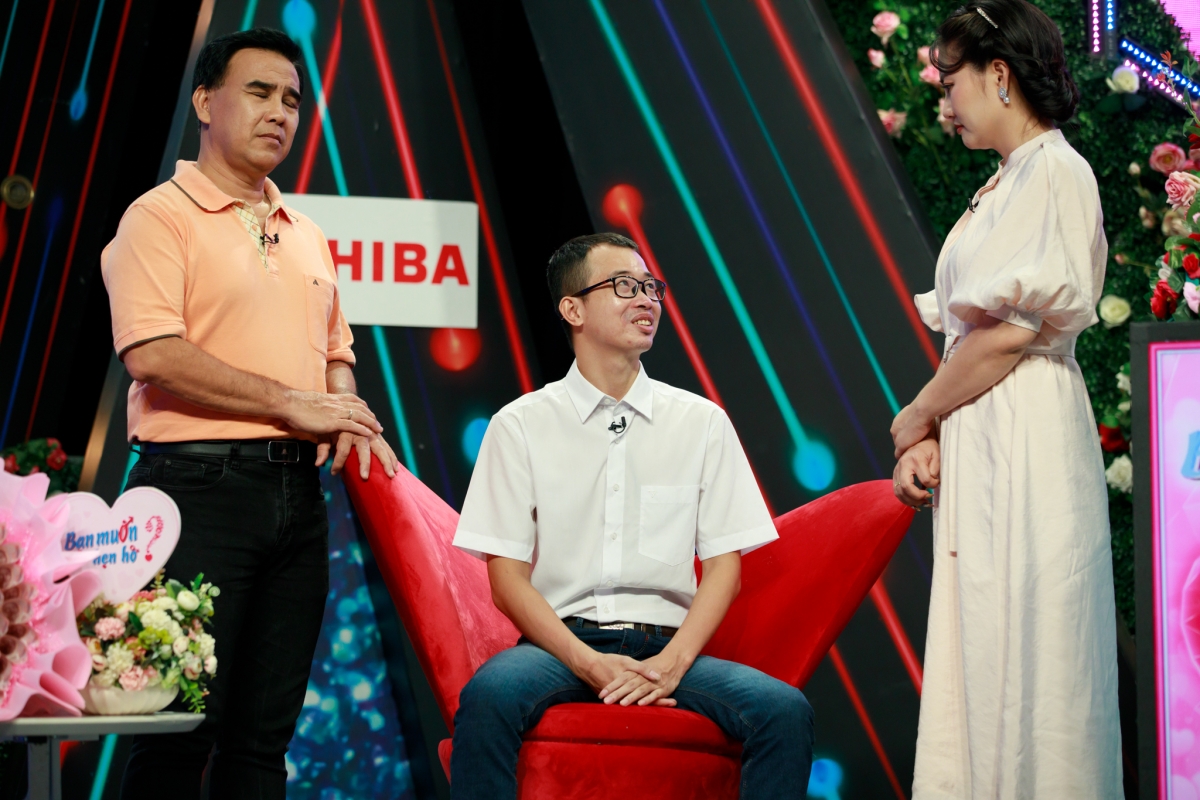 Quyen Linh and Ngoc Lan encourage the shy guy
With the criteria of the groom's family, matchmaker Ngoc Lan is very confident that Ngoc Diem's ​​girlfriend can easily meet them. Right from the moment she appeared, the genZ girl made everyone flutter with her beautiful appearance, femininity, tenderness and charming way of talking. However, she has a very simple criteria for choosing a boyfriend: "I have 1m52, so I want my boyfriend to be taller, no need to be handsome or white. I like a happy, easy-going, non-smoker, non-patriarchal male friend. My ideal type is similar to my father because he always gives the best for me."
It is known that the girlfriend has just moved from Hau Giang – where her boyfriend is living to her hometown of Tay Ninh for just over 2 months. Incidentally, Ngoc Diem has worked for a long time at a supermarket in the town where his boyfriend lives, and he almost goes to the supermarket very often; So it's very possible that the two of them had made eye contact but didn't know it. This unexpected relationship made the matchmakers excited, determined not to let the couple miss each other.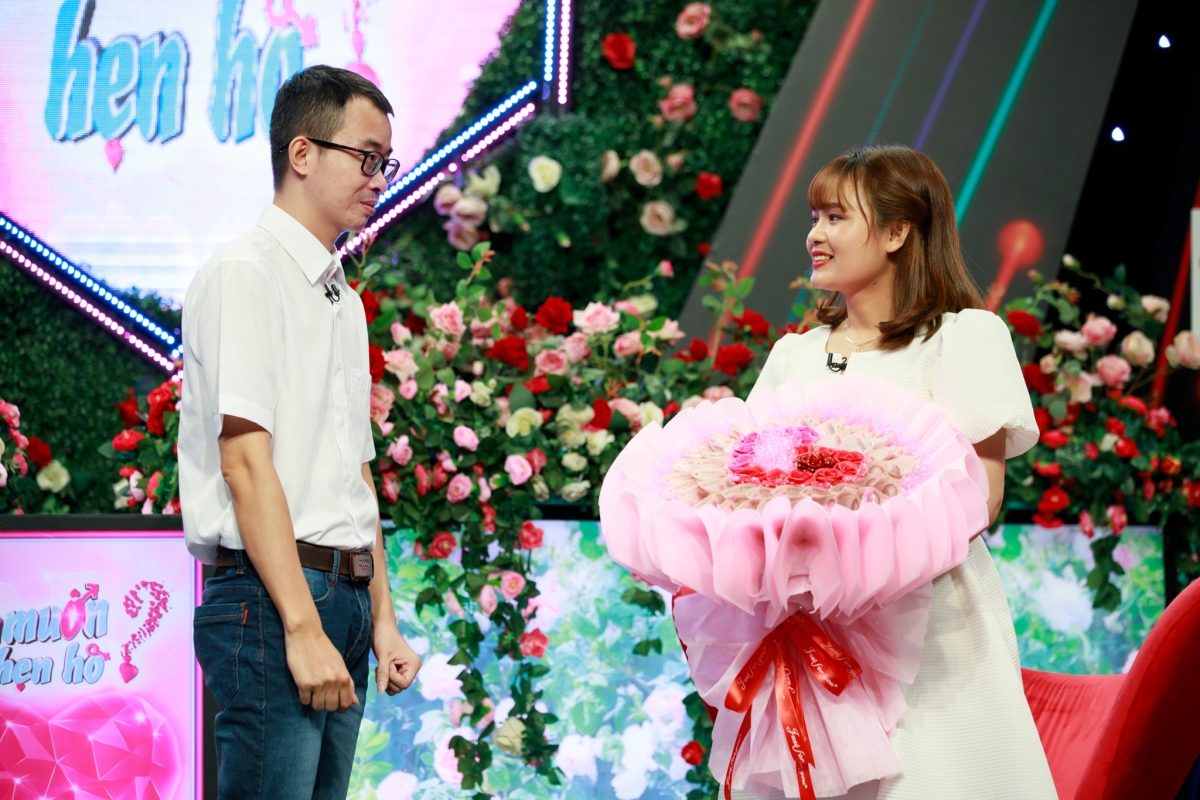 However, the issue of age and geographical distance is also a big obstacle that makes the two MCs worry about the dating results. Although they are 8 years older than each other and once broke up with an old love because of a long distance relationship, Ngoc Diem insists that it is not important. MC Quyen Linh also happily cooperated: "It doesn't matter where it is. What matters is whether I love that person or not. Where there is love, there is success."
Go with Hoang Kim to "Want to date?" is a large family, represented by a very funny grandson. Not only enthusiastically reminding his uncle to "close the application" quickly, the grandson also enthusiastically revealed: "Uncle Kim is very cute and hardworking. From a young age, he struggled alone, creating a career by himself. You said enough to eat but I think you can take care of your family and build a solid future. My uncle is quite shy, so I don't know when and how long when he told me he had 4 relationships. Remember to keep your girlfriend, press the button immediately!".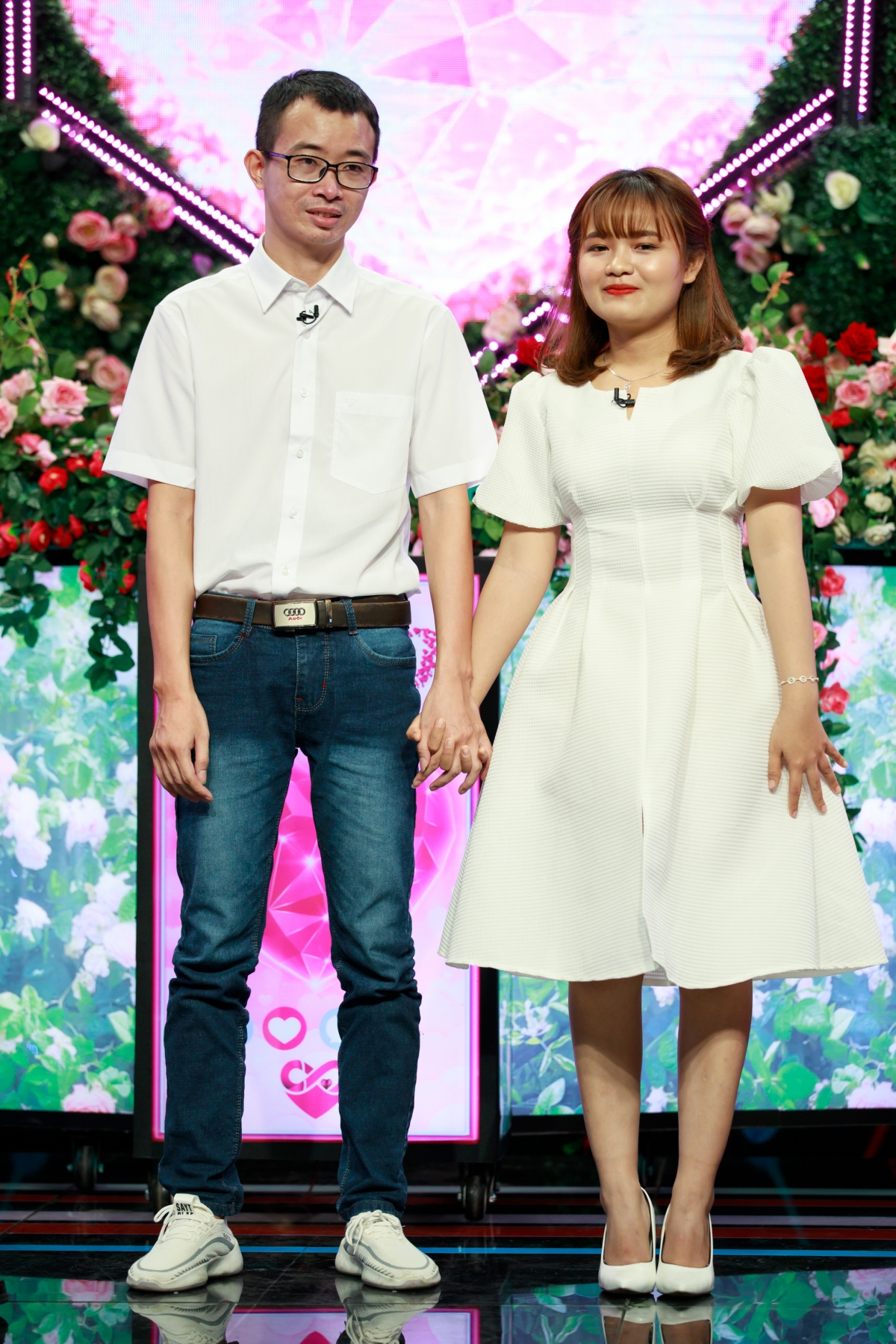 With the support of matchmakers and family, Hoang Kim boldly took the initiative to express her feelings to Ngoc Diem as soon as she met him. The guy surprised matchmaker Ngoc Lan and his girlfriend with a "terrible" gift filled with heart, sincerity and willingness to pay: "I put in this bouquet 50 bills of 50 thousand dong, representing you and me. will last for 50 years. I feel that you are very cute, too ideal for me, so I don't need to ask anything more." The guy's eloquence made MC Ngoc Lan say: "Oh my god, but he said he's shy!".
It seemed that everything would go smoothly, until the last minute, the guy Hoang Kim held his hand to ask his girlfriend, but shivered, making everyone laugh. Although the time to learn was not too long, both Hoang Kim and Ngoc Diem very quickly found harmony, ignoring both geographical distance and age to give each other the opportunity to date.
At the end of the program, Hoang Kim gathered up the courage to ask permission from his girlfriend's parents to officially learn more to have the opportunity to go further. Constantly affirming that Ngoc Diem is the ideal model that I am looking for, it can be seen that the boyfriend is very serious about the predestined relationship that MC Quyen Linh and Ngoc Lan cooperate with.