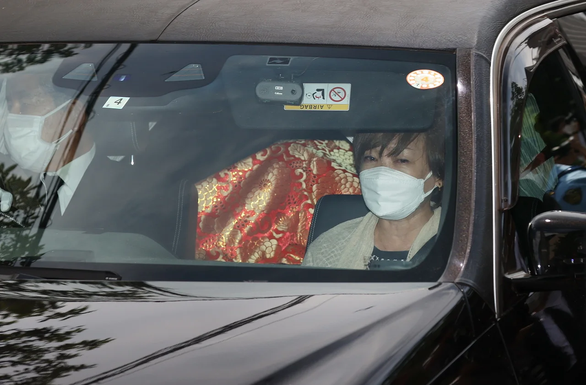 Akie on the car carrying Mr. Abe's body to Tokyo on July 9 – Photo: EPA
It is difficult to know what Mrs. Akie thought or how she felt during the four-hour express train ride from Tokyo to Nara after learning of her husband's assassination.
Former Prime Minister Abe was shot at 11:30 a.m. on July 8 (local time) and taken to Nara Medical University Hospital, where he was pronounced dead by doctors at 5:03 p.m. on the same day, just minutes after Ms. Akie arrive.
The feelings of someone suddenly becoming a widow must be very painful. But that woman has not said a word about the pain since the incident.
When Mr. Abe was alive, one of Akie's favorite things to do was post pictures of the couple on social media. It is rare for Japanese politicians to openly show affection to their spouses, especially those of the late prime minister.
The couple married in 1987 and often share photos and videos of attending events together on their personal social media accounts.
For a long time, Akie's Instagram account was the only one of the three that Mr. Abe followed. The other two accounts are the accounts of two officials.
One of the last photos of the couple shared by Abe on his Twitter account last month was of his mother's 94th birthday party with other family members. Mr. Abe's younger brother, Mr. Kishi Nobuo, was also present.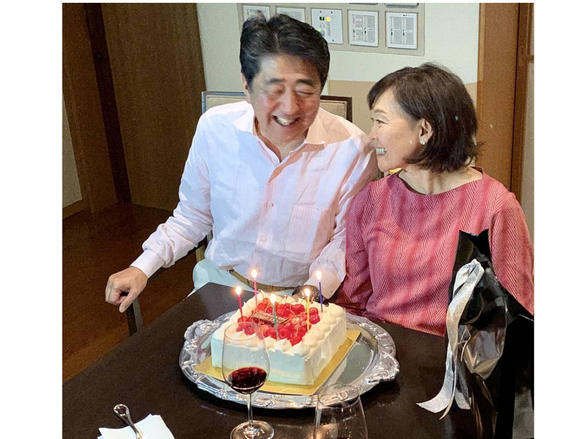 The photo was posted by Mrs. Akie in 2019, which "shows off" that the couple just celebrated their 32nd wedding anniversary on June 9 – Photo: INSTAGRAM
In a video Mr Abe posted on Instagram in May 2019, he was seen installing a beaver-shaped wooden knocker for Mrs Akie, who then happily "checked out" her husband's work.
When her husband was still in office, Ms. Akie never accepted to just fulfill the role of a prime minister's wife, which was to attend diplomatic events and stay in the mansion.
She is known for being vocal about progressive views and somewhat contrary to her husband's conservative views, to the point that at one point the Japanese press called her "the opposition in the prime minister's house".
For example, she openly challenged Mr. Abe's key policies, including his support for nuclear energy, the expansion of US military bases in Japan and the establishment of the Trans-Pacific Partnership. Pacific.
She is also known for being outspoken on controversial issues such as women's rights, medical marijuana and the LGBT community.
In the eyes of analysts, Ms. Akie's speaking up is an attempt to build the image of Mr. Abe as a politician who can listen to dissenting opinions in society.
Mr. Abe closes a wooden knocker for his wife – Source: INSTAGRAM
However, in an interview with Bloomberg in 2016, she shared that she also had to learn the ways of diplomats when expressing conflicting opinions with her husband, to avoid creating more tension for him.
"As his wife, there are times when I don't want to attack him too much. Other times, I really feel like I have to tell him something," Akie said.
Japanese women after marriage face a lot of pressure to have children, both inside and outside the family. However, the 35-year marriage of Mrs. Akie and Mr. Abe has never had the laughter of children.
Mrs. Akie did not hide but on the contrary openly talked about the couple's difficulties in conceiving. Both have undergone fertility treatments to no avail.
Mr. Abe once offered to adopt a child, but she did not accept her husband's opinion but chose to follow her fate.
"I think it's all down to fate and I have to accept that we weren't blessed with children," she told the BBC in a 2006 interview.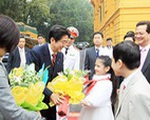 5 reasons why Mr. Abe Shinzo is loved by Vietnamese people