On September 18, information from Children's Hospital 1 in Ho Chi Minh City said that it received emergency care for a 6-year-old child, living in Hoc Mon district. At the time of admission, the boy's neck had a cut about 15cm long.
Doctor Dinh Tan Phuong, Head of Emergency Department of Children's Hospital 1, said that at the time of admission, the patient could still talk, the cut in the neck was temporarily bandaged, still bleeding.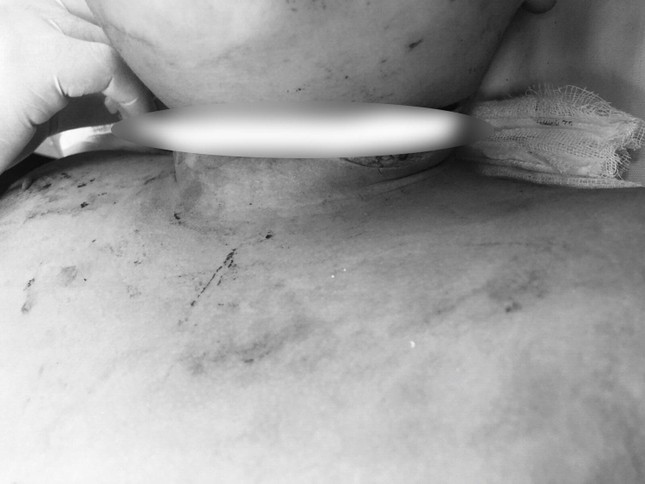 The patient was admitted to the hospital with a 15cm-long cut across the neck (photo: BVCC)
Immediately after receiving the patient, the doctors conducted a consultation and decided to perform emergency intervention. Through examination of the wound, the crew noted that the cut on the baby's neck was fortunate to only be injured in the soft part, the deepest cut was through the fat layer. The patient was fortunate not to have severed major blood vessels.
Doctors sutured the patient's wound. Currently, the baby's health condition is recovering well but needs continued monitoring and psychological support. Immediately after receiving the case of admission with abnormal symptoms, the hospital reported to the police and at the same time reported to the Department of Health.
As reported by Tien Phong newspaper, on September 17, people in group 100, Tam Dong hamlet (Thoi Tam Thon commune, Hoc Mon district) discovered that the boy had a wound on his neck, running from the house to the street. The child lives with his biological father (about 30 years old) in the above area. Immediately, people took the baby to Hoc Mon area General Hospital for emergency and then transferred to Children's Hospital 1.
The police department has launched an investigation into the incident. Initial information is known, the cut on the baby's neck was caused by the father. This father is showing signs of psychological abnormalities.