On the morning of September 7, on the social network, the image of the leader of Le Hong Phong High School (Krong Pak district, Dak Lak province) appeared on the social network to burn incense to "worship", behind the image of the opening ceremony of the school year 2022. -2023.
This image quickly received the attention and sharing of the online community. Many people think that this is probably the most unique and strange opening ceremony in Vietnam.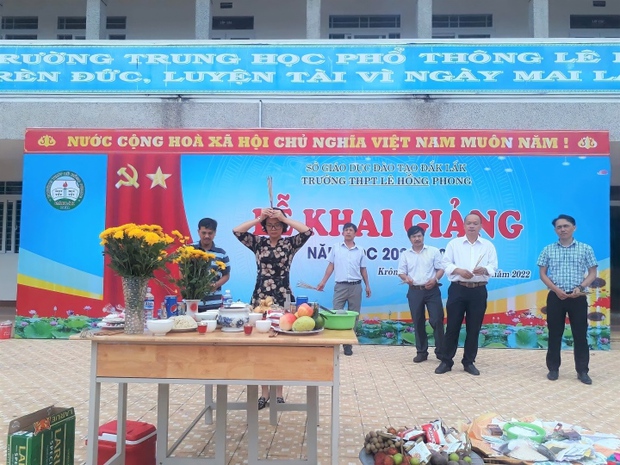 Burning incense "worshipping" in the opening ceremony. (Photo: Social network)
According to the report of Le Hong Phong High School, on September 5, the school held the opening ceremony of the new school year 2022-2023 according to the prescribed time and organized teaching immediately after the ceremony.
September 6 every year is the death anniversary of famous celebrity Le Hong Phong. As a school named after famous people, every year in the afternoon after working hours, the Board of Representatives of the parents and students of the school make a tray of rice to commemorate. However, after the opening ceremony of the school year 2022-2023 ended, the school's opening ceremony poster was left for teachers and students to take souvenir photos.
When offering incense in memory, a teacher took a photo and posted it on social media, creating mixed comments.
"The school has asked that teacher to remove the post on social networks and discuss with that teacher to learn from sharing lessons on social networks. The school board, the school's union and the parent representative board. Students would like to learn from experience that such incidents will not happen," Report of Le Hong Phong High School clearly stated.