Portrait of boss U70 and a closed drug line
At the age of seventy-five, however, subject Hoang Thi Thai (ie Thai Chat, born in 1952) still single-handedly directed and operated a huge drug line from Laos to Vietnam for consumption in Thanh Hoa province and one neighboring provinces.
According to Thanh Hoa Provincial Police, the "boss" of the above drug ring is a native of Dong Tan ward, Thanh Hoa city, widowed and childless. This tycoon started from the business of passenger cars and trading in agricultural and forestry products on the way from Thanh Hoa city to the mountainous western border districts of Thanh Hoa province. With a rogue and reckless nature, perhaps this bus business has promoted "Thai quality" to form the idea of ​​​​establishing a line to trade and illegally transport drugs from Laos to Thanh Hoa City. consume. Notably, in the past, "Thai quality" had a criminal record for illegal drug trafficking, however, this subject was not "peaceful" but still recklessly "used to the old road" gradually formed a road. illicit drug trafficking in large quantities, more sophisticated.
In order to carry out her scheme, with many tricks, Hoang Thi Thai gradually arranged, actively recruited and trained lewd subjects with many criminal records, then adopted them to be adopted. Easy to use and manipulate to form a closed and sophisticated drug line that ensures loyalty.
Accordingly, the subjects after receiving Thai were assigned a clear task. In particular, Thai directly directed and participated in drug transportation, and arranged "close" subjects to hold the main clues, including, a focal point to receive drugs from Laos to Vietnam, a The focal point will carry out the transportation and the other will carry out the distribution and sale of drugs in Thanh Hoa province and some neighboring provinces.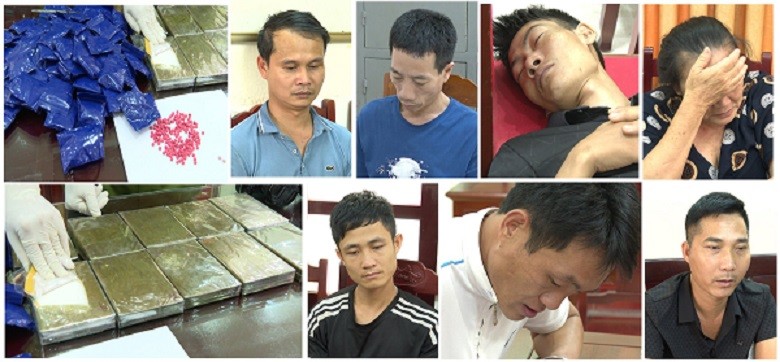 The "boss" Hoang Thi Thai and the objects in the line were arrested
In order to receive drugs from Laos to Vietnam, "Thai substance" recruited Dinh Van Lanh, (born in 1985, residing in Tam Thanh commune, Quan Son district) and adopted the subject and then assigned the task. operating and directly receiving "goods" from Laos to Quan Son district through 2 subjects, Lo Van Chau and Lo Van Danh, residing in Tam Thanh commune. After receiving the "goods", subject Lanh will directly deliver the drug to Hoang Thi Thai to bring back to Thanh Hoa City for consumption in appropriate conditions.
A notable figure in this line is Do Anh Dung (born in 1974, residing in Truong Thi ward, Thanh Hoa city). This is an ordinary taxi driver in Thanh Hoa city. During his life, Thai got to know Dung and with the eyes of a "boss", Thai quickly discovered Dung's "qualities", so he entices and recruits Dung to act as a carrier cum " friendly private driver" for yourself. As noted by the scouts, Dung has a very good driving skill, with a distance of 200 km from Thanh Hoa City to Quan Son district with many winding mountains and abysses, but with his talent, Dung only went away. about 2 hours to arrive. With this feature, Dung was favored by the boss and assigned the task of transporting, delivering, and collecting money…
After being received by Lanh in Quan Son district, Thai will study the appropriate time, place and route of transportation to bring to Thanh Hoa city for consumption. In Thanh Hoa City, Thailand recruited and trained Le Xuan Bang and assigned him to take on the task of being the focal point of retail drug transactions. With her cunning and cunning, Hoang Thi Thai's drug line operates very discreetly, absolutely not dealing with strangers, but only selling to people she knows before. Therefore, the process of accessing the criminal activities of this line is extremely difficult.
"Take off" to erase the criminal line
Through the work of understanding the situation and basic investigation, the Drug Crime Investigation Department (PC04), Thanh Hoa Provincial Police discovered that in Thanh Hoa province, there was a drug trafficking ring with a large number of people. very large amount across the border from Laos to Vietnam for consumption in Thanh Hoa province.
Determining that this is a large line, in order not to "unplug the forest", the Director of Thanh Hoa Provincial Police, together with the Head of the Thanh Hoa Provincial Police Department, directed PC04 to establish a special project 224L to focus on fighting. fight to completely destroy this line.
Taking on the task, the Special Team used synchronously professional measures to infiltrate, investigate, thoroughly verify the operation methods and tricks of this line, thereby developing a plan of action. The project of fighting to destroy and secure the force involved in solving the crime.
With her cunning and cunning nature, object Hoang Thi Thai used many tricks such as regularly changing communication methods via social networks, changing phone sims, using ethnic languages, etc. to operate. closed. At the same time, the transportation route through many dangerous mountainous areas also causes many difficulties for the Specialization Committee in ensuring the arrest of people and exhibits during the process of solving the case. However, with determination and solid professionalism, the time to dismantle and bring this criminal line to light has also come.
After a period of 3 months of hard scouting, the Special Project Board received a secret message that on the evening of May 28, 2022, Thai and Do Anh Dung would go directly to Quan Son to get "goods". Determining the right time, the special case committee decided to solve the case. To do this, the Director of Thanh Hoa Province's Public Security has mobilized professional departments and police of districts: Quan Son, Lang Chanh, Ngoc Lac to coordinate and divide into several working groups to block and catch offroad roads. It is expected that the object will pass through, together with the organization to closely follow the area, capture all changes of the object.
As calculated by the Project Committee, on the afternoon of May 28, Thai directed Do Anh Dung to drive with him to Quan Son district to get "goods". After paying and "receiving the goods", Thai and Dung quickly got into the car to move towards Thanh Hoa City without knowing that the scouts were secretly following when the car started moving from Tam Thanh commune. With a cunning nature, on the way many times, the car carrying Dung and Thai suddenly stopped or changed direction to distract and "listen" if someone followed. Alternating each time, the subjects will pause for a period of time, when it feels safe, the new objects continue to move.
At about 20 o'clock on the same day, when passing through the territory of My Tam commune, Ngoc Lac district, determining the right opportunity, the PC04 room mainly coordinated with the forces to decide to proceed to close and arrest the subject. Sniffing "there is a turn" when the car was blocked at both ends, Dung quickly increased the gas to run away. However, with careful preparation, the functional forces quickly rushed in and forced the subject's vehicle to plunge into the rice field and successfully arrested the subjects and exhibits, not allowing the subjects to have a chance. anti-communist, non-mourning. Searching the spot, the functional force seized 10 cakes of heroin, 18,000 pills of synthetic drugs.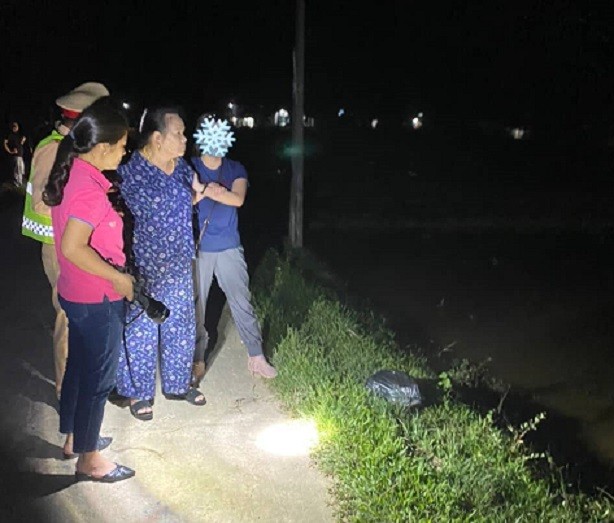 At the same time, after arresting Thai and Dung, other working groups simultaneously surrounded, arrested and searched for other subjects in the line including Dinh Van Lanh, Lo Van Chau, and Lo Van Danh (all of whom were identified as members of the group). in Tam Thanh commune, Quan Son district) seized 2.33 billion VND and many other related exhibits.
In Thanh Hoa City, another nose of the special case team quickly broke into Hoang Thi Thai's house (Tan Tu street, Dong Tan ward) and caught three people packing and retailing drugs. Unexpectedly stunned, all three subjects were Le Xuan Bang, Bui Van Duan (born in 1989 in Mau Lam commune, Nhu Thanh district) and Nguyen Ba Chung, (born in 1990 living in Dong Hoa commune, Dong Son district) meekly put her hand in the handcuffs. Here, functional forces seized 80g of heroin, 50g of methamphetamine, more than 4,000 pills of synthetic drugs, a homemade gun, more than 477 million VND and many other exhibits.