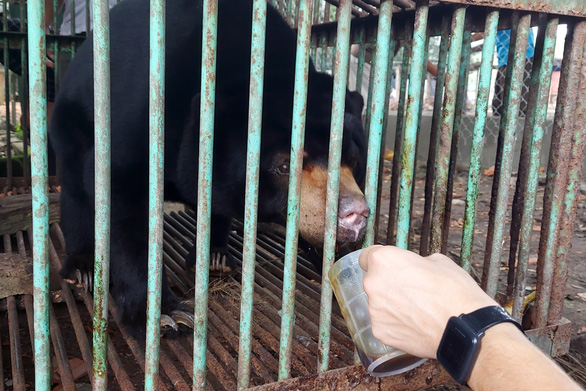 The last sun bear in captivity in Binh Phuoc was handed over to the bear center of Cat Tien National Park to raise – Photo: BA
On June 17, the Free the Bears bear conservation organization in Vietnam said that it had successfully coordinated to receive a sun bear at a private captivity facility and delivered it to Free The Bears' bear center in Cat Ba National Park. Tien.
After a long time of campaigning, the owner of the sun bear in Minh Long commune, Chon Thanh district (Binh Phuoc province) has agreed to hand over the male sun bear he is raising to the State.
With the adoption of the last bear in captivity, Binh Phuoc became the 42nd locality in the country to abolish the operation of bears in captivity for bile.
Mr. Nguyen Van Dung – managing director of Free the Bears in Vietnam – said that many bears are being kept in captivity in farms and households without humane treatment. These bears have a poor diet, live in cramped kennels, receive no veterinary care…
"Just like humans, bears need to enjoy a free life in the forest – where it belongs, has the right to live, to be loved, to be cared for and protected. Therefore, we hope that owners soon transfer captive bears to rescue centers so that they can have a better life, creating conditions for bear populations in the wild to be restored and developed," Dung said.
According to statistics from the ENV Education Center for Nature, there are currently nearly 300 bears in Vietnam being kept in captivity in more than 100 private facilities, a decrease of more than 90% over the past 15 years (from 4,300 individuals per year). 2005).