The tricks make many people, even though they doubt the origin of the above stock investment applications, still take the risk of trying to invest. When they see the profit in the account increase, they put more money into it.
T+0 transaction, traded during the day; "terrible" profits, high leverage up to 10 times; can push orders directly to the exchange, without going through intermediary securities companies, even to buy preferred shares at a much cheaper price than the market price, typically allowing investors to can buy REE shares at 53,330 dong, while the current price of this stock is over 85,000 dong, which is nearly 40% cheaper.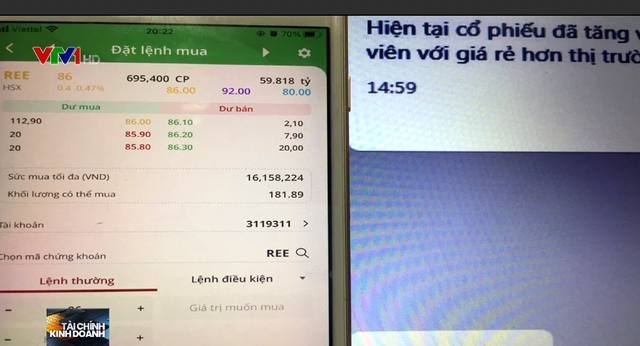 "They said they would buy the stock before it went on the market, buy it before it went on the floor, the price was lower than the market price. If I bought it, it would be cheaper than the market price, so the profit would be higher when I bought the stock. of those apps," one investor shared.
Advertising is like that, but these applications do not publicize the portfolio that the fund is holding. Experts say that this is just a trick to seduce investors.
"Investors can ask to show the portfolio to see how much that fund holds, which securities company belongs to, I can check whether the account is legal or not," said Mr. Proprietary office, Kien Thiet Vietnam Securities Company, said.
A representative of the State Securities Commission said that it has not yet granted permission for any organizations and individuals to buy and sell securities on T+0 day. So the ads of the fake apps above are not true. In addition, no units have been able to push orders directly to the exchange.
"No organization or individual who is not a member of the exchange is allowed to enter orders and transfer orders directly to the stock exchange. One of the operating principles of the stock market is the principle of principle. Transaction orders on the stock market must be executed through securities companies. From securities companies, orders can be transmitted to the Stock Exchange and executed. This principle is also applied in Vietnam as well. like the entire stock market globally," said Mr. Hoang Phu Cuong, Deputy Director of the Securities Business Management Department, State Securities Commission.
A detail worth noting is that while wanting to open an account at the official securities companies, investors need to have an identity card, phone number and email, while fake applications, unknown origin. only requires investors to provide phone numbers.
Legitimate securities account numbers are required by law to have 10 characters, including letters and numbers, while fake apps immediately take investors' phone numbers as account numbers. Therefore, when investors trade at fake securities applications, of unknown origin, they will not be recorded by the Securities Depository Center (VSD), which means that the investor does not completely own the securities. Any stock, the risk is huge.
"The investor's account does not actually own shares. The investor's ownership is only shown on that impersonated app and is completely virtual. In fact, the investor does not own any shares. Extremely risky, because investors trade stocks without fully owning shares, when there is a dispute, investors have no legal basis to claim back their assets. own," said Mr. Luu Chi Khang, Head of Proprietary Affairs, Kien Thiet Vietnam Securities Company.
The risk of losing money is present. Typically, not too long ago, thousands of investors joined an application for investing in securities of unknown origin called StockX, when this application also advertised T+0 transactions, promising a profit of 600%. /year, buy shares cheaper than the market. However, after investors deposited money for a while, recently this application stopped working, all investors lost their money.
The State Securities Commission warned investors to only open accounts and trade with licensed securities companies, not to deal with fake applications, of unknown origin to avoid being beaten. steal personal information and property.