On the afternoon of September 30, the Propaganda Department of the Soc Trang Provincial Party Committee coordinated with the Provincial Police to hold a press conference to report the case of the police beating a teenager.
Answering the question, why do you return the offending car to a teenager who was beaten by police officers and soldiers, Colonel Vo Van Bo, Chief of Vinh Chau Town Police said, because Mr. (the driver) is under 18 years old, so for his violations, he is fined 50% of the prescribed amount and he D. fines have been paid.
When there are grounds to determine that the conditions for sanctioning administrative violations are met, the return of means is not wrong. If the violator pays the fine many times, only the first payment of the fine will be returned.
"The return of vehicles for children D. It's the right thing to do."said Mr. Bo.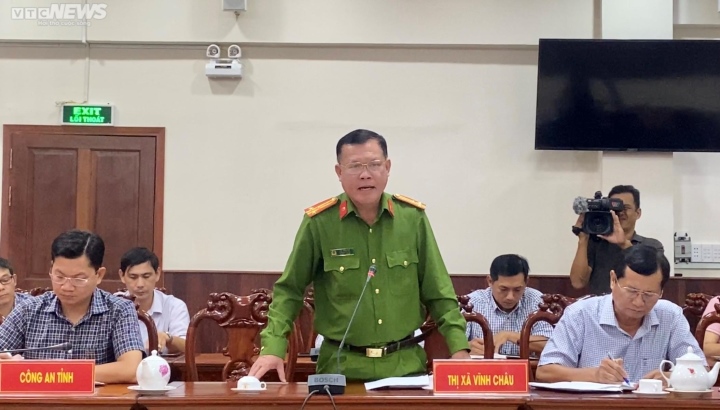 Colonel Vo Van Bo, Chief of Police of Vinh Chau town, Soc Trang province answered at the press conference. (Photo: To Tien)
Colonel Lam Thanh Sol, Director of Soc Trang Provincial Police, said that this is an unfortunate incident, no one wants, officers and soldiers have violated regulations, affecting the reputation of the Public Security and Public Security sectors. Soc Trang as well as leaders of the Provincial Party Committee and People's Committee of Soc Trang province.
According to the regulations of the Ministry of Public Security, Circular 99 on handling of conduct violations against the People's Police, shall apply depending on the aggravating and mitigating circumstances.
"In this case, cadres and soldiers violate the code of conduct, but at a serious, especially serious level, causing frustration to the masses and the media, we will remove the title of People's Police."Colonel Sol information.
According to the Director of Soc Trang Provincial Police, an officer who accompanied him but did not intervene to help his teammates stay calm must also be responsible.
"This officer should have reduced his rank, but according to the regulations, whoever has merit will enjoy, whoever is guilty will be punished. In early 2022, this cadre had a certificate of merit from the Chairman of the Provincial People's Committee, so the sanction was a warning."Colonel Sol shared.