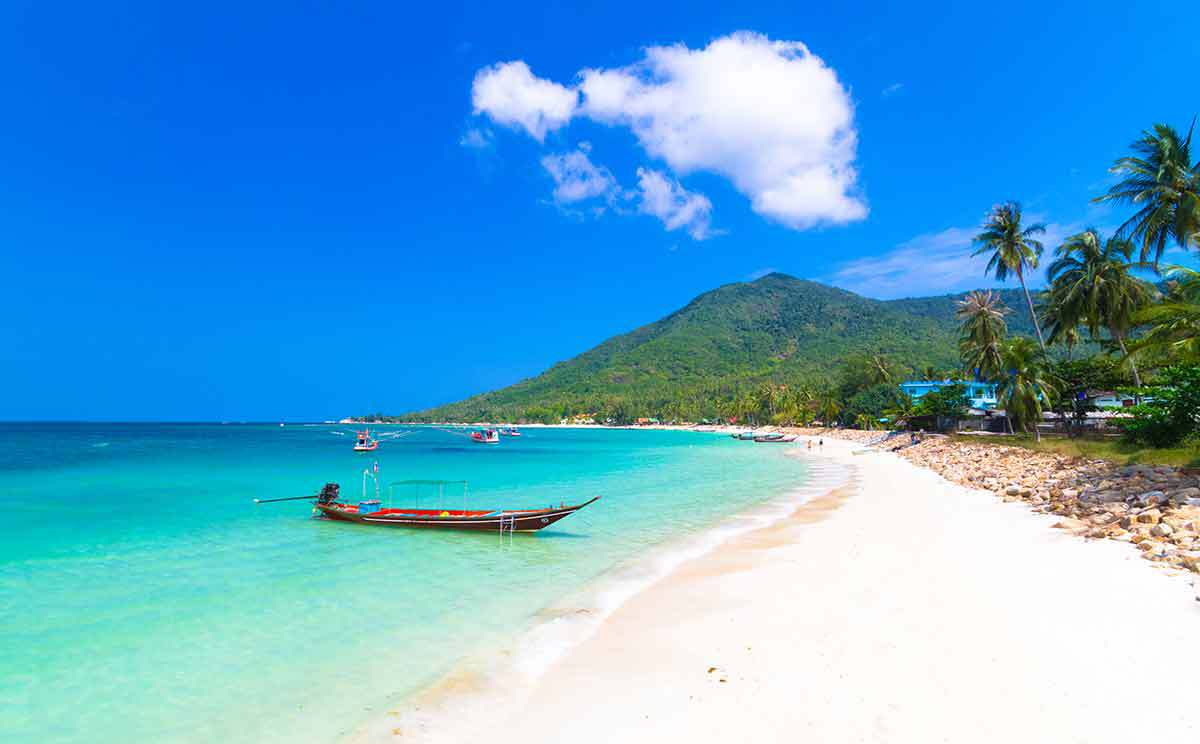 It is difficult to choose which continent has the most beautiful beaches in the world. However, Asia is clearly a strong candidate. From the islands of Indonesia to the coral reefs of the shallow waters of the Philippines or the beaches of Thailand, Asia always has soft, white sands and pristine turquoise waters. , attractive.
In early 2022, the famous travel website travel2next.com selected the list of the most beautiful beaches in Asia. Notably, Vietnam also reached the top with a familiar place.
15- Cua Dai Beach, VIETNAM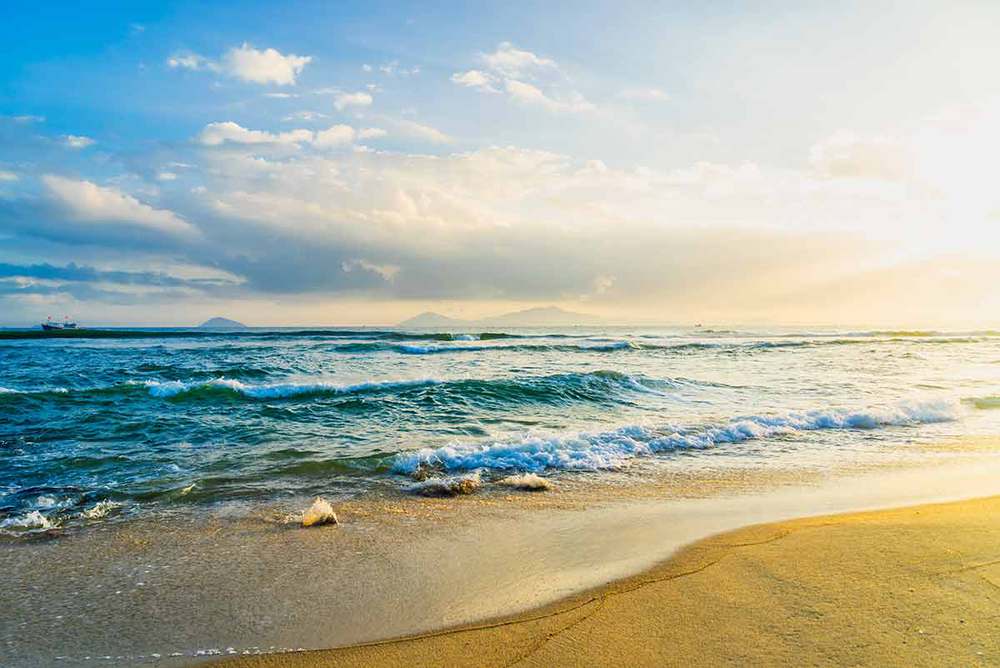 Located in Hoi An city, Cua Dai beach is considered to have "spotless" beauty and "surprise" tourists. In addition, Cua Dai beach is not far from An Bang beach (about an hour's walk), so if you like, you can also travel between these two places.
There are also many famous restaurants and bars to serve visitors, and an afternoon meal under the beautiful sunset at Cua Dai beach will probably leave a deep impression in your heart.
14- MAYA Bay, THAILAND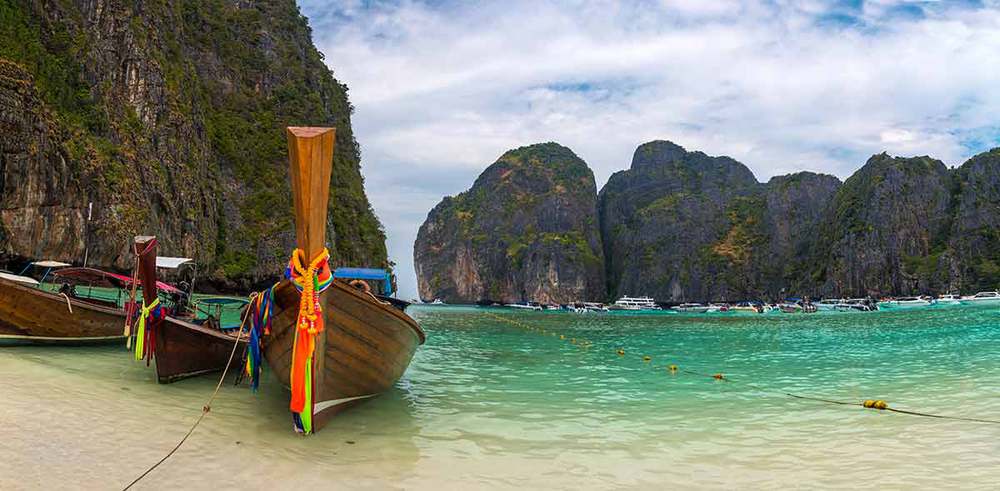 Used to be a famous filming location for a movie The Beach (known in Vietnam as .) Paradise island) with the participation of famous actor Leonardo DiCaprio, it is not surprising that Maya Bay is in the top of the most beautiful beaches in Asia.
Once upon a time, Maya Bay had to be closed because of too many tourists. However, the good news is that it is now open again for those who love the sea and want to admire the beauty of Maya's paradise.
13- POM POM ISLAND, MALAYSIA
Named after the Pom Pom trees that abound here, this tiny Malaysian island often appears on lists of the world's most beautiful beaches.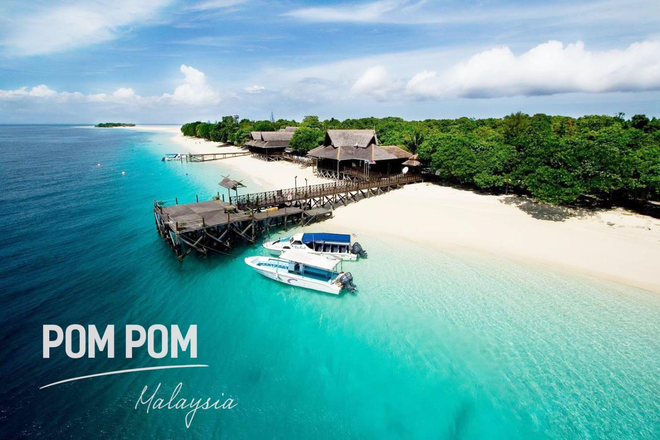 In addition, Pom Pom is also famous for its scuba diving service, so if you are a diving lover or just starting to learn about it, you will not find a more suitable place than here, with the biodiversity and countless tropical fish species for you to enjoy.
12- RAILAY BEACH, THAILAND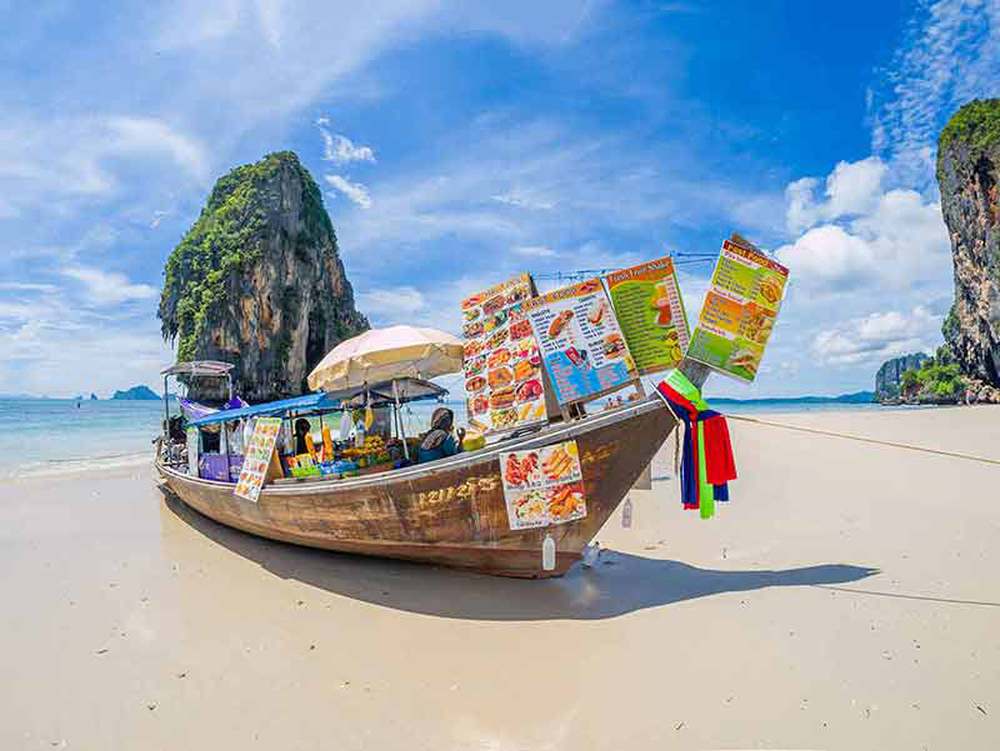 Located in Krabi, Railay beach is only accessible by boat so it won't be too crowded with tourists or polluted by car fumes. The most popular activities here include sightseeing boat rides, rock climbing or exploring the nearby Princess Cave.
11- BUTTERFLY BEACH, GOA, INDIA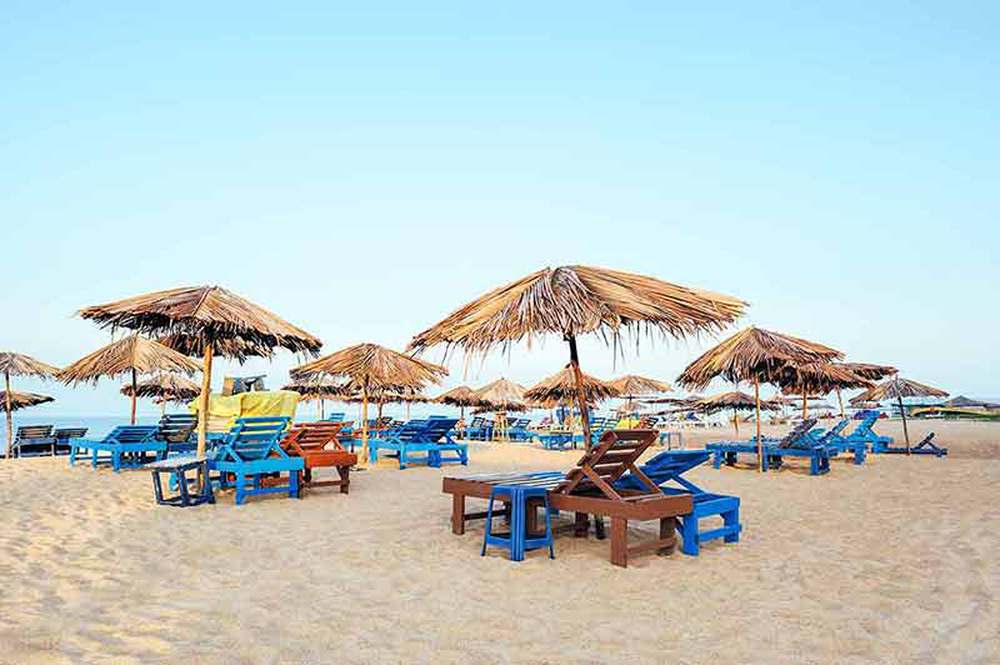 Thatch umbrellas are a common sight on the beach in Goa.
In the north of India, Goa is the land of yoga, surfing and has some of the best beaches in the country. Named after the butterflies that appear everywhere, Butterfly Beach is also a place where you can enjoy more peace and quiet than other beaches in Goa as well as find colorful crabs and fish, even dolphins.
10- PHILIPPINES ISLAND, THAILAND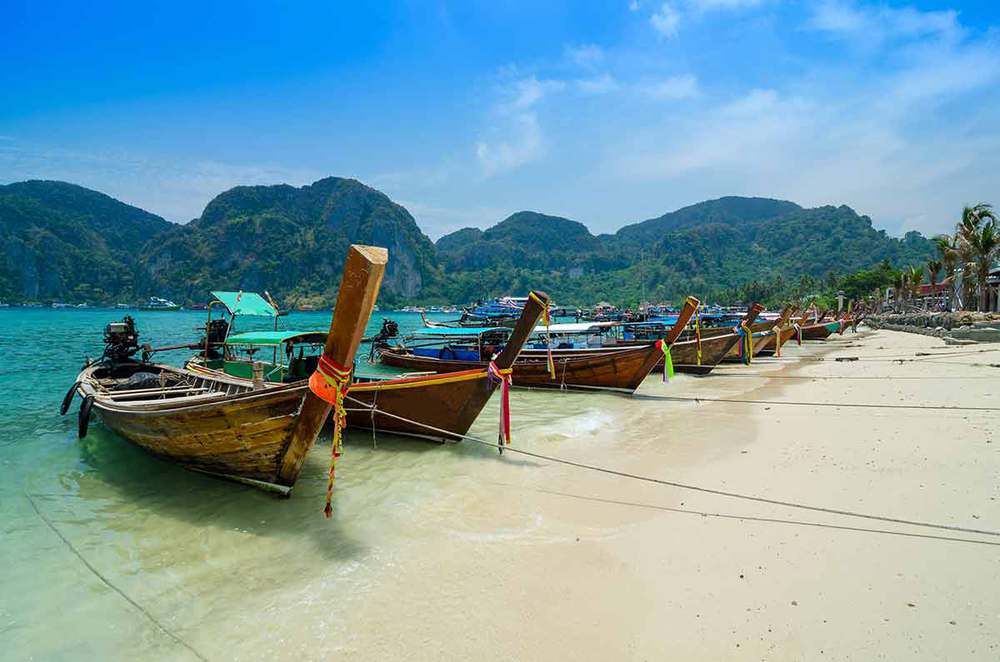 Long-tail boats – a typical image on Phi Phi Leh island in the Phi Phi archipelago.
Phi Phi Islands is a famous name of Thai tourism that you have probably heard many times. With long sandy beaches, clear blue water and towering mountains in front, it is not surprising that this is a favorite destination of many international tourists.
The most beautiful places that you should visit here include Monkey beach and Mosquito Island.
9. SANDIRA BEACH, PHILIPPINES
Located on Bantayan Island, Sandira Beach is such a hidden gem that many tourists come to Cebu, Philippines but accidentally ignore this place.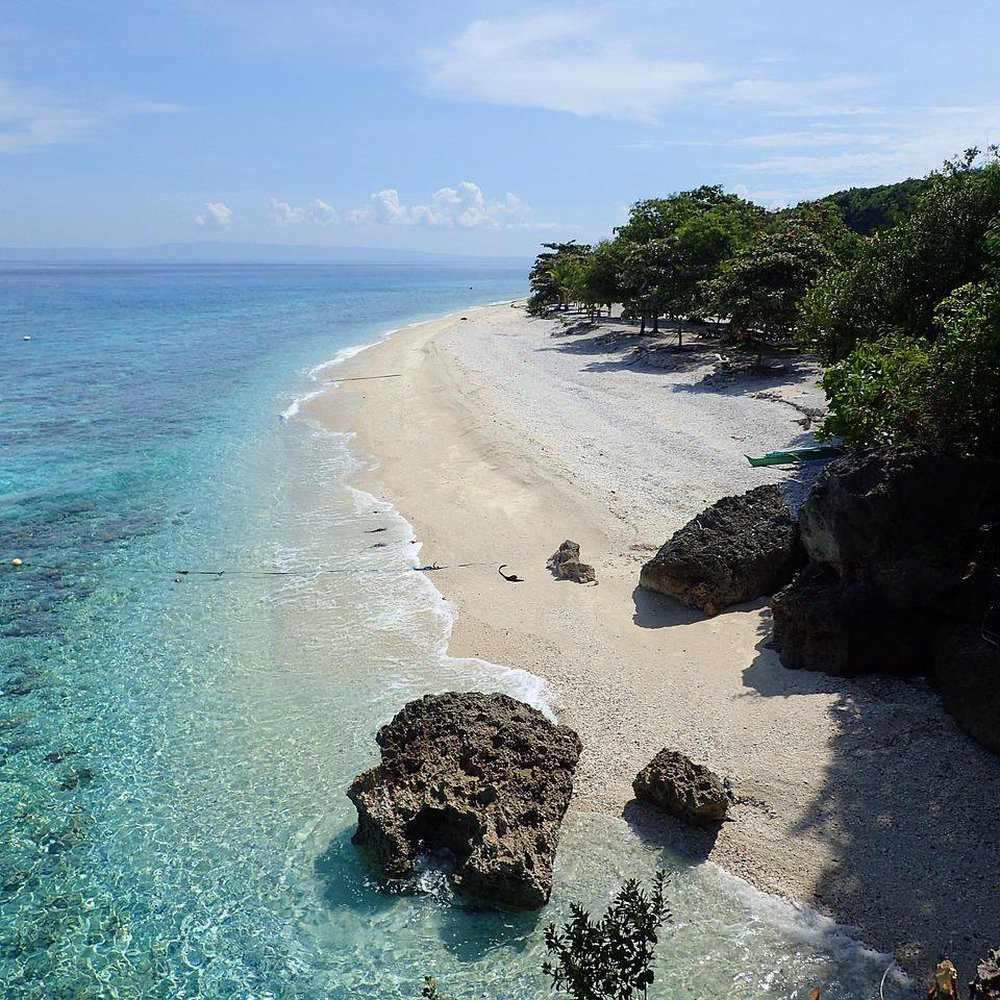 The best way to get around the island is to rent a motorbike to make the best of it. What awaits you here will be a paradise on earth, just like the meaning of its name Sandira: Clear water with a clear view of the sea floor, coral reefs as far as the eye can see, huts that are roofed with palm leaves or beautiful. The caves to explore are the "specialties" of this place.
8. IN MIRIS, SRI LANKA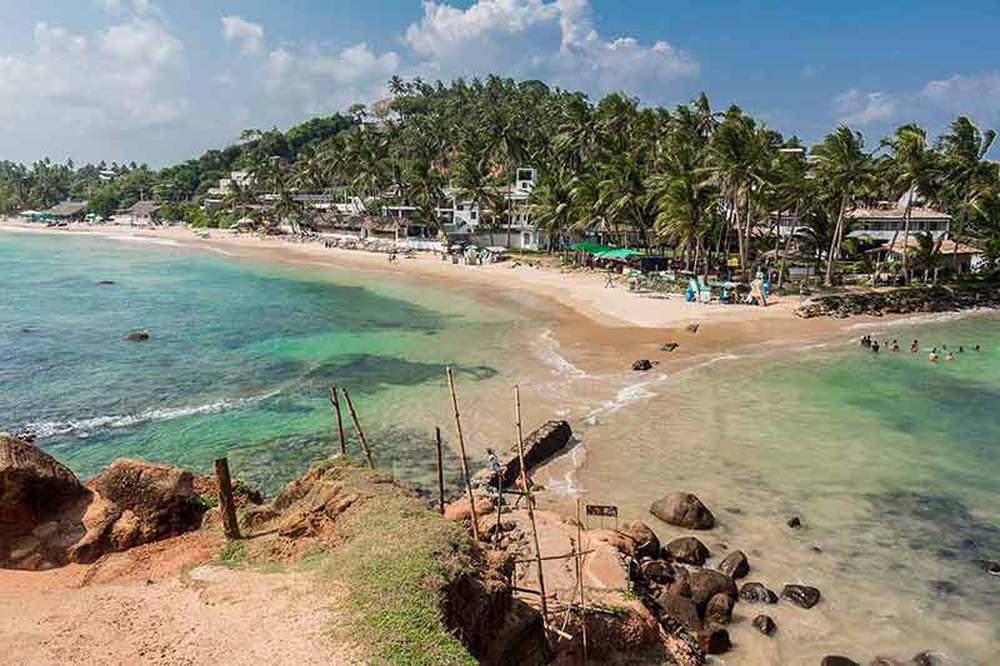 The beautiful Mirissa beach is one of the top destinations in Sri Lanka.
Sri Lanka has many beautiful beaches, but the most beautiful of them all is Mirissa. Possessing golden sands, turquoise waters with palm trees, beach clubs, bars, and cafes, perhaps Mirissa is every traveler's dream.
Most people come here to learn to surf, but you can participate in other activities, or simply sip a drink on the beach.
7- GILI AIR ISLAND, INDONESIA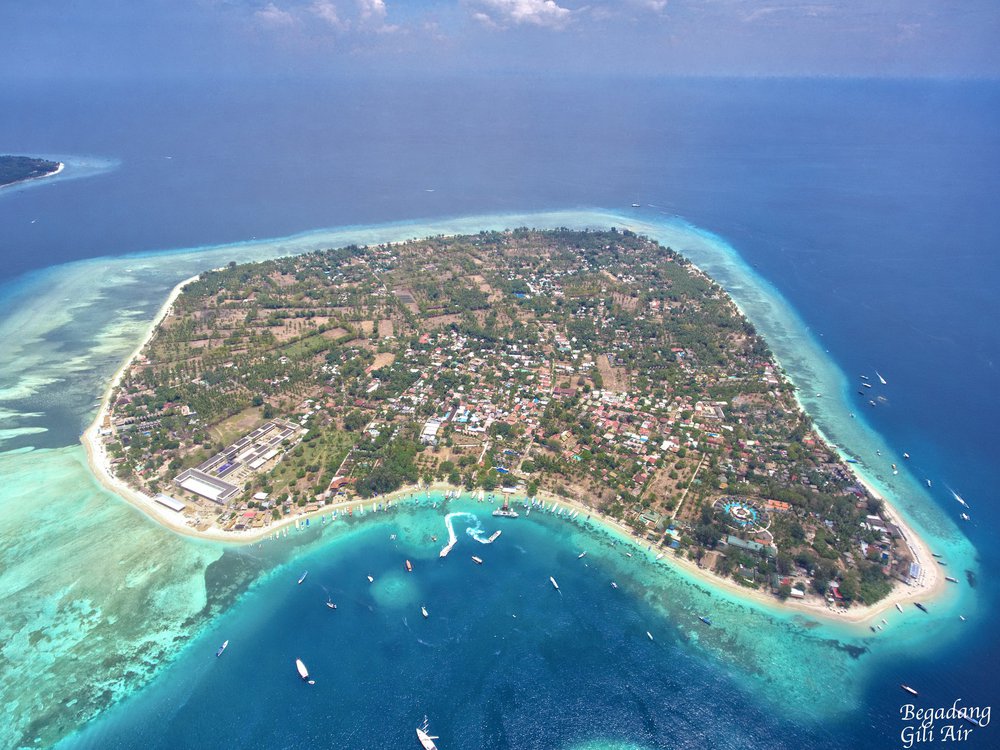 Gili Islands has 3 islands, Air, Trawangan and Meno, all of which are tropical paradises that deserve to be in the top of the most beautiful beaches in Asia, however, Gili Air is favored and added to the list. This is because it is further away from the other 2 landmarks, so it is quiet and helps visitors enjoy a more comfortable stay.
Like many places in Indonesia, the best way to travel on the island is to use a bicycle, which is both convenient, has time to admire the scenery and protects the environment.
6- SONEVA GILI, MALDIVES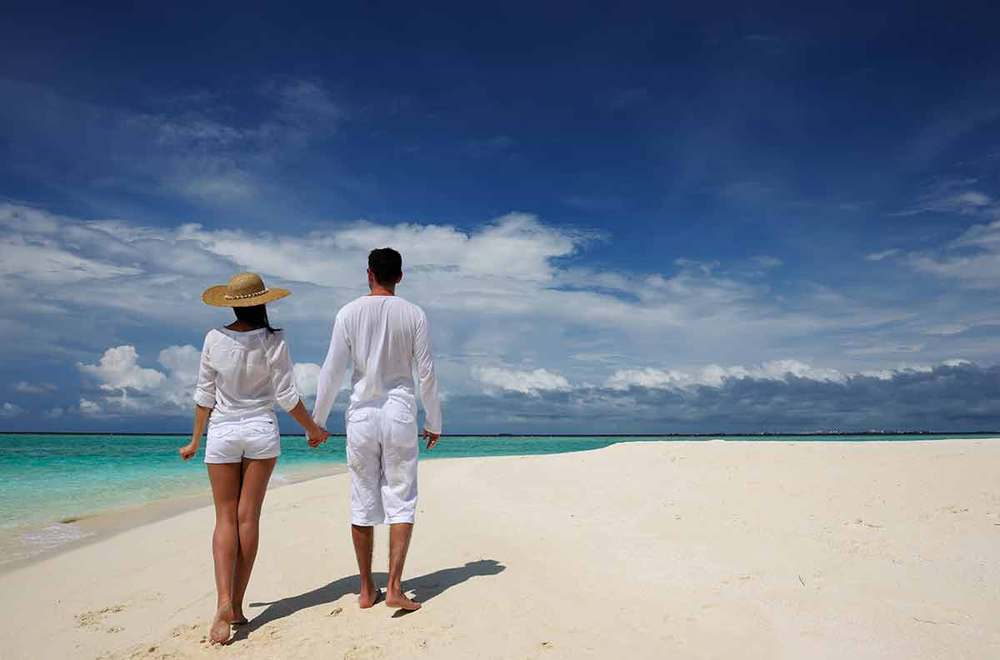 Maldives has some of the best beaches in Asia for honeymoon couples.
Also known as Gili Lankanfushi, this is one of the most beautiful resort islands in the Maldives, perfect for couples in love or honeymoon.
Of course, the cost of travel here is quite high, but if it is the important and special trips of your life then everything is well worth it.
5- NORTH BEACH, KOH RONG, CAMBODIA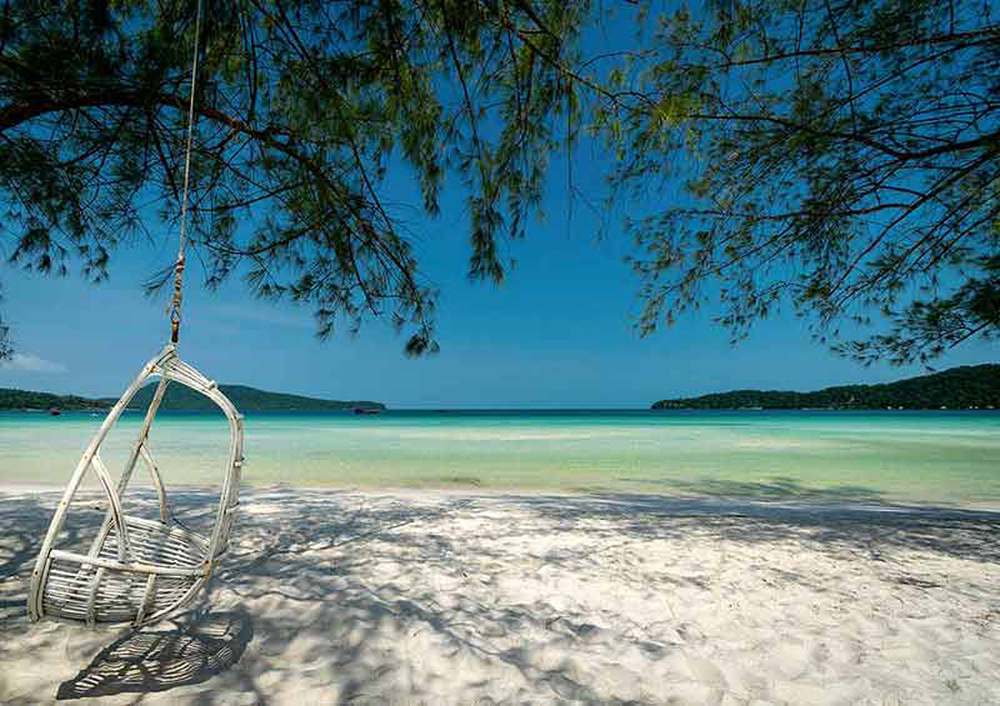 Koh Rong Island in Cambodia also owns the most beautiful beaches in Asia.
If you like real beaches like in the story of Robinson Crusoe then the beach at the farthest north of Koh Rong is the place to go.
A long boat ride from the center of the island, and about a 30-minute walk through the woods from the nearest town, it is a perfect haven for those tired of the city. with the noise and heavy traffic that seemed to never end.
4- KOH PHANGAN, THAILAND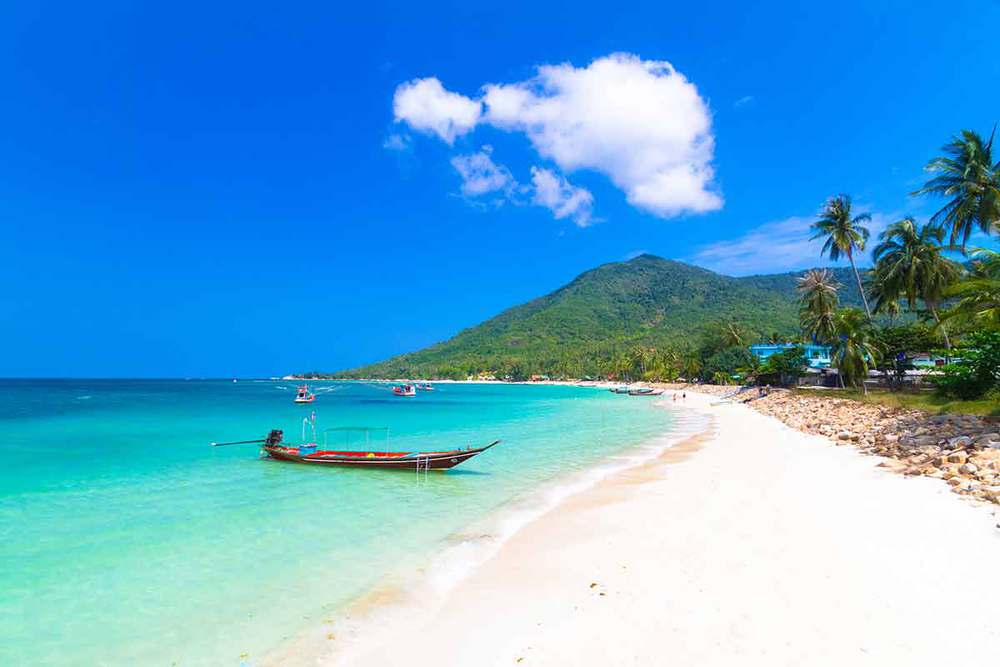 Koh Phangan is Thailand's fifth largest island, and one of the most famous islands of the Golden Temple. In addition to the lush forests and soft sands, in Koh Phangan you will have more than 20 different diving sites to choose from and are perfect for those who are new to the subject.
In addition, Koh Phangan is also famous for its "Full Moon Day Parties" that attract tourists from all over the world, making it an irreplaceable place in Asia to make friends, enjoy Enjoy and feel the sand overflowing through your toes while staying here.
3- EL NIDO, PALAWAN, PHILLIPPINES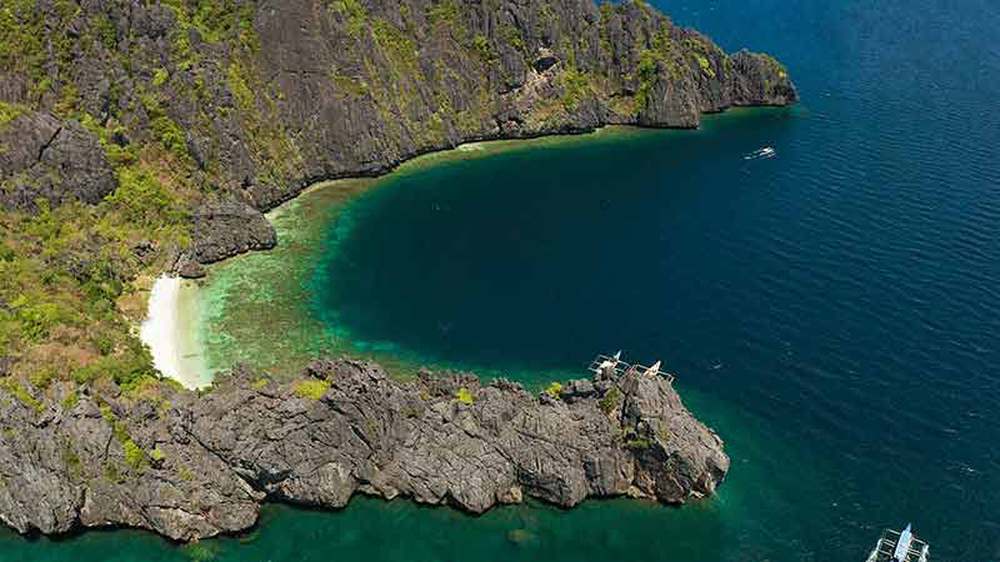 Stunning view from above of a lagoon in El Nido.
El Nido is an urban area in the province of Palawan in the Philippines, famous for its limestone karst landforms, beautiful beaches with crystal clear waters. Some of the most beautiful beaches to mention here are Corong Corong and Nacpan.
2- BORACAY, PHILIPPINES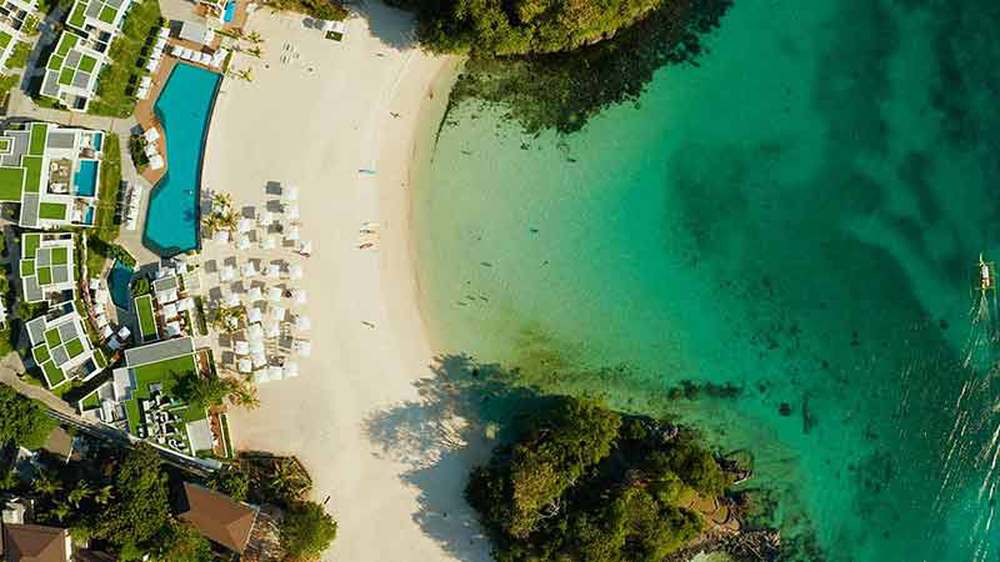 Boracay easily makes the list of the most beautiful beaches of Asia.
Boracay, the most famous archipelago of the Philippines with a pure white sand beach up to 7 km long, often appears in tourist postcards. Its main beach is also known as "White Beach" probably for this reason as well.
Coming here, visitors will have countless unforgettable experiences such as practicing yoga on the beach, kitesurfing or scuba diving, listening to live music on the beach…
1- Pink Beach, KOMODO, INDONESIA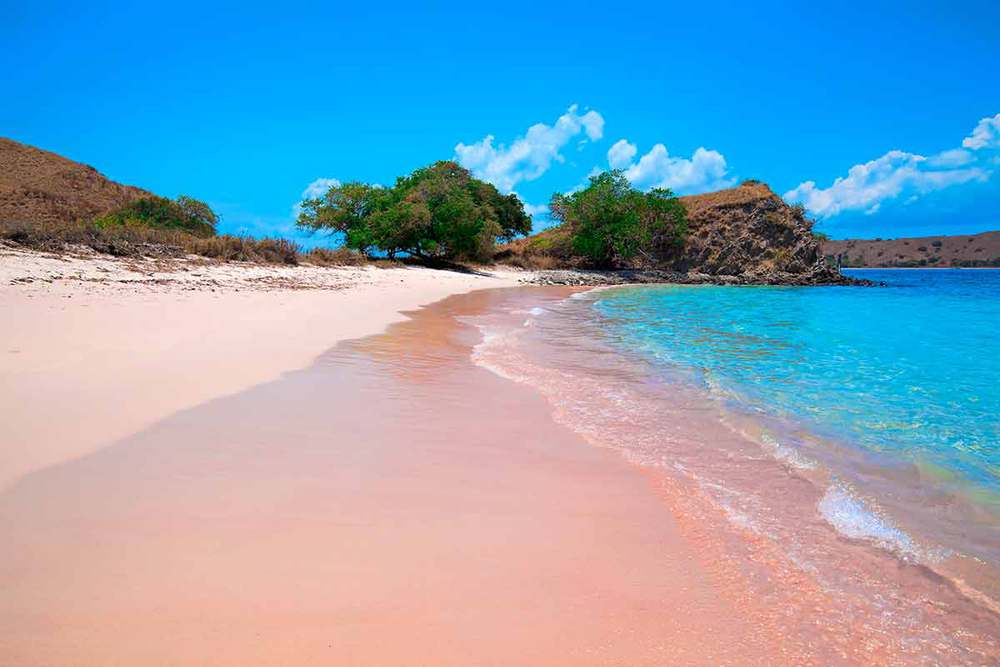 The unique beauty helps Hong beach topped the list of the most beautiful beaches in Asia.
With a unique beauty like no other, Hong Beach in Indonesia's Komodo dragon island easily tops the list of the most beautiful beaches in Asia this year.
You may have heard of pink lakes in Australia and Mexico. Pink Beach is similar, but here only the sand is pink, and the water is still blue and is an ideal place for creating one-of-a-kind beautiful virtual photos.