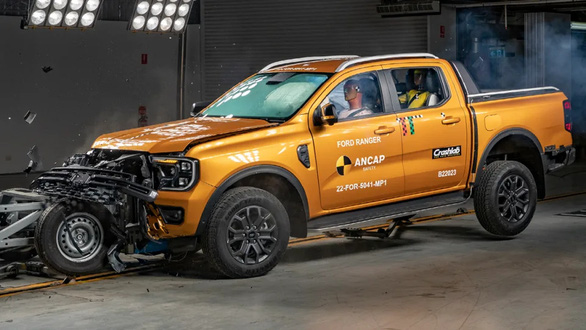 The new Ford Ranger is rated 5 stars for safety, with overall scores quite uniform in all tests – Photo: ANCAP
The latest generation of the Ford Ranger and the shared SUV version, Everest, has received the most advanced safety certification in Australia, the 5-star ANCAP. According to this organization, the new Ford Ranger is the fourth pickup model to meet the most advanced safety standards after they apply more stringent testing standards from 2020, following GWM Ute, Isuzu D-Max and Mazda BT. -50.
The specific score of the new Ford Ranger in each category is 84% ​​in adult passenger protection, 93% in child protection, 74% in pedestrian protection in the event of a collision, and 83% in safety assist technology.
Most of the Ford Ranger front and side crash tests gave good and acceptable results. Only 2 tests returned sufficient results: the ability to protect the occupant's chest after a frontal collision and the driver's chest when crashing into the test column.
The new Ford Ranger is rated 5 stars by ANCAP for safety
In addition, the car is also deducted 4 points because the large size and weight increase the risk of being hit (like every other model in the segment).
The default Ford Ranger has 9 airbags, including a knee airbag for the driver and front passenger, as well as an airbag between the two front seats.
All of the above scores, according to ANCAP, are also converted to Everest when they are provided with enough information to show that the safety of the two vehicles is the same.