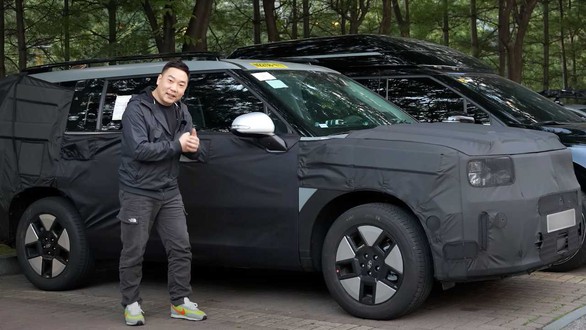 The new Hyundai Santa Fe appeared in Korea – Photo: The Korean Car Blog
The current generation of Hyundai Santa Fe was launched in early 2018, and until 2020 it is fully updated, with the chassis even being changed from the Y6 to the N3 type like the Kia Sorento.
Despite completely changing the vehicle platform, Hyundai still only considered Santa Fe when it was a facelift and was preparing for the next generation of this best-selling name.
In the past week, the owner of a Korean YouTube channel has seen a new Hyundai Santa Fe in a parking lot in this country. The test version of the car is still very well shielded with the outer camouflage layer, so it is not possible to observe the whole scene, but we can realize that the car style chooses square, masculine as the main theme.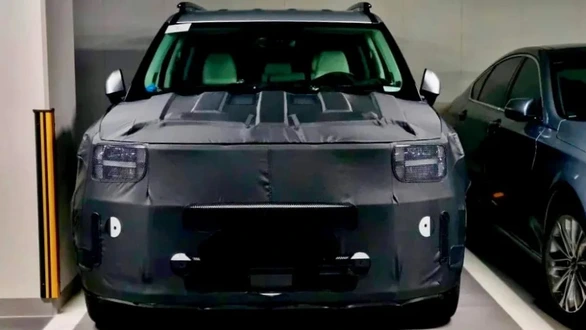 The front of the car shows that the front light cluster interface on the new Santa Fe is quite square – Photo: The Drive
In addition, part of the H-shaped front lights on the SUV are also visible. The front light cluster can choose a rectangular outer frame like the Staria van series, with a thin strip of lights connecting the middle running close to the bonnet operating like daytime lights. The rear light interface in the video also seems to create an H shape.
Some other observable points outside the new Hyundai Santa Fe exterior are the new larger windshield tilt angle, and the black painted A-pillar combined with thick wheels, ceiling racks continue to highlight the male style. properties of the new version. The interior of the car is temporarily unobserved when only white leather is seen and the rear seats are folded.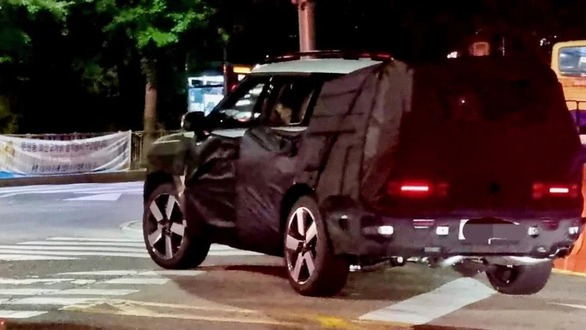 The square overall frame of the new Hyundai Santa Fe is made more prominent thanks to the ceiling rack and thick wheel spokes – Photo: The Drive
In April this year, page The Korean Car Blog confirmed that the new Santa Fe may be the first Hyundai model to use the new glowing logo, but we have not seen this element appear.
The new Hyundai Santa Fe is expected to launch in the second half of 2023.