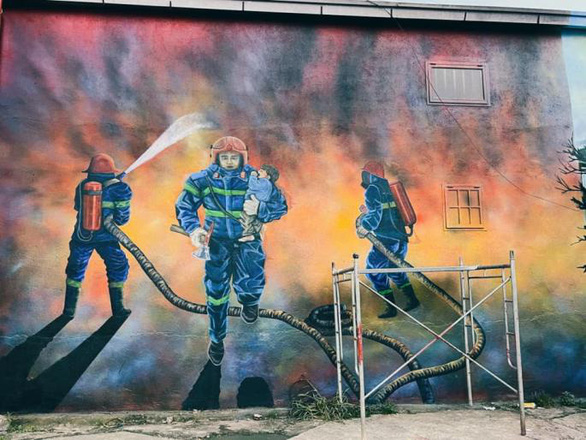 The wall became famous in Da Lat on 5-8
The wall located on Thong Thien Hoc Street, nearly 5m high, 6.5m wide, was hired by Mr. Sinh to draw pictures of 3 soldiers on firefighting duty.
He said: "A few days before, my family planned to paint murals to decorate the shop selling fire prevention and rescue equipment. But on August 1, when I heard the news of 3 soldiers sacrificed while on duty, to win the lives of the people, I was so moved that I asked my family to change the idea."
Not only paying tribute to and remembering the three fire fighters, he also wished that people would raise their vigilance against fire.
"In my opinion, every family should have fire equipment at home, have knowledge of fire prevention. Your sacrifices are related to many things. If everyone is conscious, the work of the Soldiers will be lighter," he shared.
As a seller of fire protection products, Mr. Sinh said that he often interacts with the soldiers, so he understands and sympathizes with them. When talking about this painting idea, his wife also completely agrees with her husband.
After only 4 days, the painting was completed. In the picture is the image of 3 soldiers busy at work, holding a fire hose and rushing into the fire. A soldier holding a baby runs from the fire.
The mural painting at Mr. Sinh's house was visited by many people in Da Lat during the day of 5-8.
"The mural section right at the Thong Thien Hoc gas station on Bui Thi Xuan street, there are many beautiful walls known to the people of Da Lat. This painting will be kept along with many other beautiful paintings. Although the You guys are gone, but the beautiful things you have done are still remembered by Vietnamese people everywhere," he said.
Seeing this picture, many netizens expressed their emotions. Binh Yen Tu's account wrote: "I bow before the souls of 3 soldiers. Please share the pain with your family".