What is porcelain veneer?
Porcelain veneer, also known as porcelain laminate (or porcelain veneers), is a technique to improve the aesthetics of the tooth surface by gluing porcelain teeth.
Different from the usual method of porcelain veneers, with porcelain veneers, you almost do not grind your teeth, but only need to roughen the surface with a thickness of about 0.5mm so that the stickers are better fixed. Due to very little tooth grinding, the porcelain veneers are ultra-thin with a thickness equivalent to a piece of contact lens, so the method of porcelain veneers helps to lengthen and even the crowns, giving a very natural white and shiny teeth.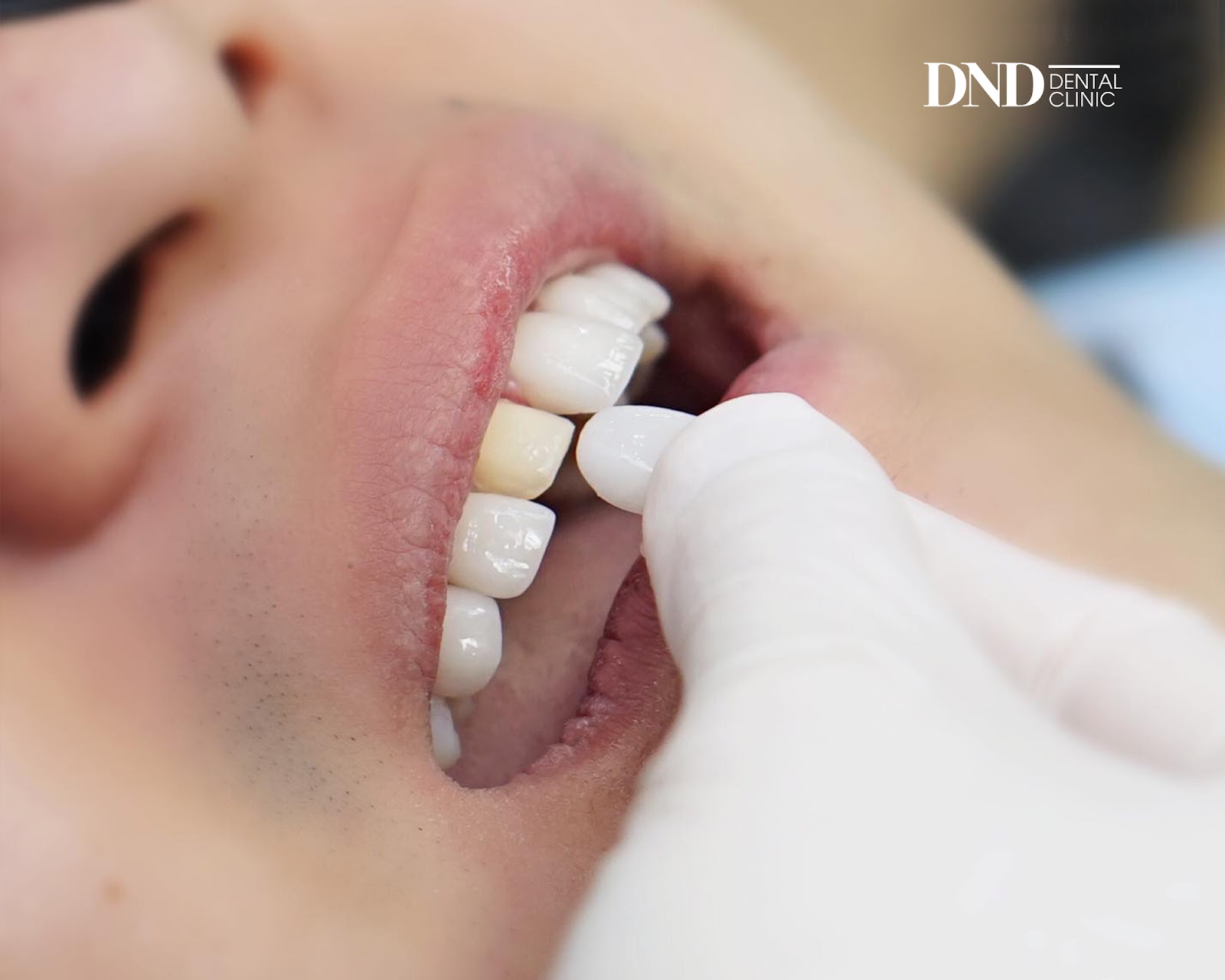 With the ability to bring back a bright white but very natural color like real teeth, and at the same time do not change color over time like composite veneers, porcelain veneers will bring you a beautiful and healthy smile.
Porcelain veneers are durable over time, little change in color during use and have a lifespan of up to 15-20 years depending on the level of the doctor and the porcelain material you choose. "If we make porcelain teeth properly with good porcelain material, our teeth are even better than real teeth", MSc. Dr. Tran Hung with more than 15 years of experience in Restoration – Cosmetic dentistry at DND International Dental Clinic.
However, this method has the disadvantage of high cost and not all teeth are suitable for implementation (misalignment of bite, severely stained teeth).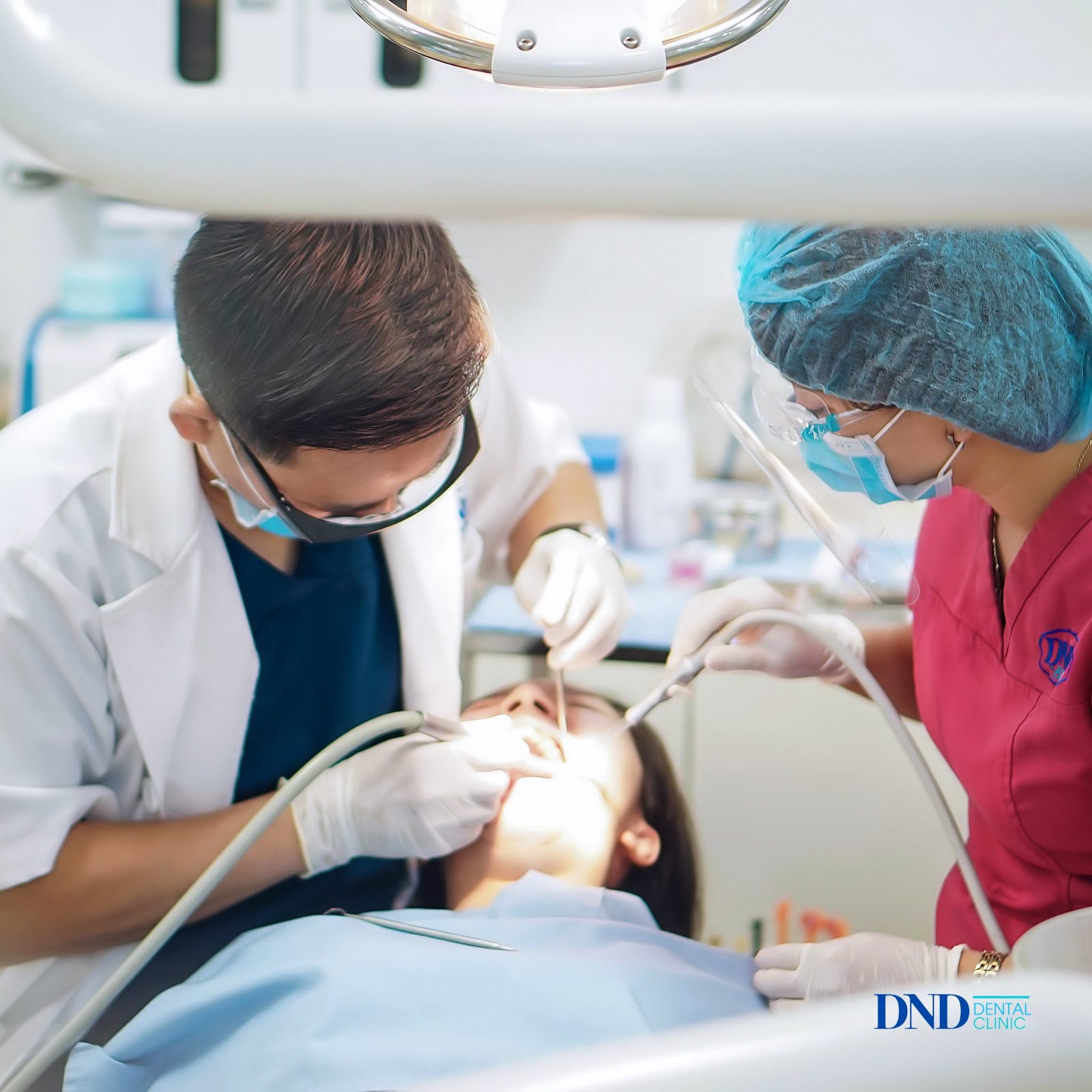 What dental problems can porcelain veneers fix?
Veneers are often used to correct the defects of the teeth such as:
– Stained, discolored teeth due to many reasons.
– Worn teeth.
– Cracked or partially broken teeth.
– Teeth are misaligned, slightly crooked or not in good shape.
– Sparse teeth.
Porcelain veneer paste process
To apply porcelain veneers, you need to visit the dentist 2-3 times. First, the doctor will advise you whether to apply porcelain veneers or not and which teeth should be made. After you decide to apply porcelain veneers, your doctor will take impressions of your teeth to make porcelain veneers. At the 2nd visit to the dentist, you will be glued with porcelain veneers.
If you still can't imagine the whole process of porcelain veneers, here are its specific steps:
1. Examination and consultation: The doctor will conduct X-rays, check the comprehensive condition of your teeth to determine whether you are suitable for porcelain veneers. Then, if appropriate, you will work with your doctor to choose the shape and color of your teeth that are natural and best suited to your wishes.
2. Oral hygiene and anesthesia: helps the whole process of making porcelain paste is guaranteed to be sterile and gentle.
3. Roughen the tooth surface: With the method of porcelain veneers, you will not need to grind down your real teeth, instead the doctor only needs to roughen the surface of the teeth to help fix the porcelain veneers.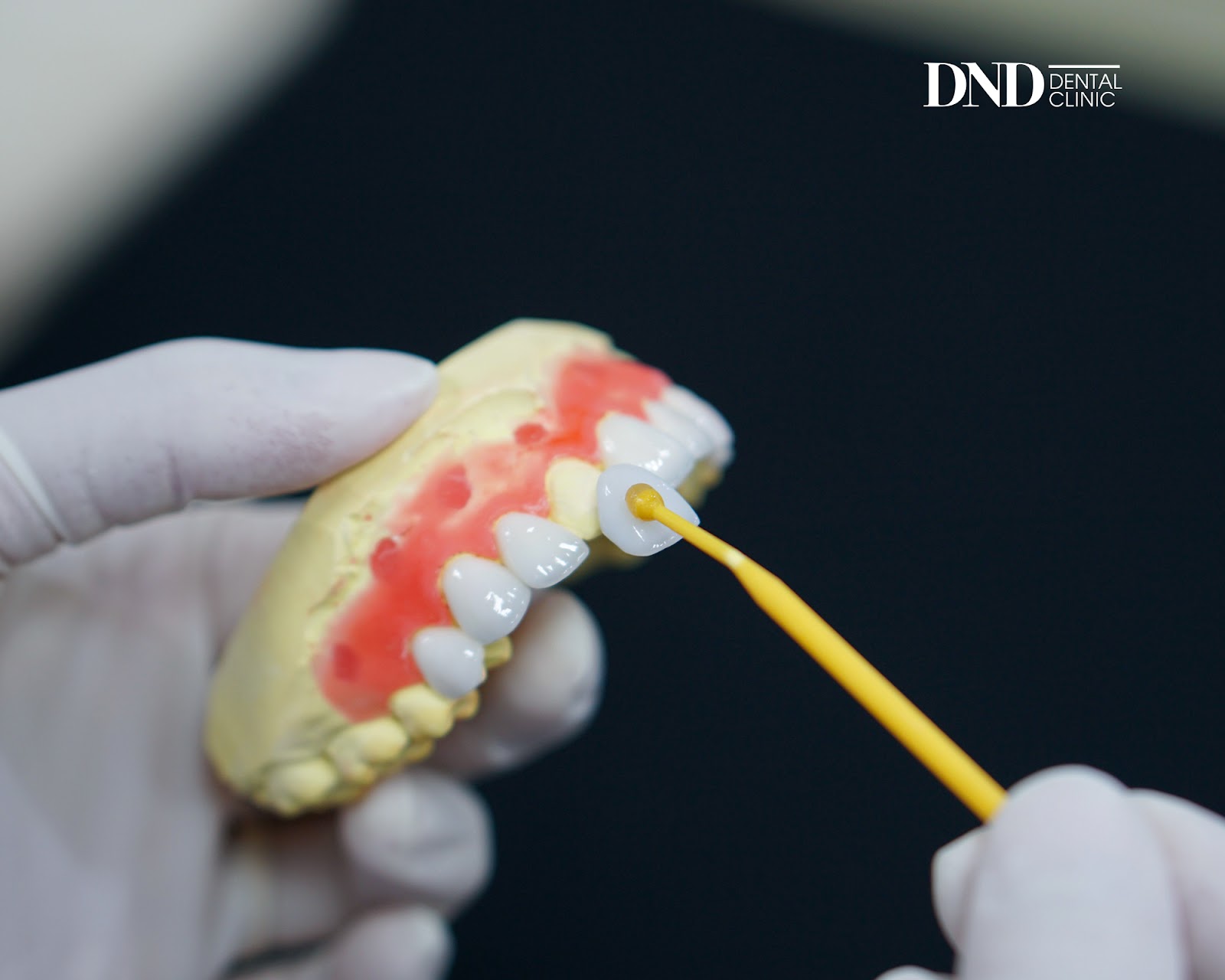 4. Take dental impressions: The doctor takes impressions of your real teeth to transfer the data to the laboratory to make porcelain veneers.
5. Design of porcelain teeth: Ultra-thin porcelain veneers require a tooth design step to ensure very high accuracy, with a perfect fit, keeping the clarity and gloss of the porcelain veneers.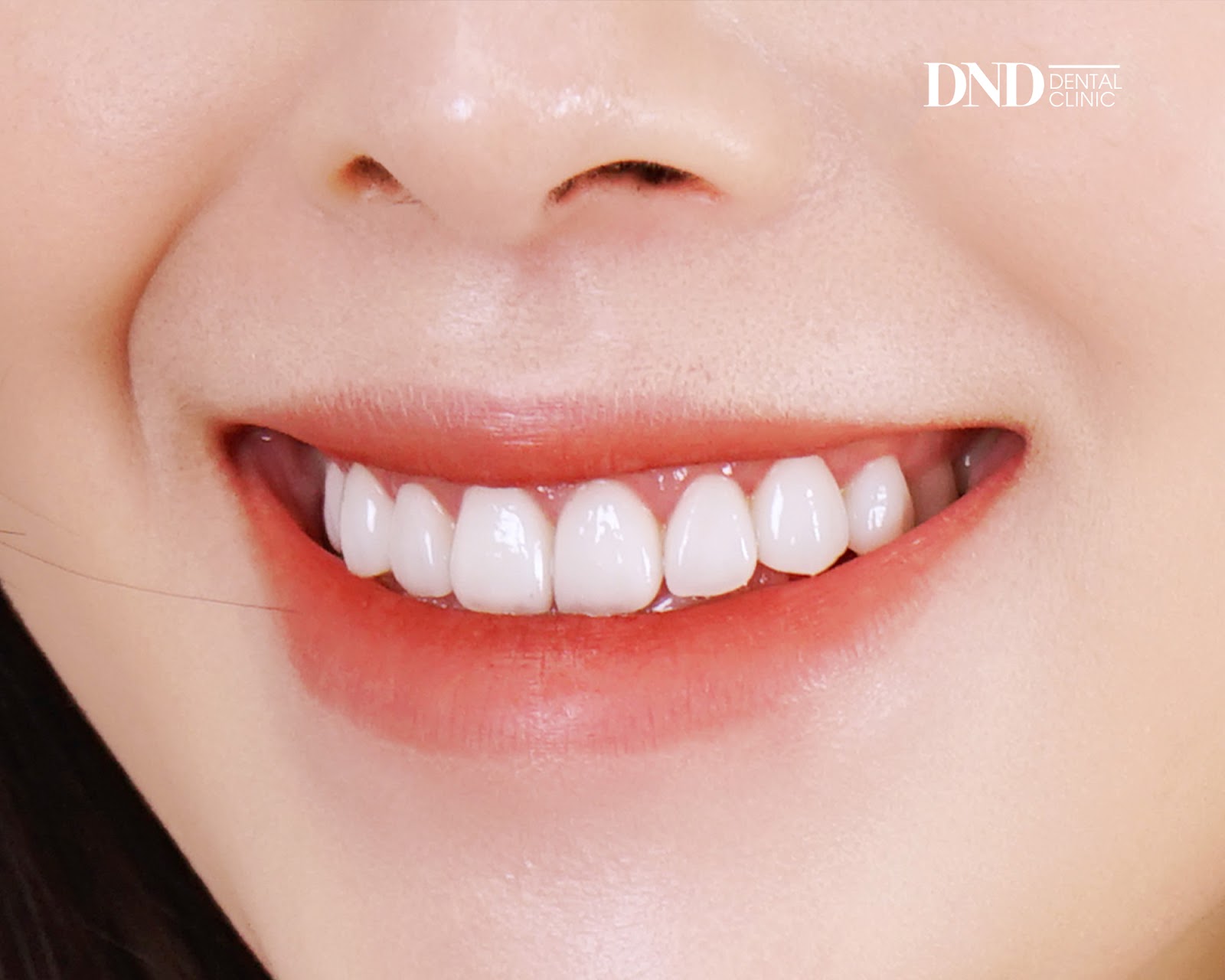 6. Finish paste porcelain veneer: The doctor fixed the porcelain veneer and completed the restoration.
Can veneers fall off or cause side effects?
Porcelain veneers are usually fixed very firmly on real teeth so you don't have to worry about them falling off. However, in some cases, if porcelain veneers are improperly bonded or poor quality veneers are used, this can happen. In addition, veneers are not guaranteed in terms of quality as well as the implementation process, which can lead to some harmful effects such as: misalignment of the bite, damage to the tooth pulp and cause bad breath.
Therefore, it is very important to choose a reputable and quality dental facility to get even, beautiful and durable teeth.
If the veneer is quality assured and the process is done, you can rest assured when applying porcelain veneers because this method is very safe and has almost no side effects. However, veneer is just like your natural teeth, it is important that you know how to care and protect it to avoid damaging the porcelain veneer surface. Be careful when biting foods that are too tough or hard and remember to pay attention to your oral hygiene.
In addition, some people are concerned about whether grinding their teeth to paste porcelain veneers will have any effect or not? In fact, tooth grinding is a technique in dentistry to adjust the length as well as the effect of reducing the surface of the teeth in a certain proportion to suit the correction of dental treatment.
Properly grinding teeth will not affect real teeth, helping to ensure the durability of porcelain teeth over time. When grinding teeth, doctors need to strictly adhere to the following factors:
Grinding should not exceed 2mm standard scale.
– Non-invasive to the pulp.
– Grind teeth smoothly to ensure that the porcelain crown fits closely to the base of the tooth…
Only when too much grinding is done will it affect the dentin, damage the tooth pulp, have a bad impact on the roots, cause gingivitis and some painful conditions later.
Care tips after pasting porcelain veneers
To limit the condition of porcelain teeth discolored or cause some unwanted problems, you should:
Regular dental check-up every 3-6 months.
– Take care of and clean your teeth regularly, up to 2 times a day.
Use mouthwash, floss to remove food residue on the surface and between teeth.
– Do not smoke, avoid drinking dark water, divide bite force into both jaws, limit eating hard, sweet, chewy foods, do not use teeth to tear packaging, open bottle caps …
DND International Dental Clinic – DND Dental Clinic
Address: 157 Bui Thi Xuan – Hai Ba Trung – TP. Hanoi
Hotline: 0832.124.124 / 0243.572.7722
Website: nhakhoadnd.com