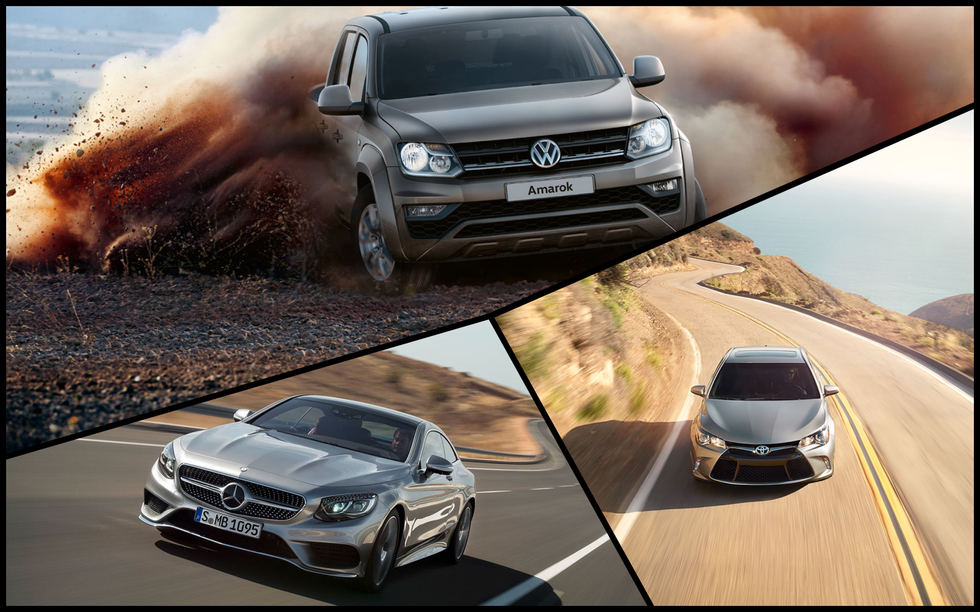 The top car companies are both rich and have great economic influence
According to data collected and analyzed by Vanarama, the top 10 richest automakers by revenue are Volkswagen, Toyota, Mercedes-Benz, Ford, BMW, Honda, General Motors, SAIC, Hyundai and Stellantis. Tesla is in 13th place, ahead of Renault but below Nissan and Kia.
* Statistics as of April 29, 2022
Volkswagen's revenue is more than GDP in some countries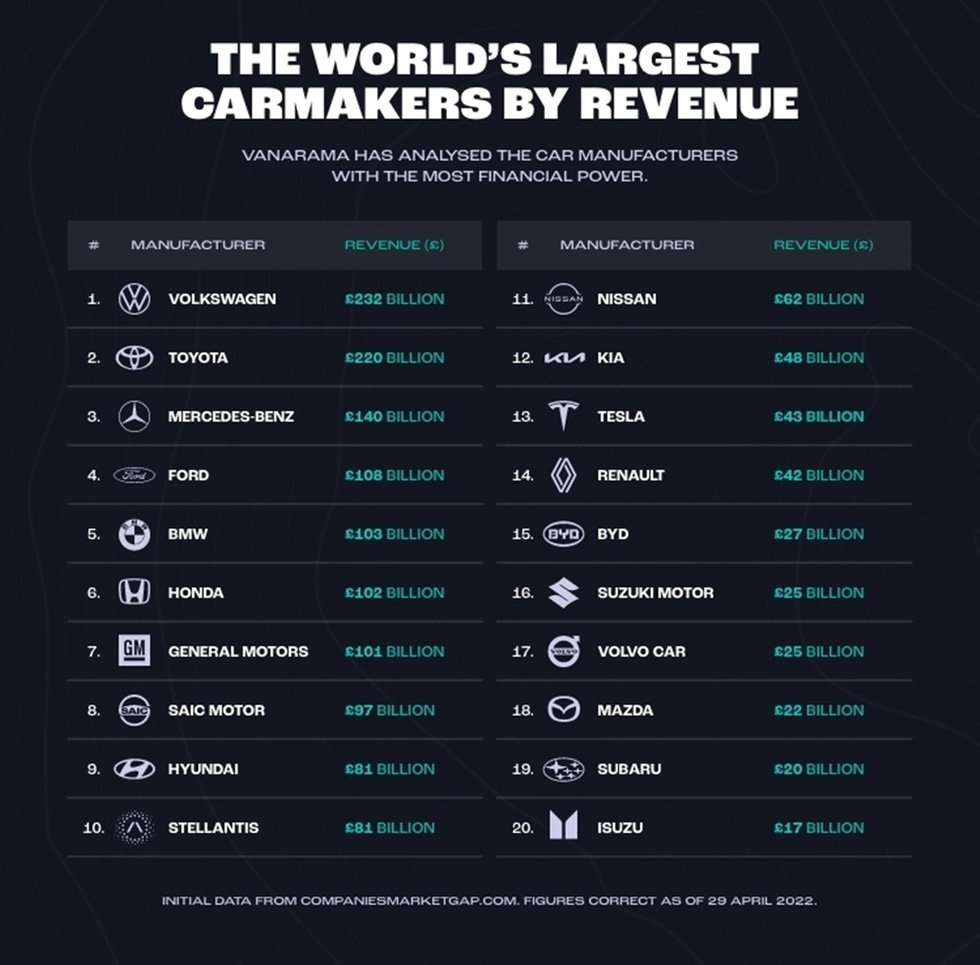 Top 20 largest car manufacturers in the world by revenue – Photo: Vanarama
With revenues of £232 billion ($259 billion), the German carmaker has a larger financial influence than New Zealand (£206 billion GDP), Portugal (£201 billion) and Qatar. 180 billion pounds). VW's revenue is more than the GDP of the world's 58 poorest countries combined, such as Moldova (£11 billion), the Bahamas (£10 billion) and Kosovo (£8 billion). In total, VW's revenue exceeds the GDP of 158 countries.
In second place is Toyota with sales of 220 billion pounds. That means Toyota is second only to VW, with sales greater than the GDP of 147 countries.
Meanwhile, Mercedes-Benz surpasses the GDP of 137 countries with sales of £140 billion. This is an impressive number for a luxury car company that does not have too many sub-brands, while the top two automakers own a series of car brands, from popular to high-end.
Lamborghini (£2bn in sales) and Aston Martin (£1bn) are at the bottom of the list, just ahead of US electric car maker Rivian (£40m in sales) and a handful of smaller carmakers. other odd. But the company dubbed the "second Tesla" is moving forward when it signed a contract to deliver 100,000 vehicles to Amazon and create global appeal with the R1T electric SUV, even though it will only be produced at the end of 2021.
Tesla is outside the top 10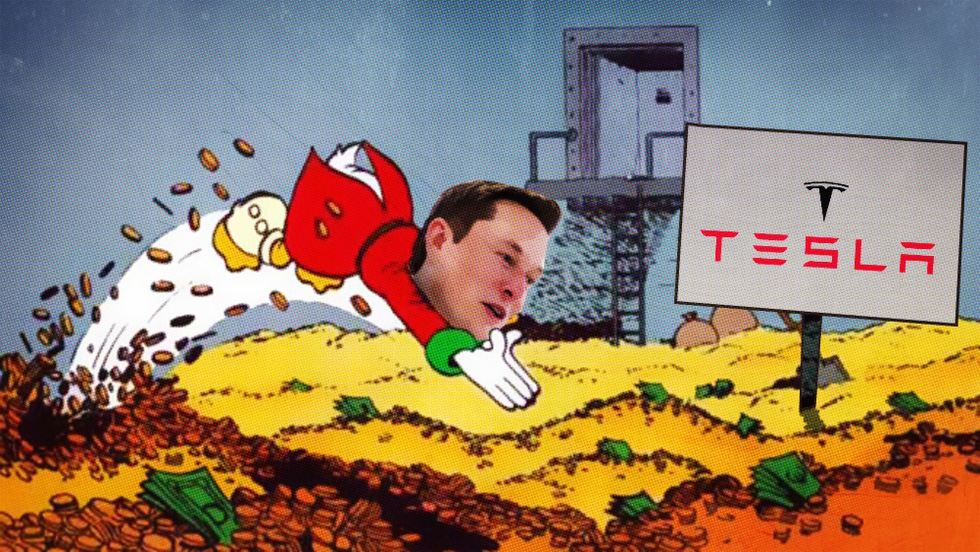 Tesla is not in the top 10, but still stands above many long-standing manufacturers – Photo: Ars Technica
Some people may be surprised to see Tesla in only 13th place. But for a fledgling automaker, this is no small feat. With sales of £43 billion, Tesla at least beats old brands such as Renault (£42 billion) and Volvo (£25 billion).
Many car companies make great contributions to the GDP of the country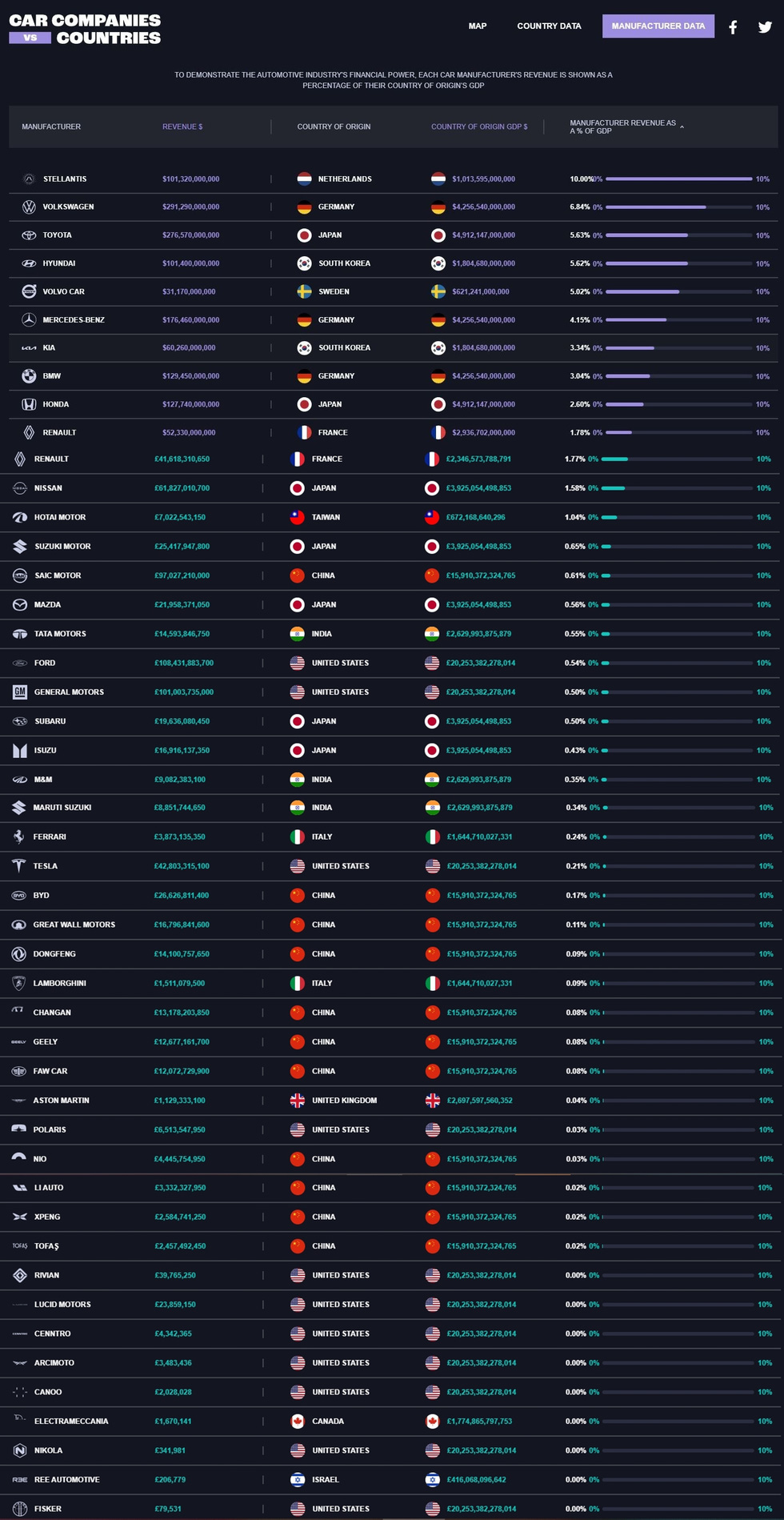 The ratio of revenue of car manufacturers to GDP in the home country – Photo: Vanarama
Not only considering the wealth of car manufacturers, Vanarama also compares their income with the GDP of the country of origin, thereby measuring the power of the automakers at home.
The most powerful are the top 3 Stellantis, Volkswagen and Toyota with the national revenue/GDP ratio of 9.95% (Netherlands), 6.81% (Germany) and 5.60% (Japan). .
Owning a wide range of car brands ranging from popular European names like Vauxhall and Citroen to American names like Dodge and Chrysler or even luxury car brands Maserati and Alfa Romeo, it's not surprising that Stellantis revenue is equivalent to 10% of the GDP of the Netherlands.
Of course, it must also be taken into account that many countries have a much higher GDP than the Netherlands. For example, the GDP of Germany is £3.4 trillion, Japan is £3.9 trillion, while the Netherlands is just £810 billion.
Considering the above criteria, it can be said that the UK is the country where car manufacturers have the lowest power. Aston Martin is the only automaker to make the list, ranked 32nd, with sales of more than £1 billion, or 0.04% of UK GDP.
That's not strange, when Aston Martin is not a popular brand and has a rather limited production volume. In return, they create rare but powerful cars that many people crave, such as the DBX 707 priced at £190,000.
Similarly, Ferrari accounts for only 0.24% of Italy's GDP with revenues of less than £4 billion.