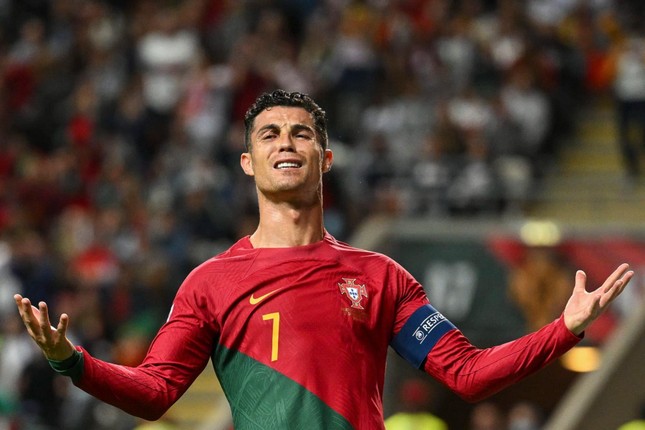 Looking at Cristiano Ronaldo's tearful face in the 90th minute, after failing to put the ball in the net after Joao Cancelo's excellent pass, many people couldn't help but think of his expression in 2004, when Portugal lost the match. Euro final against Greece.
That year Ronaldo was 19 years old and cried like a baby. 18 years have passed, he has become a 37-year-old general, possessing a massive record of 117 goals after 191 matches for Portugal. This number could have been more impressive, but Ronaldo threw away opportunities, eventually seeing Spain reach the semi-finals of the Nations League 2022/23.
Before that CR7 was also unable to take advantage of the 47th minute. He moved in sync with Diogo Jota's pass, darting past the Spanish defenders to face the keeper, but instead made a shot. , he shot again from a low range and hit Unai Simon's leg.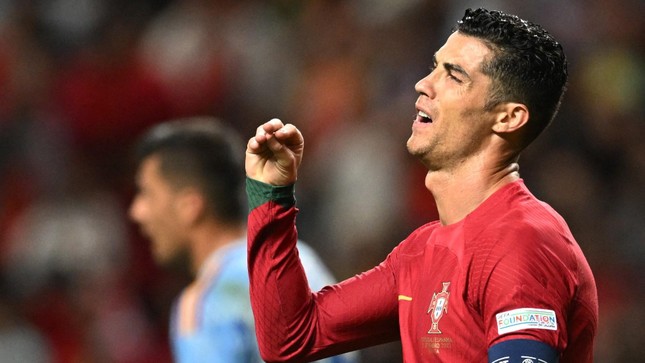 Ronaldo couldn't score on the ball he never missed when he was at his peak. (Photo: A Bola)
Thus, Ronaldo only scored 2 goals (both against Switzerland) in the last 9 matches for the national team. In the past 3 games he did not shoot, launched 9 shots and squandered 5 particularly delicious opportunities. CR7's grimace and raised arm at the end of the match against Spain, and the subsequent act of throwing the captain's armband represent extreme disappointment. Never in his illustrious career Ronaldo has fallen into such a difficult situation.
Since the start of the 2022/23 season until now, Ronaldo has played a total of 10 matches for MU and Portugal, starting 4 of them and scoring only 1 goal, a penalty in the match against Sheriff Tiraspol. At MU, Ten Hag realized that Ronaldo was not good enough to start. Whether the 37 superstar is compatible with his philosophy is still a big question mark.
But in Portugal, coach Fernando Santos will be very happy to have him in the squad. In the past 12 years since 2010, Ronaldo has only played once from the bench. The match against Spain on September 27, Ronaldo still played and played the full 90 minutes despite the bruised face. Of course, it is unlikely, even 0.1%, that he will exclude him from the 2022 World Cup. So not long ago, Ronaldo announced that he would play at Euro 2024 when he was 39 years old. His status in Portugal is more than a player, it's a national hero, a great icon, and a saint.
The problem is that Ronaldo's influence is dwindling. MU is winning without the superstar wearing the number 7 shirt. And Portugal is losing even though he is in the squad.
Performance at the club and the national team is of course closely related. In the calendar year 2021, Ronaldo has scored 47 goals, including goals for the club (Juventus, MU) and 13 goals for Portugal. But this year, he only got 13 goals in two colors, including 2 in the national team.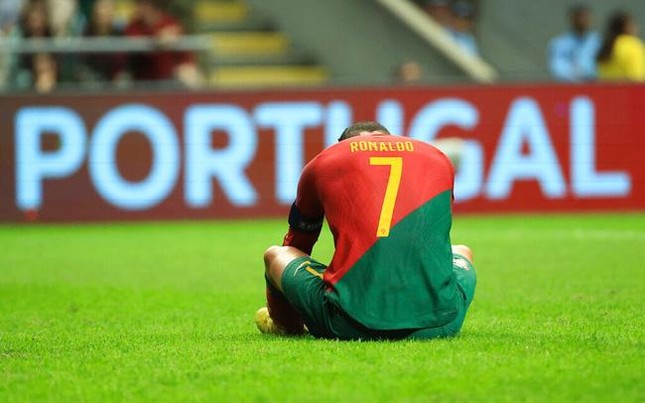 Ronaldo only scored 2 goals for Portugal in 2022. (Image: A Bola)
The clash of philosophies, then less playing at MU, made Ronaldo's performance decline. Along with that is the sharpness in the finishing phase. As in the recent defeat to Spain, the 37-year-old superstar is still capable of making breakthroughs even after running 90 minutes. He is also adept at separating from defenders and putting himself in a good position to finish. But the final shots were not hard enough to beat the goalkeeper.
Portugal fans have realized that. 57% of people polled by A Bola think that Ronaldo should be substituted in the match against Spain. This number will certainly increase further after their superstar continues to disappoint when starting this match.
To make things worse for Ronaldo, Messi just scored twice in Argentina's 3-0 win over Jamaica, bringing the national team's tally to 90. La Pulga may be far from breaking CR7's record, but rivals show that he is still in good form at the age of 35. Meanwhile, Ronaldo has fallen deep down the other side of the slope.