The special teacher of bald children
In a corner inn near Ho Chi Minh City Oncology Hospital, the sound of children's spelling and reading resounds from time to time. Working hard to correct each spelling mistake, teaching each math problem, from time to time, Dinh Thi Kim Phan (66 years old) would look up at her special students, affectionately.
For the past 13 years, Ms. Phan has accompanied and worked closely with many pediatric cancer patients
The children are children who are carrying a terrible cancer. Some children used to go to school, some were just born and had to be hospitalized, getting used to needles instead of notebooks. Ms. Phan's class is like a special spiritual gift, helping the children overcome a series of uncertain days on the journey to find life.
Established in 2009, stemming from the wish of typical citizen Le Thanh Thuy (who suffers from bone cancer but still transmits a strong desire to live), the literacy class for pediatric cancer patients has become a An indispensable part for both Ms. Phan and the children.
Despite carrying a terrible disease, bald children are always eager to learn letters, do math, draw pictures…
"At the beginning of 2022, although the epidemic was fine, but because the hospital was in the process of moving facilities, at the weekend, she went to the boarding house to teach the children. In addition to face-to-face meetings, students still met online, I'm happy to see the children happy, but they hang around in the hospital every day and night, learning how to read is also a dream…" Ms. Phan said.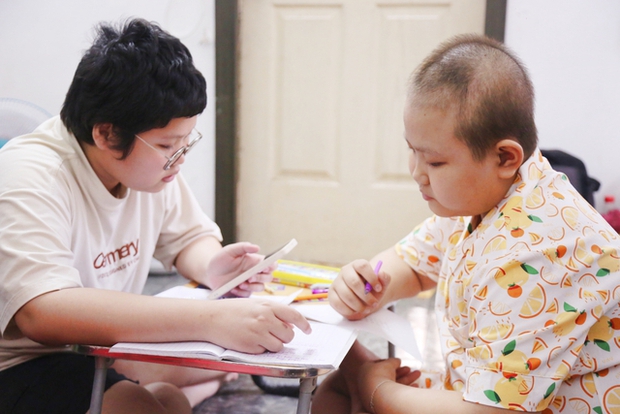 Ngoc Thuy and Khanh Hong review together in Ms. Phan's class
Truc Giang unfortunately had bone cancer, he had to amputate a leg but still determined to go to Ms. Phan's class to learn letters
At first, Ms. Phan, like other volunteers, came to the class with the word charm, merely doing volunteer work. Over time, children who love words have made Ms. Phan stick with her for 13 years. Going with the children a long way, many times Ms. Phan had to say goodbye to her students.
"When she heard the news that a child could not pass, she felt that she had lost something very precious. She still kept hundreds of children's notebooks, if any child lost her, she would find a way to bring the notebook home to her family. , share the loss that the children's families have to endure.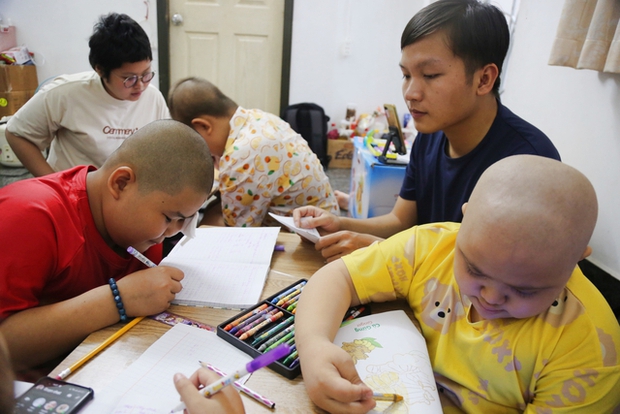 Dat (24 years old) used to have cancer and studied letters in Ms. Phan's class, now she is a third-year student. In her free time, she always goes to Ms. Phan's class to help children learn letters.
When she first started, she did not think she would go such a long way with the children, only knowing how to teach letters and not having any plans. Now it has become an indispensable part." Phan shared.
"I want to learn to read, get well soon so I can go home…"
Writing each word beautifully, Khanh Hong (12 years old) looked at Ms. Phan, proudly showing off her newly completed essay. Like other children in Ms. Phan's literacy class, from the age of 4, Khanh Hong was hospitalized due to a malignant blood cancer.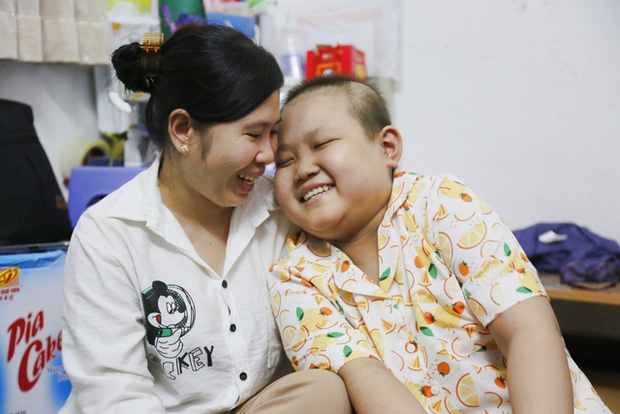 8 years in the hospital to maintain life, Khanh Hong has always been a brave girl, I wish to become a painter in the future
Despite having to take very heavy drugs, anemia and antibiotics, Khanh Hong always proved to be strong. On the days when I didn't take medicine, I would ask Ms. Phan for the lesson, work hard at writing, doing math, especially drawing.
"I like to draw very much. When I'm healthy, I pull out paper to draw. My dream is to become an artist to draw many beautiful pictures. Sometimes I feel sorry for myself because I had to go to therapy since I was a child, and here I meet you. Many of my friends are like me, everyone is fighting, so I don't give up. I want to go to school and get well soon so I can go home."Khanh Hong rabbit card.
Although she only studied in the love class, with her wit and intelligence, in a short time, Khanh Hong was able to study up to the 2nd grade level, doing difficult math problems.
Sharing about her special student, Ms. Kim Phan was touched: "Khanh Hong works very hard, every day without chemistry, Khanh Hong does all math to study literature, keeps asking her for new homework to make up for the hospital days. Khanh Hong is good at math, good at writing, I also have a talent for drawing." After saying that, Ms. Phan turned to look at the children in the classroom, choking on laughter.
"Whenever the children ask for a lesson, it means that the hand is free, not a drug. Sometimes when she is busy, it is really annoying but if she loves the children, she can't give up.
One after another: Miss, give me more songs, auntie. Ma'am, let me submit the assignment. Auntie, this lesson is too difficult, please show me… Ms. Phan was excited.
Although painful and tired, the children's love for words is extremely great. According to Ms. Phan, the children in the literacy class, all of them were quite sick, sometimes during school hours, some of them collapsed and had to be taken to the hospital for emergency treatment. Through the danger, the children went to class again, begging to learn letters.
The innocence, carefree, and love of the children's words made Ms. Phan's heart ache. Maybe, needles or chemicals are no longer a fear, the kids are just afraid that one day, we won't be able to see Ms. Phan again, can go to class to talk with her, but have to stop at life. life to the other side of the world.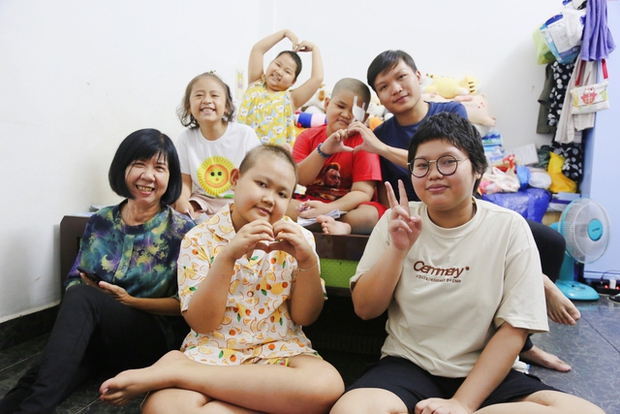 I hope the children are all safe to overcome the disease…
Thirteen years have passed, for Ms. Phan, it is the most beautiful but also heartbreaking life that a retired teacher feels. Thank you Ms. Phan for her love for underprivileged children on the journey to fight cancer. Hopefully, a miracle will come to all children with cancer so that they can return home healthy.