From September 15 to September 17, after many virtual filtering, universities announced the university benchmarks in 2022. As expected, the 2022 university benchmarks differentiated strongly in many disciplines, groups of industries, mainly due to fluctuations in the spectrum of scores and indicators.
In general, most of the "hot" and popular fields of study in recent years still have high benchmarks, while those with low benchmarks last year have not changed too much this year, even decreased. .
As noted, there are many industries/groups of industries whose benchmark scores are at the "ceiling" threshold, especially in block C. For this year's benchmark, many candidates can fail university even though they have achieved 9 points/subject. .
The subject requires an average of 9,716 subjects to pass
In 2022, the group of information technology (IT) and computer science industries took the throne when the benchmark increased sharply (2 – 3 points) compared to 2021.
The industry according to block A00 has the top admission score of Information Technology of the University of Technology – Hanoi National University at 29.15, up 0.4 points from last year. This industry has 120 targets this year, but only 24 criteria based on graduation exam scores.
Thus, candidates who want to enter the Faculty of Information Technology of the school must achieve at least 9,716 points / subject, if there is no plus point. As can be seen, this is not a low score.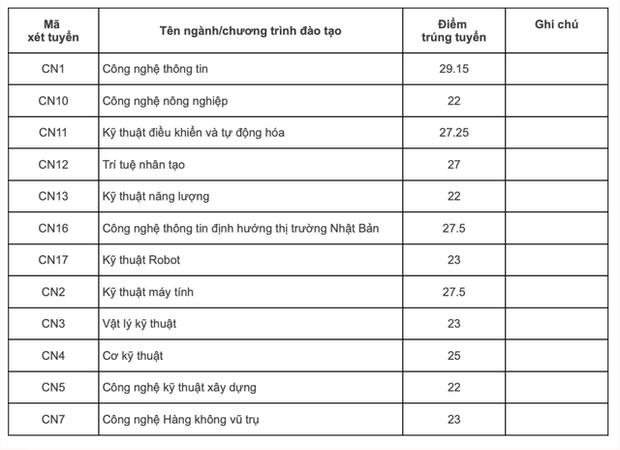 Benchmarking standard training programs (Photo: Hanoi National University)
In some other universities, although the standard of admission is lower, but information technology is still the industry with the highest standards such as Ho Chi Minh City Open University, Ho Chi Minh City University of Transport, University of Science and Technology. Ho Chi Minh City University of Technical Education…
For the University of Information Technology (National University of Ho Chi Minh City), the lowest standard score is the Advanced Program Information System with 26.2 points. Two industry benchmarks of 28 and above include Artificial Intelligence and Software Engineering.
Information technology, which is a discipline with a high standard of excellence in recent years, even surpasses some "hot" professions in the Public Security, Military or Medicine sectors.
Open opportunities for graduates
Information technology is known as the "king of industries". This has partly proved the "hotness" of the profession in the Vietnamese market, as well as the world today.
Due to the characteristics of interdisciplinary training between electronics and telecommunications and information technology, students of Computer Networking and Data Communication have an outstanding advantage that students of other disciplines do not have, that is, career opportunities. industry is doubled.
According to statistics from the Ministry of Information and Communications, on average, the Vietnamese market increases about 13% each year in recruitment demand in the information technology industry. The development of science and technology makes many units operate in many different fields in the vast information technology market today. This creates attractive job opportunities for many fresh graduates.
Illustration (Photo: Admission information)
Job opportunities are not only limited to the country but also expand to foreign markets.
Based on the goals and mission of the University of Technology – Vietnam National University, Hanoi, the Faculty of Information Technology develops the following goals:
– Training and fostering high-quality computer and information technology human resources at undergraduate and graduate levels;
– Research, develop and apply advanced science and technology fields on the basis of promoting strengths in Basic Science and Information and Communication Technology;
– Pioneering in approaching regional and international higher education standards, actively contributing to the development of the country's economy and knowledge society.
Therefore, the graduates will be equipped with many knowledge and skills to open up new opportunities in the labor market.
Attractive salary that many people dream of
Adecco Vietnam's 2022 Salary Guide report has just released an overwhelming number of the "huge" salary of the information technology industry, the highest is 400 million VND and the lowest is 15 million VND.
For interns or fresh graduates, the starting salary is in the range of 4-6 million VND/month.
For IT staff, the average salary can range from 10-25 million VND/month and tends to increase gradually over time, experience and capacity.
With Manager or Director positions, the salary is usually calculated in dollars – US dollars (USD), ranging from 30 to 66 million VND/month.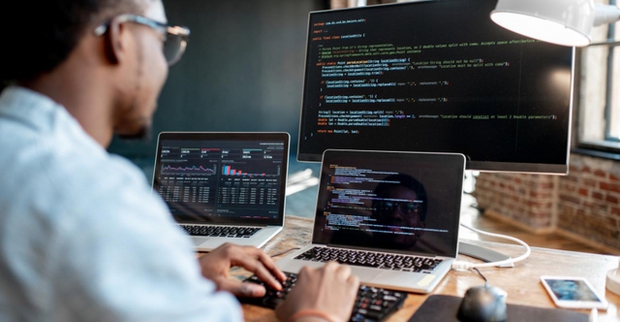 With the economy recovering and accelerating again thanks to digital transformation and product innovation, highly skilled technology talents will lead to the most intense competition for human resources for public companies. turmeric.
According to statistics, up to 89% of information technology employees change jobs because of "higher salary", becoming the reason why businesses continuously offer generous remuneration and benefits to invite and "retain" " talent…
Synthetic