28/28 students passed right at wish 1, achieving their dreams; The average history score is 9.45 points/student; 6/28 students scored 10 in History; Eleven students passed into Law University and many of them entered top schools such as the People's Police Academy, Hanoi National University of Education, University of Social Sciences and Humanities, etc. The great achievements that Ms. Nguyen Thi Hong Thanh – Homeroom teacher of History class at Hoang Van Thu School for the Gifted (Hoa Binh province) and her students have achieved.
Constantly innovating teaching methods
For Ms. Hong Thanh, there is nothing happier than after a long journey of efforts, dear students all passed. The students were admitted right at wish 1, just as themselves and their families wanted. Ms. Hong Thanh called the night of receiving the score notification "New Year's Eve" because it was filled with so many wonderful emotions. Many parents choked up, sending their thanks to her.
Sticking with students since entering 10th grade – a long time for Ms. Thanh to understand each student's strengths and weaknesses. With strengths, she always finds ways to encourage them to develop and improve; With limitations, she tries to help them find ways to overcome and improve themselves. Along with that, she always reminds students to build class collective solidarity, love and help each other in learning.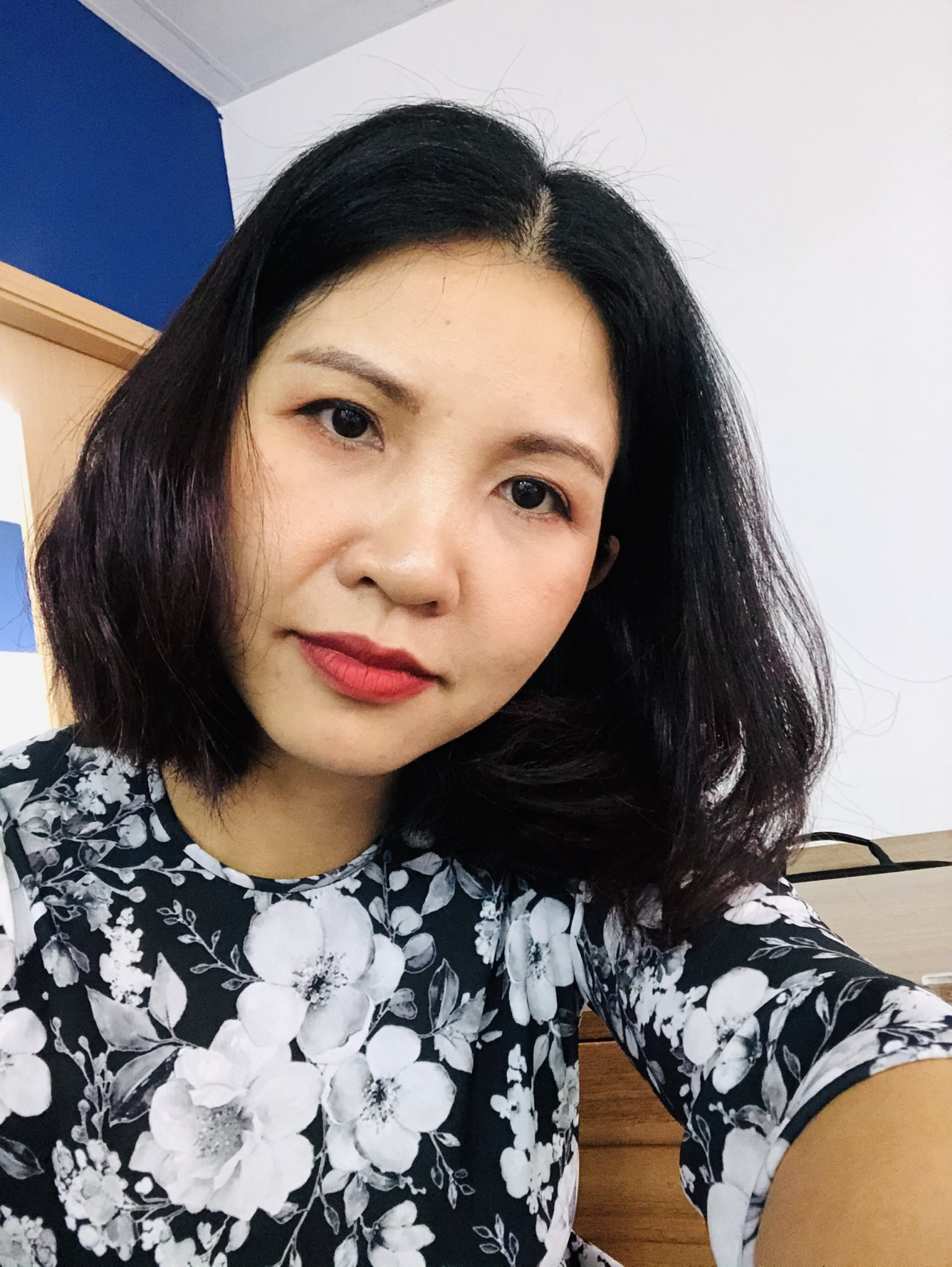 Portrait of teacher Nguyen Thi Hong Thanh.
Ms. Thanh shared: "When they just entered 10th grade, they were not used to the new learning environment, so it took a semester for everything to go into orbit. Right after that time, I oriented, built a study and training regulation, and coordinated with the family to help them gradually integrate into the new environment.
They all have good learning spirit, strong will, determination to break through in grade 12, so they have achieved initial success. The educational environment plays a very important role. Thanks to a healthy competitive environment, they have helped each other to strive and achieve the set goals.
Particularly, History – a subject many students think that it is dry and difficult to learn because of the large amount of knowledge. In addition, many parents also place heavy emphasis on prejudice, fearing that their children will find it difficult to get a job after graduating from school or not be able to pass because universities in the field of Social Sciences have high standards. Understanding the psychology of students and parents, I have come up with teaching methods to help promote students' qualities and abilities, guide them to self-study and be creative in learning. Thanks to that, the students found that studying History was not too difficult and had a passion for the subject, helping to have a clear direction for personal and professional development."
Ms. Thanh also shared, with History – a subject in the combination of the national high school graduation exam in the form of 100% multiple choice, there is no longer an essay like before, so the amount of knowledge will be a lot, focusing on the class curriculum. 11 and 12. As a teacher of History for more than 20 years, she understands what her students need and wants, and how to review methods so that she can have a suitable teaching method to help them absorb the lesson. best.
Thanks to her openness, many children are willing to give suggestions or come up with new learning methods: "Miss, should you test this way?", "I want you to apply this teaching method, I think it will work". Before every positive contribution, she recognizes, applies, and does not impose one-sidedly on students.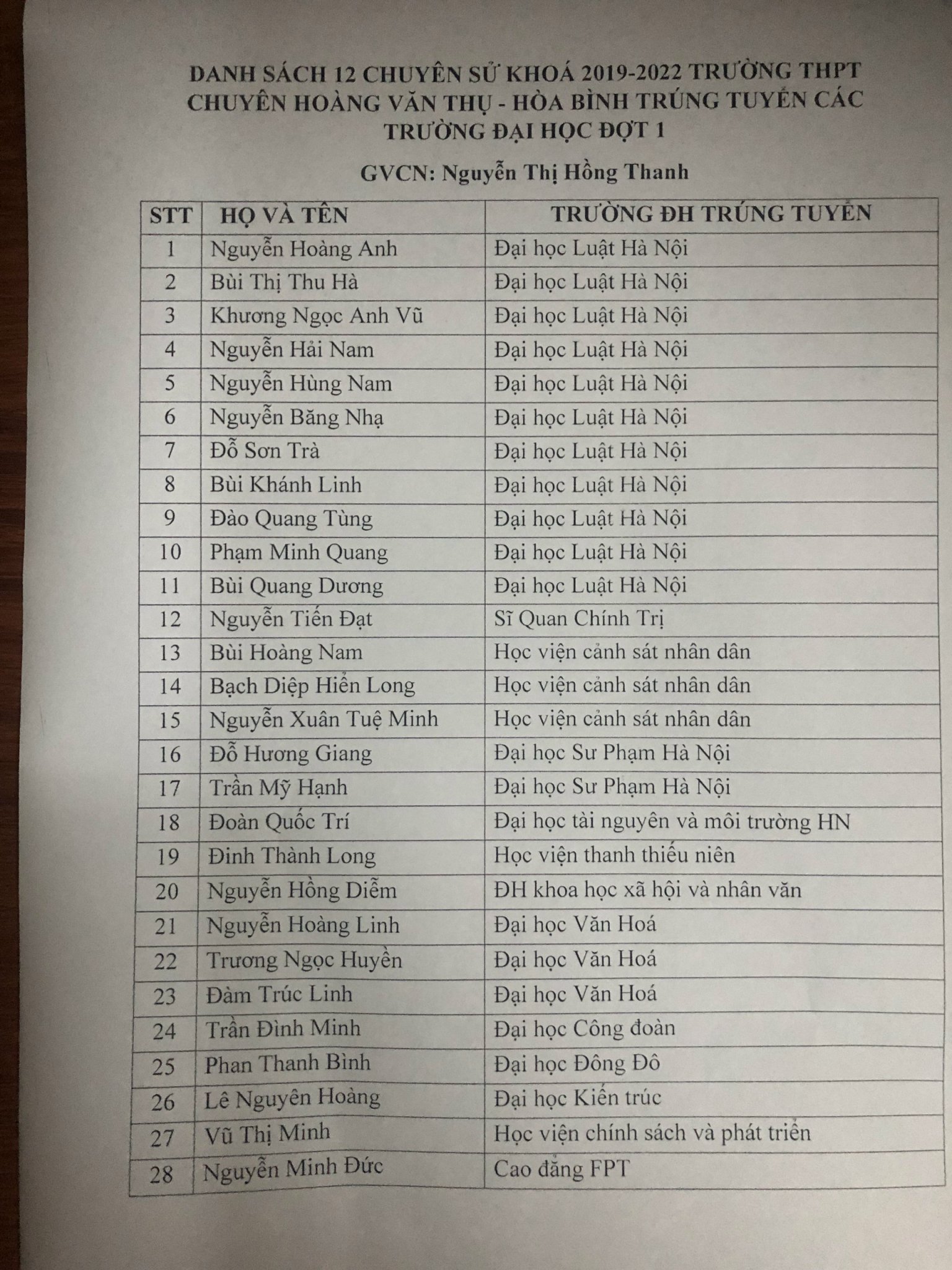 List of 28 students who passed the 1st wish in the class of Ms. Hong Thanh, homeroom teacher
Not only imparting basic and advanced knowledge and test-taking skills, Ms. Thanh is always close in checking the students' ability to absorb the lesson. "There are many ways to check their old lessons such as: oral test, 15 minute test, 1 period test, etc. If I find out that students have not studied hard and have low scores, I will promptly notify them. family or subject teacher to find the reason and fix it", Ms. Thanh shared.
For her and her students in the History class, the most difficult and challenging time was in grade 12 – the last year of high school. Students face exam pressure, pressure to score. Although teachers and families do not set high goals and force them to achieve them, they create pressure for themselves. Understanding that, Ms. Hong Thanh always accompanies her, gently talks to students to relieve their psychology and maintain the most positive emotional state. That has helped her and her students achieve resounding success.
Although she is strict with students, outside of school hours, she is always close and treats them as dear children. With tenderness and sincerity, Ms. Thanh is loved by the children, ready to share all thoughts, from family conditions to heterosexual love stories…. Whatever it is, Ms. Thanh always listens, empathizes, shares and gives useful advice to the children.
A memory that makes Ms. Hong Thanh remember forever in the 3 years of the 12th grade homeroom teacher specializing in History class 2019-2022 is the case of a student with limited communication. I am a closed person, withdrawn, rarely talk to friends. But only after a while, thanks to the attention and help of the teachers and the whole class, I was sociable, open, able to communicate and show affection to everyone around me. "The student's parents called me and thanked me a lot for helping their children change, improve themselves in a positive way, and be ready to move on on the path to conquering their dreams." Ms. Thanh confided.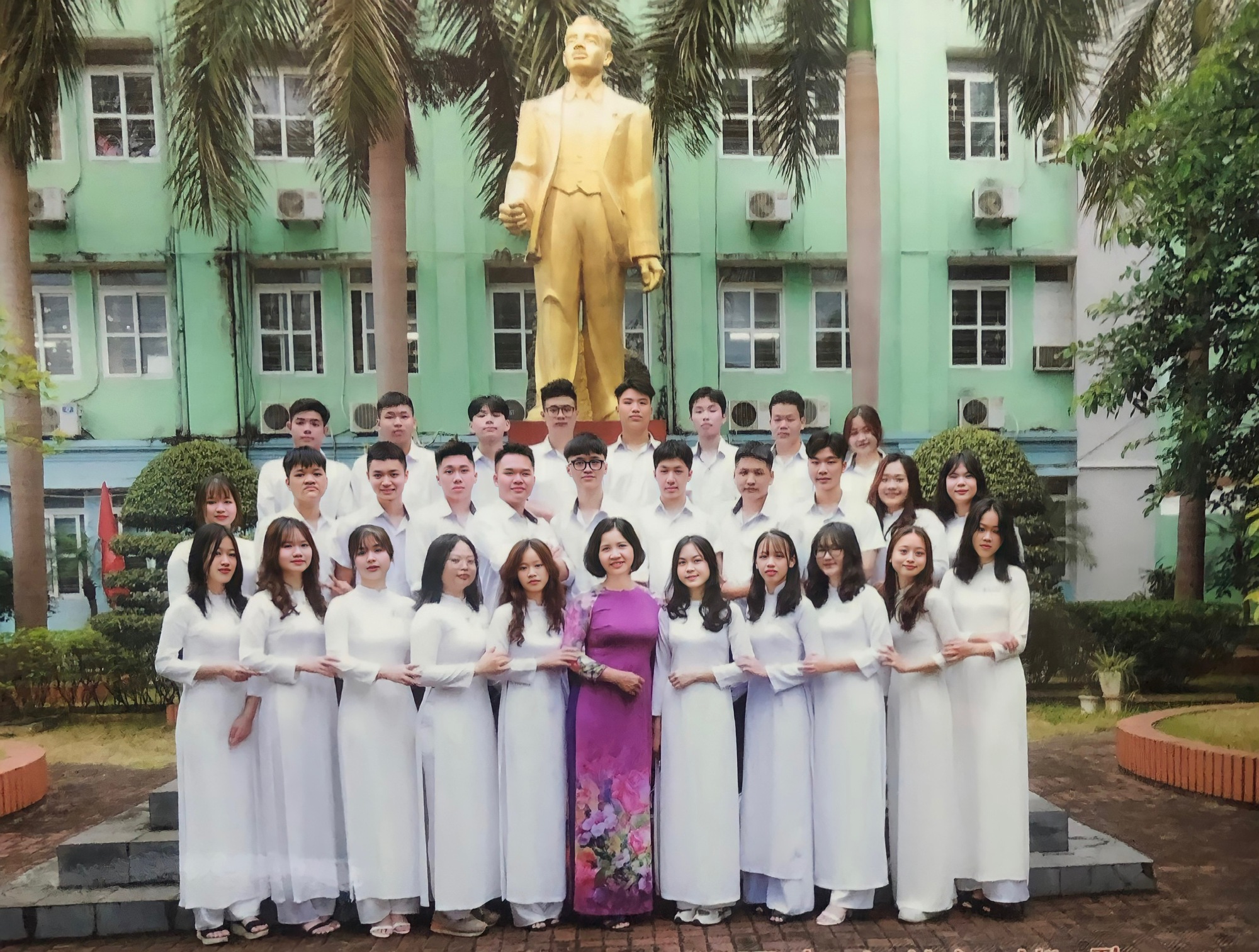 History class 12 – Hoang Van Thu High School for the Gifted
The boat trip left a lot of emotions in the career of growing people
In addition to professional methods to help students achieve high academic results, Ms. Hong Thanh also set up a reward and punishment policy for students in the class. For example, in History, for students who are lazy to study and do not memorize, Ms. Thanh will make them copy the lesson 10-20 times and constantly check the work in class. Severe punishment will help children improve their sense of learning.
Besides sanctioning measures, Ms. Hong Thanh also collaborated with the Parent Representative Board of the class to offer an attractive form of reward when students achieve excellent student titles at the end of term, at the end of the school year. She will personally reward students who score 10 in History in the national high school graduation exam at 500,000 VND/student. This helps them to be excited to learn and make a great effort.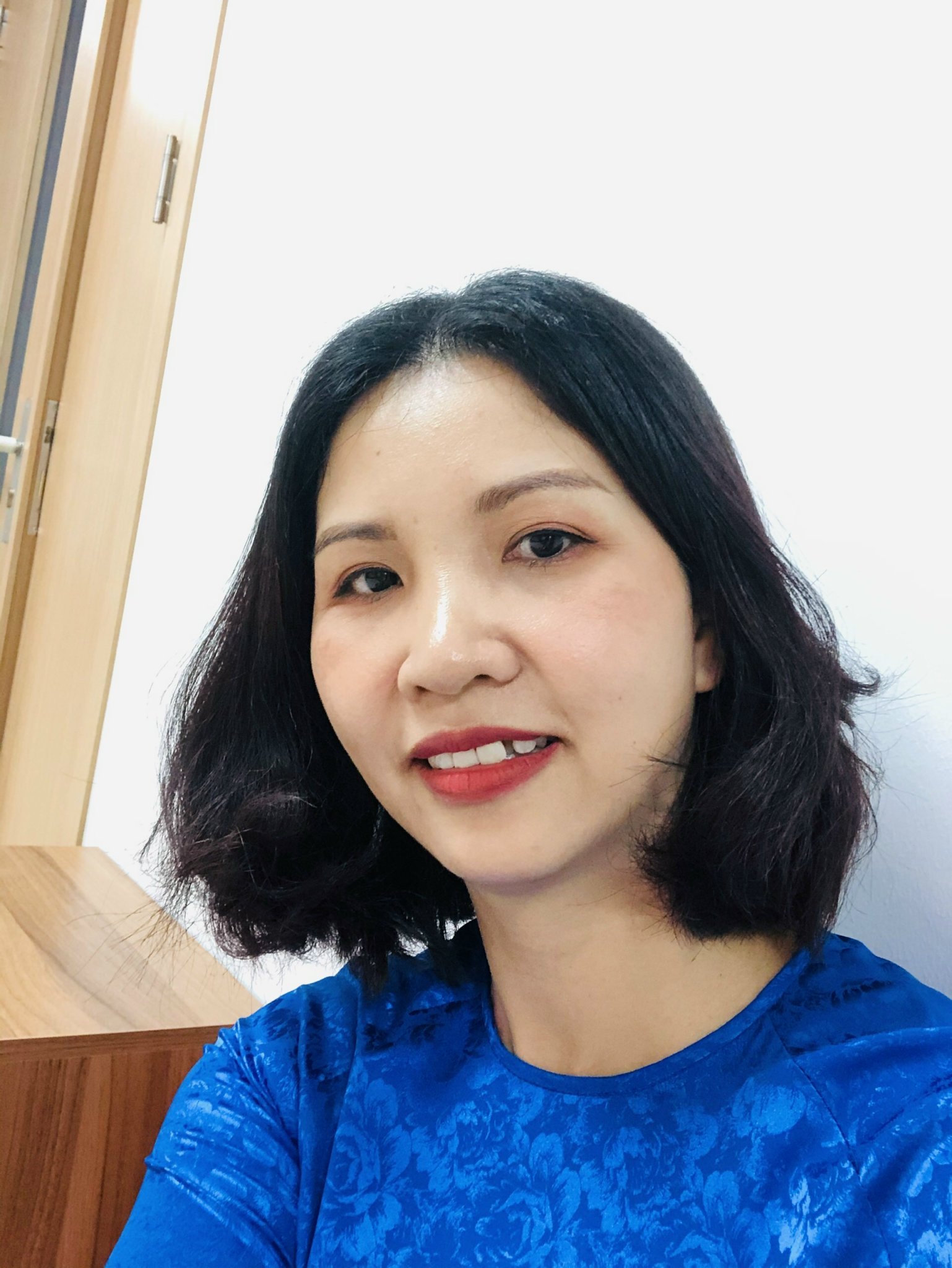 Ms. Hong Thanh confided: "I remember that 'New Year's Eve', the children were all about showing off their scores, and I was bursting with happiness. 6 of you who scored 10 in History were all transferred by me immediately. Parents know the fun story, call me thank you forever I think the amount is not too big but it was a timely encouragement for the children.
I have taken many boat trips to the river, but this is probably the boat that left the most emotions, exceeding expectations."
Finally, she would like to wish all dear students in the new environment that they will continue to promote their learning abilities and achieve many good results. She believes that the Grade 12 group specializing in History will not only have good knowledge but also have excellent soft skills equipped in high school years. Surely they will become excellent citizens, live useful lives and achieve many successes.
Photo: NVCC