A school leader said that the recent online benchmarking information is unofficial information from Hanoi University of Science and Technology, so parents and candidates are expected to be very alert and smart when searching for information. understand admissions.
Hanoi University of Science and Technology offers official channels for admission of Hanoi University of Science and Technology including: Website: https://ts.hust.edu.vn/; Fanpage: https://www.facebook.com/tsdhbk.
The school also notes candidates, the principle of applying for admission is still: The most favorite aspiration is placed on the top, priority is given in order from top to bottom, not prioritizing NV1, 2 which are certain to pass. , because that will reduce your benefits, prioritize the industries you love or have the best forte/ability.
Hanoi University of Science and Technology does not require admission to the first school, however, candidates need to consider before applying if it is their favorite school.
The aspirations are considered equally. If an upper wish fails, it will not affect the lower aspirations. The aspirations are based solely on the candidate's academic performance.
The number of requests is not limited.
Sector code according to the method of admission by the result of the Thinking Assessment Exam ending with "x" (for example, ME1x, TX1x, EE2x, …), by the result of the High School Graduation Exam ending with "y" (for example : ME2y, CH1y, EM1y,…).
Advice for you at a time when there are only 8 days left to register, candidates should not wait until the last minute to enter the application system of the Ministry of Education and Training to choose their aspirations but choose from now on. If there is more useful information from the sources, it can be adjusted accordingly, avoiding "water to the feet to jump".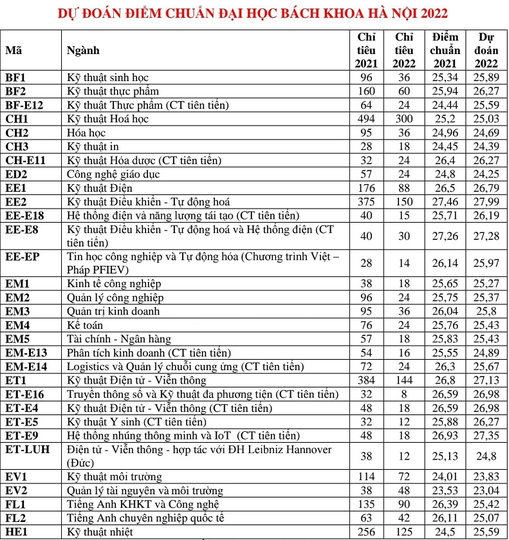 Unofficial benchmarking table
There will be a forecast table of benchmarks for 2022
Talking to PV Tien Phong, Assoc. specific and detailed for each admission code/training program.
However, according to Mr. Thang, at this time, there is no final number on enrollment, so it is not possible to calculate and give an expected benchmark.
"The school will also compile the data and will give the expected benchmark when there is enough analytical data."– Mr. Thang said.