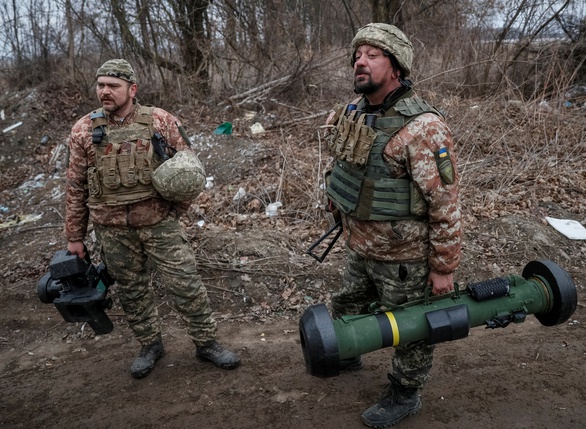 Ukrainian soldiers holding Javelin systems north of Kiev, March 13 – Photo: REUTERS
According to Reuters news agency, the Javelin missile will be jointly built by Lockheed Martin and the missile manufacturing unit of defense and aviation corporation Raytheon Technologies.
Demand for Javelin missiles remains high as the war in Ukraine continues. The Ukrainian military used Javelin missiles to prevent Russian tanks from entering the capital Kiev.
According to a senior US official, Ukraine has received about 17,000 anti-tank weapons from various Western countries, including hundreds of Javelin launchers. To date, the US has sent more than 5,500 Javelin launchers to Ukraine.
The Javelin missile is highly appreciated by the military for its technical characteristics. Equipped with two explosive warheads, the Javelin missile can penetrate the most sophisticated tanks in the world, and especially the Russian T-90 tank.
The Javelin's first warhead will explode on contact with the tank, and then the second one will explode through the armor.
With a range of about 2.5km, the Javelin can be fired directly to destroy targets or shot high up to bring down low-altitude aircraft such as helicopters.
The trajectory of the shot from above makes the Javelin a formidable weapon against tanks, because the tank's doors are located on the roof and that is also the easiest place to break through.
Unlike other anti-tank launchers that require a tripod, the Javelin is light enough for a soldier to carry when using it.
Bullets are ejected from the launcher several meters before the propulsion system kicks in, allowing soldiers to be less visible and even able to use Javelin within a building.
Javelin can lock on to a target before firing and is completely self-guided. The shooter can hide just before the missile hits the target.
Another strong point of Javelin is that it is extremely easy to use. An American soldier explained to AFP news agency that anyone who has ever played a video game can use it.
According to the Pentagon's 2021 budget, the Javelin costs $178,000 each, including missiles and launch systems.
Lockheed Martin is investing to speed up missile production past the 2,100 mark per year. Javelin Manufacturing Joint Venture has made more than 50,000 balls.
It is expected that the Javelin will "live" in the US arsenal until 2050 and be continuously upgraded to respond to new needs.