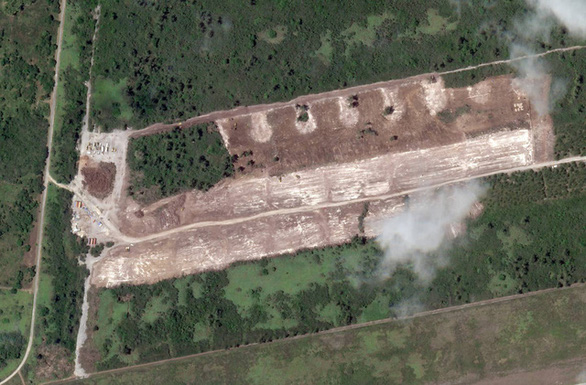 An airbase is under construction on Tinian Island in the Pacific Ocean – Photo: PLANET LABS
Tinian Island is the origin of the atomic bomb attacks on the cities of Hiroshima and Nagasaki (Japan) during World War II.
Military news site War Zone released satellite images showing that major construction works at Tinian Airport are in full swing.
The plan to expand the operational capacity of Tinian Airport is intended to provide an important alternative operating site for the massive Andersen Air Force Base on Guam.
US concerns about the possibility of an attack on the Andersen base have grown in recent years.
This work will cost about 161.8 million USD and is expected to be completed in October 2025.
The US Navy's Naval Base Technical Systems Command (NAVFAC Marianas) is managing the Tinian airport project.
The airport construction project includes the construction of new fuel storage facilities at Tinian's main port at the southern end of the island, with a pipeline connecting to the airport. In addition, many related road works were also renovated.
The U.S. military has also used airfields on the Pacific islands of Tinian and Saipan for exercises and training, with a view to using them in various contingencies.
In the past, the US Air Force and Marines have both practiced deploying backup fighter jets to Tinian International Airport.
In addition, on Tinian Island, there is North Field airport. During World War II, North Field was built to support B-29 bomber operations.
Air Force Brigadier General Jeremy Sloane, commander of the 36th Air Wing at Andersen on Guam, said the renovation of Tinian airfield would bring significant strategic, operational and exercise capabilities to US forces. including disaster response in the region.