On the morning of September 28, social networks shared a video recording the image of a middle-aged woman crying and sobbing because her house and property were swept away after Typhoon Noru. Around, bricks and tiles were scattered, the roof and furniture in the house were almost blown away, the fence wall was broken.
The woman was crying and sobbing: "My house is all gone, it's all gone, there's nothing left, my dear…". The sentence made many netizens unable to hold back their tears.
Clip of a woman in Hue sobbing because her house was destroyed after Typhoon Noru
According to research, the clip was recorded in Khanh My village, Vinh Xuan commune, Phu Vang district, Thua Thien Hue province. The woman appearing in the clip is Mrs. Nguyen Thi Mai (68 years old).
Sharing with us, Ms. Dinh Kieu, Mrs. Mai's daughter, said that on the morning of September 28, she visited her parents' house after a night away from the storm. Witnessing the scene of desolation, mother and daughter grieve because their wealth and property were lost overnight.
"Yesterday my wife and children also went to escape the storm. The teacher also went to avoid the storm. By this morning, the house had all flown away, nothing more. The tiled roof was also swept away. Many neighboring houses are also seriously affected." Sister Kieu choked.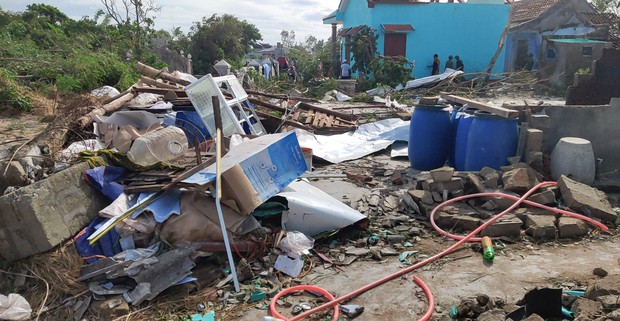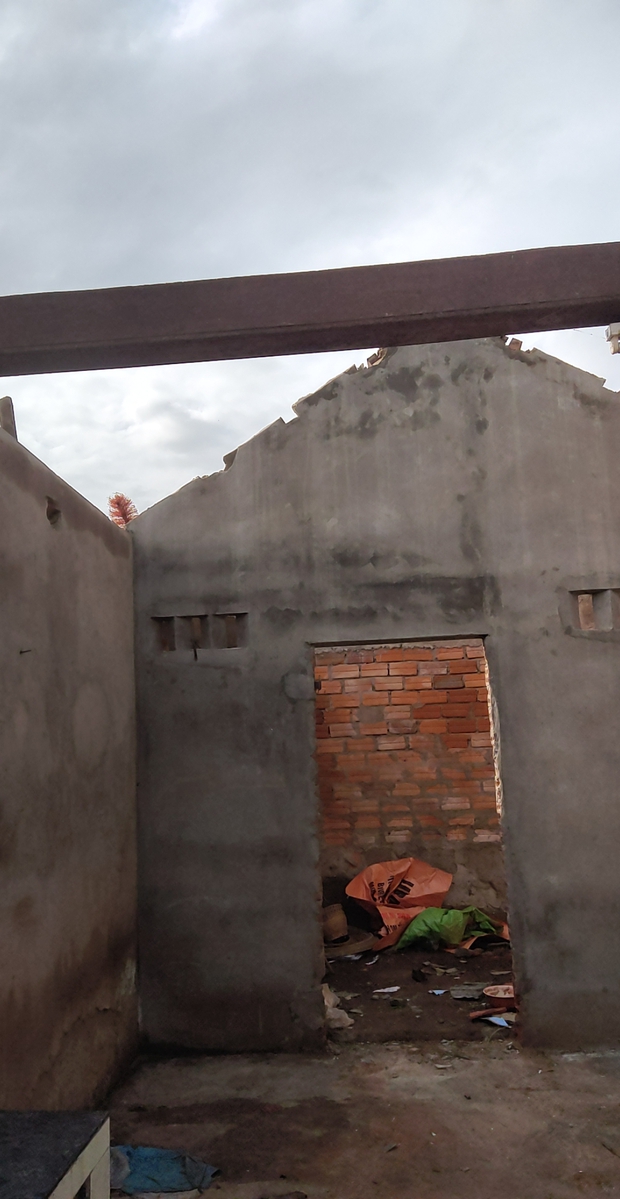 Broken house after a stormy night.
Mrs. Mai was lost when she saw her lost property (Photo: Dinh Kieu)
It is known that Mai gave birth to 5 children, Kieu is the youngest daughter. Mai's husband is 78 years old and has had a stroke for more than a decade. Every day, she goes to sell chili at the market 6-7km from her house.
Ms. Kieu also helps her mother with the business, earns money in and out of the fields: "My sisters and I are both married and working far away, so we only come back sometimes. At 6 o'clock in the morning, my mother feeds him and then goes to the market. At 10 o'clock in the afternoon, we all return to cook for him. It's very sunny. if it's sunny, it's raining, it's raining. Before the news of the storm, the family was also worried but did not know what to do.
Ms. Kieu confided that the previous storms, her house was fortunately not affected: "My house is built high, flood is not afraid, only afraid of wind. The upper part is the sea, the bottom is Tam Giang lagoon. A few seasons ago, it was not damaged at all, until this storm.
There is an old TV in the house, so that my father who has a stroke can lie down to watch to relieve his sadness. Before it was damaged, the children contributed money to repair all 2 million, but now the storm has swept away the TV and damaged the refrigerator. It's all ruined, so sad, but I can't cry."
Photo: NVCC