In the past few days, technology car drivers and passengers have continuously complained about taking too long to get out of Tan Son Nhat airport due to traffic jams… in the TCP parking garage at the domestic station.
According to actual records, the demand for traveling by taxi and technology vehicle of passengers is always increasing. Every flight lands, passengers with suitcases line up to catch taxis and technology cars to go home, so both areas for these vehicles are always bustling.
However, the taxi lane is still much sparser than the technology car lane. At normal, even well-ventilated times, few passengers are waiting.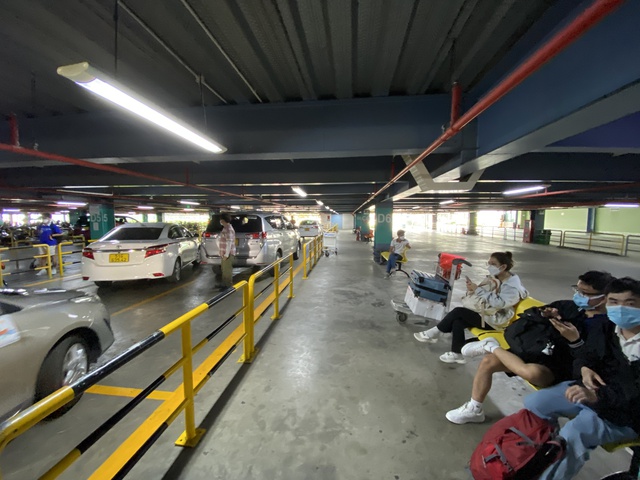 Passengers wait for a long time to take the technology car home
Meanwhile, the lanes for picking up technology vehicles are lanes D1 and D2 which are always crowded with passengers, and technology vehicles also go in and out continuously, leading to traffic jams right in the parking garage.
"Although at off-peak hours, there is still a local congestion at the technology car pick-up lane, but at peak hours, it's impossible to say, there is no way out, the car can't come in and pick up passengers is also stuck," he said. Ha (BeCar driver) shared.
And Mr. Cuong (GrabCar driver) said that in the past, there were 2 exits on both sides to pick up passengers, so now there is only one exit, so there are often traffic jams.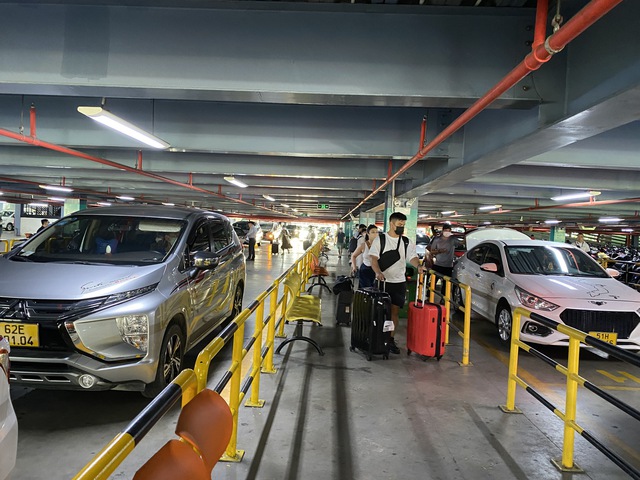 Passengers using technology vehicles increase, but often the technology car pick-up lane is often congested, causing many people to take a long time to get out of the airport.
"Two lanes of technology but only one exit is right at the toll station. From 2 lanes merge into 1 lane to get out of the garage, so traffic jams often occur. Almost every day like this, cars stack up. I often pick up passengers at the airport and it takes about 30 minutes to get out of the airport because of the daily traffic jam in this garage," said Mr. Cuong, tired and bored.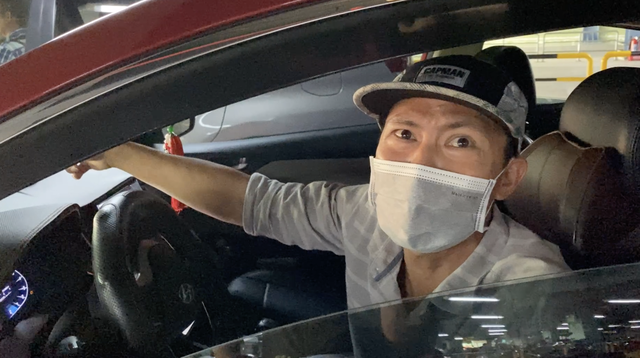 Driver Cuong complains because it often takes too long to get out of the airport
According to Mr. Cuong, previously at the end of lane D1 there was a parking toll station, the driver only had to pay 25,000 VND and then move straight out to the internal road to go to the airport gate. Currently, this toll station has been removed and moved outside the parking garage, right at the intersection leading to the "bottleneck".
As noted, the exit of lanes D1, D2 has a toll station that intersects with the internal motorway, creating a 90-degree bend, forming a 'bottleneck'. Since then, the two lines of technology cars have converged, clustered together at the bend, very easy to collide with each other.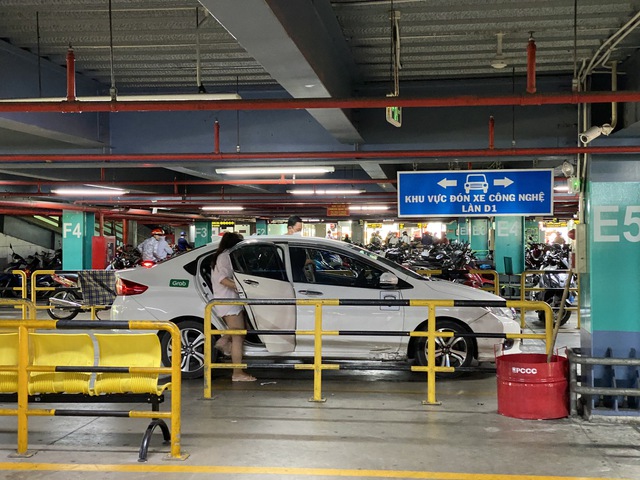 Lanes D1 and D2 are often congested with technology vehicles because the exit is "bottleneck"
Because there is only one way out, the driver who squeezes in first gets out first to check-in each vehicle through the manual parking toll station, making the flow of cars long and difficult to move. Even at peak hours, traffic jams come out of the buffer yard (in front of TCP garage, near Truong Son street).
Mr. Tuan Sy (passenger in technology car) also complained: "Technology cars are constantly congested, so every time the driver is called, it is very tiring because the symbols at the guessing point are difficult to see. Sometimes the driver enters but also I don't know where to stand to wait for guests, so it takes a long time for both sides to find each other. Passengers riding technology cars are quite crowded, but the pick-up point is often congested like this, making me very tired, before it took about 10 – 10 minutes. 15 minutes to leave the airport, now it takes 30-40 minutes."
Regarding this issue, a representative of TCP parking garage said that due to the sudden increase in the number of technology vehicles, traffic jams in lanes D1, D2. To solve this problem, this unit quickly arranged the parking lot in front of the TCP garage as a buffer space, dividing the traffic flow in accordance with the entrance and exit span, avoiding local congestion.
Prolonged traffic jam at lanes D1 and D2 takes passengers and drivers more than 30 minutes to get out of Tan Son Nhat airport
Regarding the driver's complaint about being subjected to additional procedures through toll booths, the TCP parking garage said that the means of entering the airport are quite diverse in addition to technology cars, there are also personal cars, taxis, and contract cars. so when moving into the garage, they are treated equally.
"When the car enters the garage, all customers come to keep the car and we issue the entry card and the exit will collect the same parking fee. Of the 25,000 VND fee, including 15,000 VND parking fee, the rest is Collecting for Tan Son Nhat International Airport's side is the airport entrance fee", said a representative of TCP garage.
According to a representative of TCP bus company, the collection of airport entrance fees is to help drivers save time when going through toll booths. The driver just stopped to give the bill to the toll station staff to check and not pay any more fees.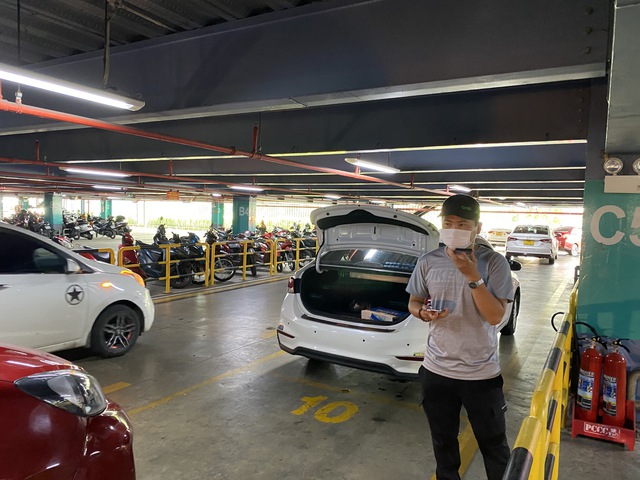 Drivers of technology cars have difficulty picking up passengers because of congestion in lane D1. A driver is quite tired of constantly calling to guide passengers to the pick up point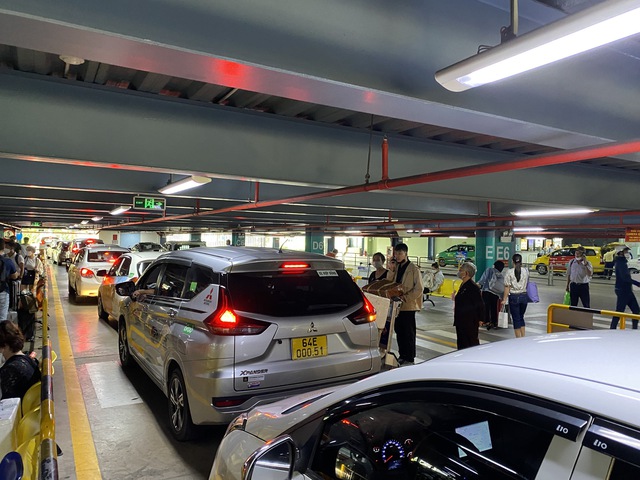 Traffic jams in lanes D1 and D2 make it difficult for pedestrians to catch the bus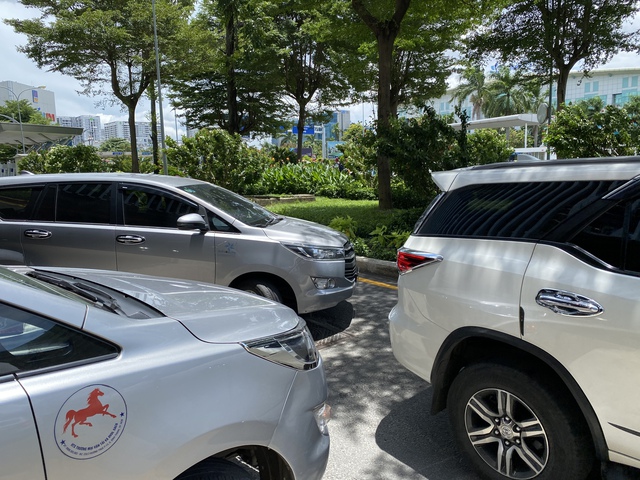 90 degree bend "bottleneck" at the exit of TCP garage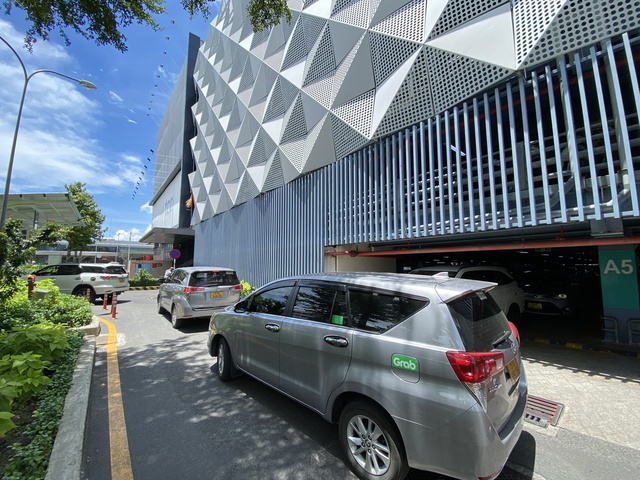 The exit of technology vehicles is always congested like this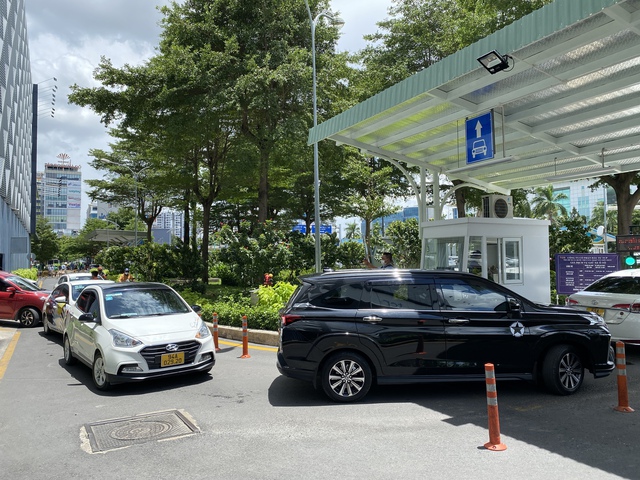 From 2 technology lanes, when exiting the garage, they merge into 1 lane through the toll station, leading to prolonged congestion.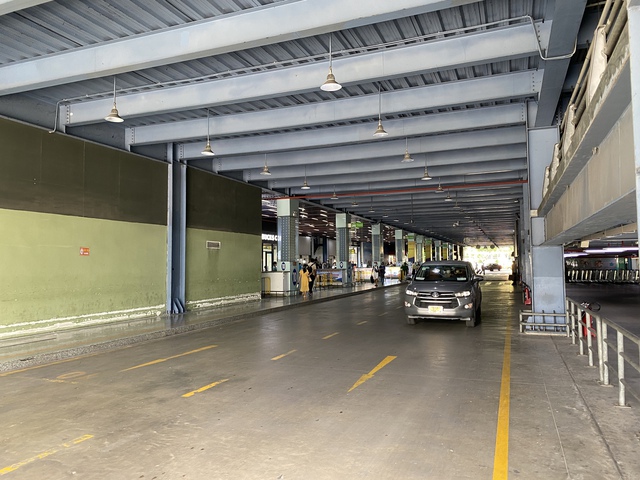 Meanwhile, the taxi lane is clear, the exit is not blocked like a technology lane