This venture capital expert sees a trend where many people want to sell Hermes Birkin handbags or Rolex watches for extra cash, while many others want to cut their spending.
"Now more and more people know that they can sell high-end items for money, while buyers can buy their favorites," said Zhu, 33.
Zhu said the number of people sending their items to ZZER in the first nine months of this year increased by 40% compared to the same period last year. The exchange already has 12 million members and is expected to sell 5 million used luxury items this year.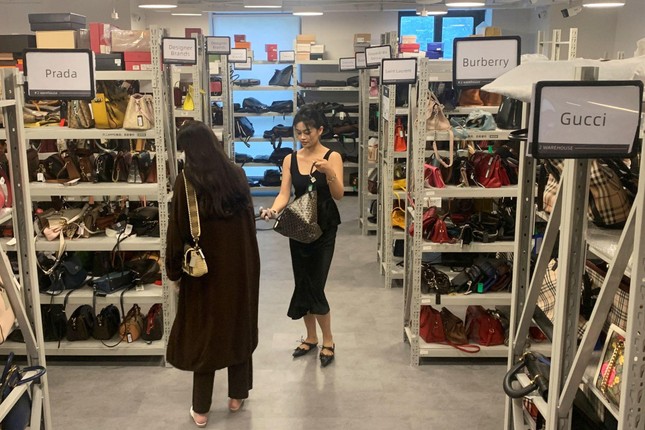 A store selling used ZZER branded goods in Shanghai. (Photo: Reuters)
This trend represents a significant change in China's $74 billion luxury goods industry, where the second-hand market was previously difficult to develop, as in the US and Japan, due to people's preference for luxury goods. new and worry about buying a fake.
This trend will likely impact the strategy of focusing on the Chinese market of high-end brands.
China's second-hand luxury goods market is expected to grow from $8 billion in 2020 to $30 billion in 2025, consulting firm iResearch estimates from the end of this year. Figures for this year have not been released.
Wang Jianing, an office worker, said she was looking to buy a used branded bag because the economic situation was not very optimistic.
"My spending this year is definitely down, but I still like those things, I can't help but shop," Wang said. Reuters while standing in front of a display case of used LV and Gucci bags in the ZZER store in Shanghai.
ZZER relies on the mentality of people like Wang to thrive. The company established an online commerce platform in 2016, then opened direct stores in Shanghai and Chengdu last year. ZZER is now looking for locations to open stores in Beijing, Guangzhou and Shenzhen.
In addition to ZZER, there are several other online exchanges that operate similarly, including Feiyu, Ponhu, and Plum. Each of these exchanges attracts tens of millions of dollars from venture capital funds in the years 2020 and 2021, with a strategy of enhancing genuine buying habits, expanding the customer base and moving from online exchanges to including direct stores.
While handbags are a staple on exchanges like ZZER, Zhu said sales of used watches and jewelry are also growing rapidly.
Each used Prada or Fendi Baguette bag is 30-40% cheaper than a new bag, but many products are sold for much cheaper as more and more people consignment.
Ou Huimin, owner of a vintage boutique in Guangzhou, said the price of a Rolex Submariner increased by nearly 250% between 2020 and 2021, but dropped by 60% this year. "Consumption is becoming more rational," Ou said.
Source: Reuters