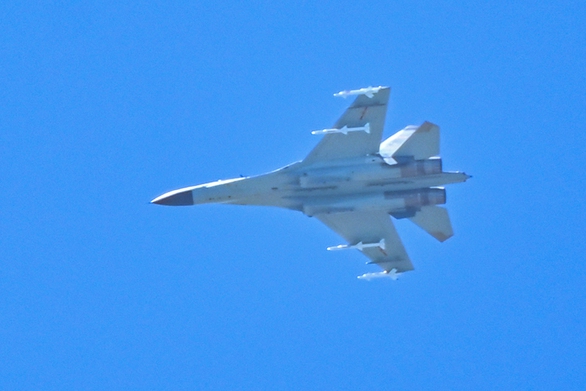 Chinese military aircraft fly over Pingtan Island, one of mainland China's closest points to Taiwan, on August 5 – Photo: AFP
This sanction is part of China's response to Ms. Pelosi's visit to Taiwan in many aspects, from public opinion, diplomacy, defense, to the ability to apply economic blows.
"Overreacting"
Meanwhile, Washington said Beijing was "overreacting" to Ms. Pelosi's trip. At a recent ASEAN meeting, Foreign Minister Antony Blinken said the US has repeatedly told China that Washington does not want to see a crisis and that Ms. too.
Militarily, as observers had predicted, China responded by conducting live-fire drills from August 4 to 7 in the waters and airspace in six areas around Taiwan. On August 5, Taiwan said that 68 Chinese aircraft and 13 warships had crossed the maritime boundary between the island and mainland China. The Chinese military is said to have launched 11 Dongfeng missiles on August 4.
According to Professor Meng Xiangqing at the National Defense University of China, the drills this time include live-fire drills and the first time that conventional missiles have crossed the airspace claimed by Taiwan.
The US side expects China to continue similar moves. US National Security Council spokesman John Kirby earlier confirmed that a US aircraft carrier would keep a presence around Taiwan for a few more days to "observe the situation".
It is very likely that this situation will continue for many days to come, but the possibility of an escalation to a military clash is very low.
Rehearsing the scenario of using force to take back Taiwan?
There is a flow of opinion that the event of Ms. Pelosi's visit to Taiwan this time was used by China to rehearse the scenario of using force to take back Taiwan. All that has taken place, including the reactions of China, the US and the rest, also shows that this possibility is not absent.
According to the research of Youthoverseas Chinese students also watched a live stream of Ms. Pelosi's trip, and some responded to radical calls for the use of force against Taiwan.
This detail reflects the rise of nationalism in China in recent days, similar to the description from foreign media. In other words, this is a test that helps the Chinese government measure the psychology of public opinion in this country. Similarly, the tension in Taiwan also reveals part of the possible response of the international community to the possibility of a real crisis.
However, despite the rising tensions, the positive point is that the parties still need to consider the economic consequences before making any reckless decisions. This is like an "anchor" to help countries not let the situation go too far and lose control.
First of all, the modern world with the development of international trade is a system of overlapping interests. And if someone compares China – Taiwan with Russia – Ukraine, they also understand that China is an economy that is more connected to the world than Russia. This puts both China and the rest to restraint.
Taiwanese businesses do not want to be stuck in US-China relations. Channels CNBC Citing official figures, mainland China and Hong Kong accounted for 42 percent of Taiwan's exports last year, while the United States accounted for 15 percent. About 22% of Taiwan's imports come from China and Hong Kong, with the US accounting for 10%.
Meanwhile, China also does not want to plunge into an all-out confrontation. Mr. Ja Ian Chong, associate professor of political science at the National University of Singapore, told the program Squawk Box Asia: "China wants to send a strong message, but I don't think they want to do anything particularly reckless… A lot of the messages are intended to create alarm and suggest that any attempt at doing so What Beijing doesn't like about Taiwan poses significant risks and costs."
China stops cooperation in many fields with the US
On August 5, China's Foreign Ministry announced Beijing's decision to end cooperation with the US in various military and civilian fields in retaliation for the visit to Taiwan by US House Speaker Nancy Pelosi.
According to Radio Russia Today Russia, there will be no contact between Chinese and American officials in areas including workings between the two countries' defense ministries, maritime security consultations, cooperation against illegal migration, assistance justice, transnational crime, drug control and climate change.
In addition, a scheduled phone call between senior US and Chinese military commanders was also cancelled.