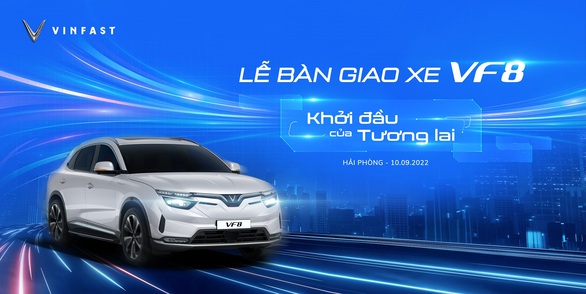 The handover ceremony of the first batch of VF 8 electric cars will be broadcast online on a global scale, before "going abroad" to conquer roads around the world to the US, Canada, Germany, France, etc. Netherlands, is expected in the fourth quarter of this year.
This event, therefore, is receiving great attention from customers globally, especially those who have deposited VinFast's D-size electric SUV.
According to information from VinFast, the handover ceremony and the historic moment of the global smart electric vehicle VF 8 rolling off the production line will be streamed (livestream) on VinFast's official fanpage at all stores. market.
Launched at the Los Angles Auto Show (USA) in November 2021 and officially opened for global sale in January at the CES Consumer Electronics Show (USA), the D-size electric SUV marks a new step forward. of VinFast in its strategy to become a pure electric car company from the end of 2022.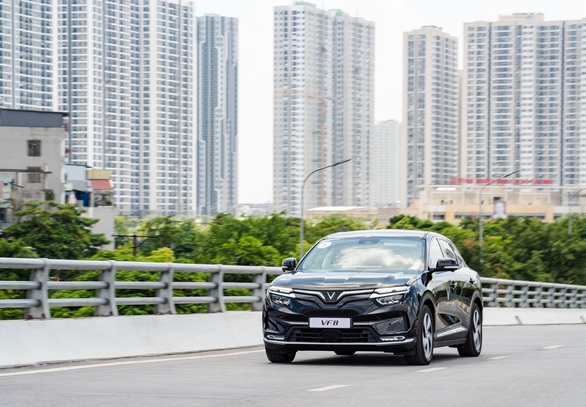 Car VF 8 rolling. Photo: D.H
A representative of the Vietnamese car company said that this is a 5-seater electric car with a height of 4,750 mm, a wheelbase of 2,950 mm, equipped with 2 electric motors divided equally between the front and rear axles, with a maximum capacity of 300kW. maximum torque of 620 Nm, comes with a full-time 4-wheel drive system.
"The vehicle is equipped with an advanced driver assistance system (ADAS) with a series of advanced features such as highway driving assistance, automatic lane change, smart parking assist, intelligent vehicle summoning, and parking assist. remote car… with a suite of smart entertainment and utility applications (Smart Services) with features to control and interact with the car via voice; shop online, play video games on the car's screen. set with phone…
The VF 8 is equipped with a battery pack for a range of 400 – 420 km after each charge (according to WLTP standards), depending on the battery version. Customers can own the VF 8 for a price without battery, from VND 1,094 billion or with a battery for VND 1,478 billion," the representative of this unit shared.
According to experts, this is one of the electric cars that are waiting on the market. Some experts also believe that the competitive "strength" of this model comes from the fact that the D-size electric SUV possesses many outstanding intelligent features, with a reasonable price, and a warranty on both the car and the battery. up to 10 years, the longest in the market.
The handover event of the VF 8 electric car takes place at 10:30 am on September 10 and will be broadcast live on VinFast's global social network platform at the global VinFast Fanpage:
https://www.facebook.com/VinFastGlobalOfficial/ and Fanpage of VinFast Vietnam
https://www.facebook.com/VinFastAuto.Official/