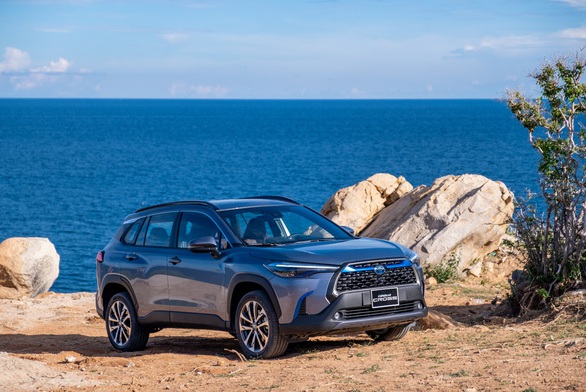 Hybrid cars suitable for Vietnamese conditions
Not choosing to focus on investing in electric vehicles quickly because of infrastructure challenges, Toyota chose to develop Hybrid vehicles as a solid stepping stone for the road to electrification in Vietnam.
From the Japanese automaker's point of view, developing a gasoline-electric hybrid vehicle is an option that is suitable for the current infrastructure conditions, while still bringing operational excellence and emission reduction.
The Japanese automaker is right when Hybrid cars are leading the world in CO2 reduce. In the first 7 months of 2022 alone, Toyota Group sold 21 million vehicles (including Lexus) globally, of which 19.38% were hybrid vehicles.
If cumulative, by the end of February 2022, more than 20 million Toyota Hybrid cars have been sold on the market, contributing to saving 60 million liters of gasoline and reducing 160 million tons of CO.2 discharged into the environment.
Although Toyota has just expanded its Hybrid product range in the Vietnamese market, Toyota is reaping positive results. As of August 2022, hybrid vehicles accounted for about 12% of total sales of Corolla Cross, Camry and Corolla Altis.
This shows that customers are accepting Hybrid cars, or in another sense, Toyota's electrification roadmap is on the right track.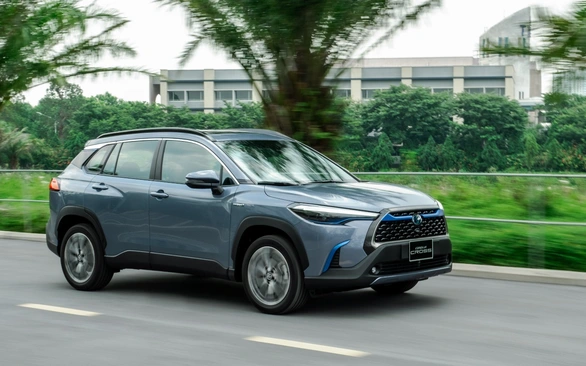 Fuel economy is what users enjoy when using a Hybrid car
Mr. Van Khanh, an owner of a Toyota Corolla Cross Hybrid, shared that in May, he had a need to upgrade his A-class hatchback and wanted to switch to a green car because of the record increase in gas prices.
Putting it on the scale, he chose a Hybrid car because it's easy to use, has a lot of technology, is suitable for Vietnam's infrastructure, doesn't change user habits, can reduce monthly fuel costs, and still get Toyota's core values ​​remain constant, such as durability, fuel economy, and high resale value.
Joining Toyota's Hybrid car experience during the journey Hanoi – Ba Khan with a distance of 130km, Mr. Viet Anh shared: "Hybrid cars not only save fuel, but also operate smoothly, because they use electricity in the speed range. The low speed should be smooth right from the moment the car starts rolling. When it is necessary to accelerate or overtake another vehicle, the electric motor plays an auxiliary role for the gasoline engine that can accelerate immediately."
"Moreover, if you drive a Hybrid car on a steep pass, you will feel nimble, or in a drifting situation, the Hybrid car engine also has good braking force, reducing the brake force that the driver has to apply," said Viet Anh. know.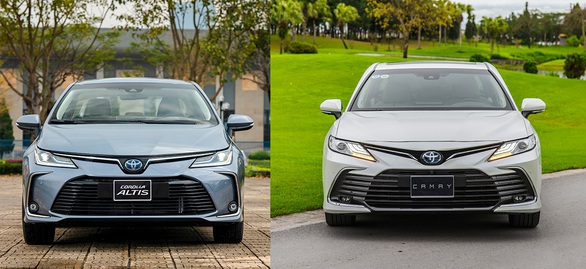 After Corolla Cross, Camry and Corolla Altis added Hybrid version
According to market research firm Wards Intelligence, the US market will consume more than 15 million passenger cars in 2021. In which, Hybrid cars reach 801,550 vehicles, accounting for 5.3%, and electric vehicles reach 434,879 vehicles, accounting for 2. ,88%.
Toyota is the leading brand in the green car segment with 583,697 vehicles sold (mostly Hybrid cars), an increase of 73% compared to 2020.
According to the 2021-2022 Climate Survey conducted by the European Investment Bank (EIB), when buying a next car, Europeans tend to choose a Hybrid car (39%), an internal combustion engine car ( 33%) and electric cars come in third (28%). Demand in the US is similar, at 38%, 33% and 29% respectively.
Automotive experts said: "Users and experts around the world agree that electric cars are the future of road transport. However, the number of people accepting the use of electric vehicles as a means of transportation. The main means of transportation are not many.
Electric vehicles depend on a lot of charging stations, taking time to refuel and costing batteries. Those barriers are even more exaggerated for developing countries, including Vietnam.
Those who can afford to own many different types of cars are willing to buy electric cars to experience. While for people who can only afford to buy 1 car for daily use, especially first-time car buyers, they will not take risks and look for safer options."
"Hybrid cars have this advantage. The operation mode of this vehicle is similar to gasoline cars, while still being superior in terms of smooth operation, reduced noise, and still significantly reduced fuel consumption. consumption, does not require a charging station, does not change user habits. The process of caring and maintaining Hybrid cars is similar to gasoline cars, "experts added.
Recently, Toyota Vietnam has implemented the program "Green journey with Hybrid" – test driving 3 Hybrid models, Corolla Cross, Corolla Altis and Camry on Hanoi – Mai Chau (Hoa Binh) road with the participation of many experts, car reviewers to get the most accurate assessment of this green car.
In the near future, Toyota will display Hybrid cars at the Vietnam Motor Show 2022 (Vietnam Motor Show), taking place in Ho Chi Minh City from October 26 to October 30, 2022.