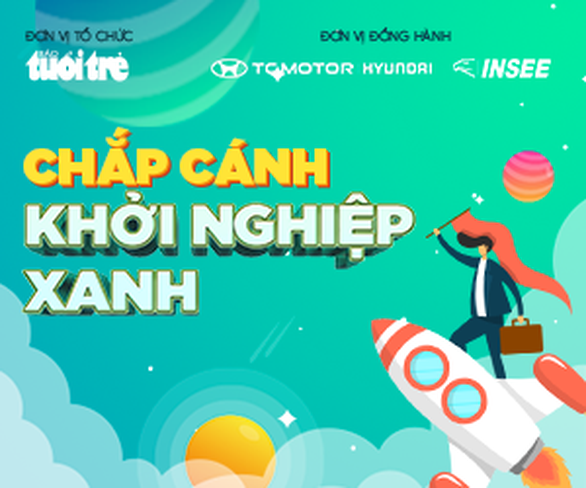 The economic story with green activities, green life of people associated with economic development with green, environmentally friendly materials… is currently a major global concern. Vietnam is also following this trend.
Journeying to support young people, Tuoi Tre Newspaper Startups have carried out a series of Golf Tournament For Start-Up events from 2019 to now, after 3 seasons of implementation, the event has honored and awarded support to more than 70 individuals and startups.
BTuoi Tre shirt on different platforms has posted more than 200 typical startup faces of many fields.
Joining hands to commit to green
This year, Tuoi Tre newspaper kicked off Golf Tournament For Start-Up – this annual program – earlier than usual with the desire to receive more ideas and startup models from young people in many fields. , especially in "green" fields such as green agriculture, green economy, green tourism… We will join hands to act towards green development and realize Vietnam's commitments at COP26.
And, to encourage young people, future generations, to be aware of the importance of a green life, Tuoi Tre Newspaper in collaboration with companion units Hyundai Thanh Cong and Cement INSEE Vietnam launched the contest: "Bringing Green Startup" in 2022.
The contest hopes to receive ideas and stories of green and sustainable start-ups from readers in all fields, contributing to an environment-friendly society, increasing people's and users' awareness of protecting the environment. nature, the life of individuals and communities.
It could also be the lessons that have been learned from companies and corporations that have joined hands to improve the green environment … recounted by readers.
"Bringing green start-ups" also encourages creative and unique ideas in the construction of green buildings, bringing a lot of value, helping to solve urgent and necessary problems of society and creating practical value for the community.
Opportunity green ideas come to green investment
In addition to startup ideas, the organizers are looking forward to receiving start-up models from businesses that have actual "green" products, are environmentally friendly, have brought products to society, are recognized by consumers. use trust use.
In addition to being honored in the newspaper, the above ideas and stories will have the opportunity to reach many investment funds as well as promote their image to the public.
Typical startup ideas and models will be reviewed by the Professional Council to qualify for the evaluation, vote and financial support of the annual Golf Tournament For Start-Up event.
Contestants can participate as individuals or as a group. Entries after preliminary selection will be published in Tuoi Tre newspapers and will be judged for royalties according to the newspaper's regulations.
The judging panel of the award round with reputable experts from the Tuoi Tre editorial board, entrepreneurs, experts, in the field of Startup, etc. will review and judge the prizes from the articles that have entered the preliminary examination.
Rules of the contest Take wings to start a green business
– Entries up to 1500 words, with pictures and videos are plus points.
– Entries can be design images, videos, powerpoints… with captions, but must have a description of less than 1500 words attached.
– Entries must be written in Vietnamese or English (if you are a foreigner).
– For start-up models that have products, please send to the organizers information about products, business information and introduction, for the organizers to contact later.
– Entries must not have participated in any previous or ongoing contest, never posted on the media, social networks. Contestants are responsible for copyright as well as this requirement of the contest organizer.
– Entries should be sent to email address: [email protected]
– Time to receive entries from August 31, 2022 to December 15, 2022
Green Startup Award
Green startup ideas:
– 1 first prize worth: 20 million VND
– 2 second prizes: 10 million VND each
– 3 third prizes worth: 5 million VND each
– 10 consolation prizes worth: 3 million VND each
Organizing the awarding ceremony (expected): January 2023
For start-up models: Will be judged and honored at Golf Tournament For Start-Up 2023 (March 2023)