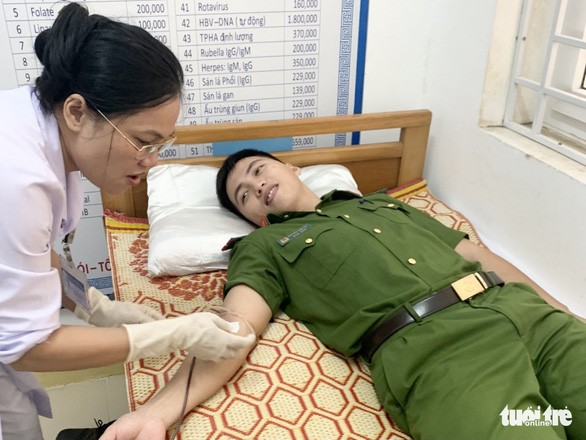 Senior Lieutenant Nguyen Van Hai is donating blood to save patient D. – Photo: HA
On November 16, information from Ha Tinh Provincial Police said that two police lieutenants quickly went to the hospital to donate blood in time to save a female patient from a critical condition.
Before that, around 9am the same day, patient NTD (34 years old, living in Nghen town, Can Loc district) was treated at Ha Tinh General Hospital in a critical condition. The patient had a ruptured blood vessel in the abdominal cavity, and there was a lot of fluid in the abdomen, so he needed an urgent blood type O transfusion.
After receiving the information, the "Live Blood Bank" club of Ha Tinh Provincial Police informed union members and young people in the unit to quickly donate blood to save lives.
At this time, Lieutenant Dao Khac Bien (Officer of Mobile Police Department) and Lieutenant Nguyen Van Hai (Office of Public Security of Thach Khe Commune, Thach Ha District) temporarily put aside their duties and work to quickly arrive at the hospital. hospital, completed the inspection procedures and donated 700ml of blood to save patient D. from a critical crisis.
Thanks to the timely donation of blood by two police officers and the efforts of the medical team at Ha Tinh City General Hospital, patient D.'s health condition has gradually recovered.