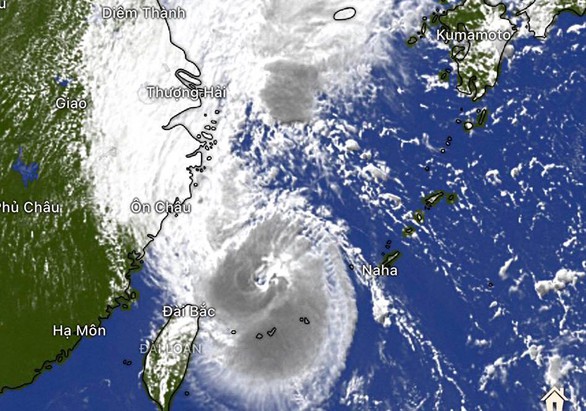 Japan's Okinawa island is directly affected by this storm's center – Photo: WINDY
The JMA warned of strong winds and rough seas, as well as landslides and river overflow due to heavy rain. Stormy weather that damages houses may continue on September 13.
The storm is currently moving slowly northward towards the East China Sea and by noon on September 13 passed Ishigaki Island in Okinawa Prefecture.
As of 10 p.m. on September 12 local time, Typhoon Muifa was located about 60km north-northwest of the island with maximum winds of up to 198km/h. Meanwhile, Hateruma Island, also in Okinawa, recorded a record 358.5mm of rain in the 24 hours to the end of the morning of September 12.
Due to the impact of the typhoon, airlines All Nippon Airways and Japan Airlines had to cancel flights to and from the islands of Miyako and Ishigaki. In addition, the vote to elect the Okinawa governor in areas of Miyakojima city took place earlier than expected.
According to the JMA, atmospheric conditions in and around Typhoon Muifa are very unstable. The forecast in Okinawa will be up to 300mm of rain in the 24 hours until noon on September 13 and from 50mm to 100mm in the next 24 hours.
Meanwhile, Typhoon Merbok, the 13th typhoon of this year's typhoon season in Japan, formed off Wake Island in the Pacific Ocean. However, according to the JMA, the location of this typhoon is still far, east of Japan.