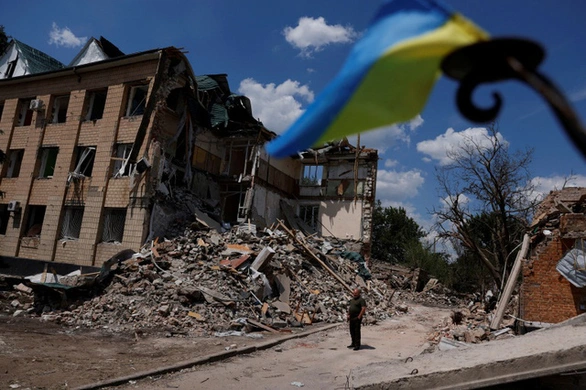 The city government building of Bashtanka in the Mikolaiv region was destroyed – Photo: REUTERS
"The Russian army is stronger, they have a lot of artillery and ammunition. Now this is an artillery war and we have run out of ammunition. The help of Europe and the United States is very, very important because we only need ammunition. to defend our country," said regional governor Mikolaiv Vitaliy Kim.
According to the newspaper Al Jazeera, in his speech, President Zelensky said that Ukraine "must not let the world's attention divert its attention from what is happening on the battlefield". Zelensky also expressed his determination that Ukraine will defeat Russia.
Meanwhile speaking in the newspaper Guardian, Mr. Skibitsky, Deputy Director of Ukraine's Military Intelligence Service, said that the country currently relies almost exclusively on weapons from the West to hold back Russia. "Everything now depends on what the West gives us," he said.
Ukraine is using 5,000-6,000 shells per day.
"We have almost used up our shells and are using standard NATO 155mm shells. Europe is also supplying shells of lower caliber but as their stockpile runs out. supply becomes less and less," added Mr. Skibitsky.
Ukraine needs the West to provide long-range missile systems to destroy Russian long-range artillery.
Ukrainian presidential adviser Oleksiy Arestovych told the newspaper Guardian that Ukraine needs 60 multiple rocket launchers – more than the UK and US have promised so far – to have a chance of defeating Russia.
Ukraine will ask the West to provide a list of weapons and defense equipment at the meeting of the contact group with NATO in Brussels on June 15.
Skibitsky predicts a more intense artillery war with Russia in the near future. At the same time, the number of missile strikes – possibly launched from Russia – will remain at the current rate.
But producing rockets is very expensive. Each missile can be worth from a few hundred thousand dollars to several million dollars.
"The missiles take 40-90 minutes to reach their destination, depending on where they're launched from and we don't know where they'll land," Skibitsky said. He noted that Russia is using long-range bombers – bombs that can reach anywhere on Ukrainian territory – without leaving Russian airspace.
Skibitsky said that the majority of Russian forces are now concentrated in the Donbas region and seek to occupy the administrative borders of both the Donetsk and Luhansk republics. He said this is the area with the heaviest artillery battles.
Ukrainian military intelligence believes that Russia can continue the war at its current pace without producing more weapons or mobilizing more troops for another year.
Mr. Skibitsky did not rule out the possibility that Russia would suspend the war for a while to convince the West to lift sanctions. "But then they will start again. Look back on the past eight years and see this is true," he added.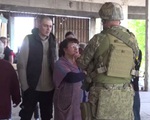 Russia, Ukraine jointly return dead soldiers' bodies