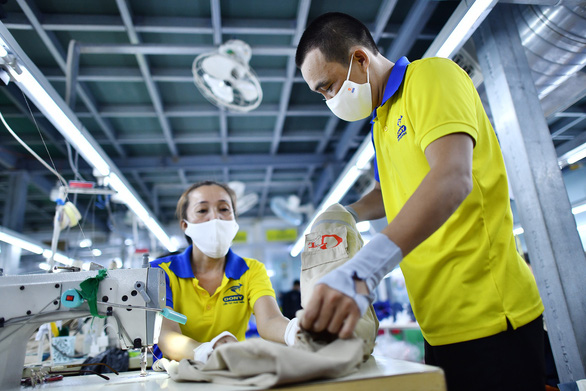 Flexibility to change, Dony Garment Co., Ltd. tries to overcome difficulties and dares to think about the upcoming Tet bonus for employees – Photo: C. MILLION
Weaving in the gray picture of the "storm" of cuts, there were holding hands and sharing between workers and business owners.
Unless the company forces me to quit, it's not difficult to stay. Less salary, less spending, less eating, but it's difficult to invite each other to take a break, which makes it difficult for the company.
Ms. TRAN QUONG PHUONG (worker)
Salary reduction, fun spending
At 5:30 pm on the first day of November, young worker Tran Quynh Phuong walks towards a small apartment on Cong Lo Street (Tan Binh District, Ho Chi Minh City). At the age of 26, Phuong has worked for nearly eight years as a worker for an electronic component company in Tan Binh Industrial Park.
Having not worked overtime for more than three months now, some colleagues familiar with Phuong have quit their jobs to find a new job. But she chose to stay, partly because of her love for the company, partly because she was also worried that if she left now, she would probably find a new stable job right away. "Unless the company forces me to take a break, it's not too difficult, I will stay. With less salary, less spending, less eating, but it's difficult to invite each other to take a break, it will make it difficult for the company," Phuong wondered.
The low spending, reducing eating that Phuong mentioned is willing to walk 2.5km to go to the company, go to the market to cook by herself instead of eating out, less unnecessary shopping. And yet, Phuong also cooks dinner for all three rooms in the same block. Seven people go to the market to cook together, so dinner costs about 100,000 VND, divided into less than 15,000 VND each.
"Before it was all overtime, when I got home it was dark and tired, so everyone went to that room to rest. Now it costs only 15,000 dong, but everyone can eat well, eat well, the inn is crowded every night, so it's fun to talk about it." , Mr. Dong – furniture processing worker in the same group – shared.
Not being allowed to work overtime, leading to a sharp decrease in income, forcing Ms. Hong Lien (38 years old, from An Giang) to choose to quit her job to find a new job. But since I resigned from the electronic components company, it has been nearly three months now and I still have not found a new job. "I also calculated in advance, aiming to apply for another company with a small brother working there, but now I am used to being an electronic worker, now it's too difficult to jump into garment, my backhand is entangled, I keep doing it again and again, so I have to quit and find another way. ", Lien smiled.
Lien's other way is to stay up from 4:30 every morning, drive to Binh Dien wholesale market, and ask to work for the vegetable granaries. No matter what, from picking vegetables, packing, loading and unloading, delivery… she always tries to do her best. The market is over, I'm done.
Depending on the situation of wholesale to pay wages, on average per day (six working hours) she is paid about 250,000 VND, sometimes less. "Originally from a farmer's family, she is also a manual worker, she can also save money to go to the market with a little effort, still better than working as a worker for eight hours a day," she said as she spoke quickly. hands.
Do everything find new orders
During the recent epidemic, Dony – a startup in the garment industry – not only did not stop production, employees did not have to quit but also worked overtime, overtime, and even received bonuses. This result is due to the leadership who dared to change from sewing uniforms and fashion clothes to producing antibacterial cloth masks.
Mr. Pham Quang Anh – CEO of Dony Garment Co., Ltd – shared that it was the change that gave Dony the right to choose customers and orders. And at the present time, when the economy is in general difficulty, this unit is no exception. "Doing business, I know the difficult times of the market up and down, but this year alone, the ups and downs are very unexpected. From August to now, orders have decreased by more than 50%, all orders expected to be signed have been cancelled." Mr. Quang Anh information.
However, he said he still tries to "run east, run west", do everything to earn orders and luckily everything is still going smoothly, "resolving" the immediate difficulties. The company must continue to change production products, specifically with old customers who still focus on clothes but maximize the products of uniforms, masks, hats, gloves, protective gear… Contact continue to connect to find new customers through intermediaries, fairs, exhibitions and marketing.
If before, only focused on orders and high-value products, now Dony began to pay more attention to "popular" orders and products. "Escalating prices but having to lower order prices is really difficult for businesses, but it has to be recalculated to accompany workers. Previously, it was possible to calculate profit, but now priority is given to having jobs for workers to maintain. maintain salary, light profit or break even," Quang Anh laughed.