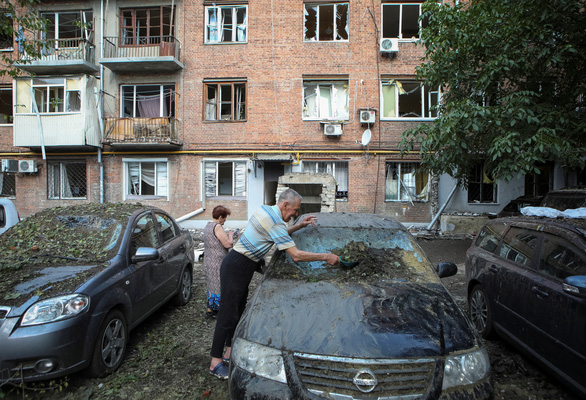 People clean up a car damaged by artillery shelling by Russian forces in Kharkov, Ukraine on August 11, Photo: REUTERS
Today, August 24, marks the 6th anniversary of Russia launching a "special military operation" in Ukraine. August 24 is also the day Ukraine celebrates its 31st National Day.
The Office of the United Nations High Commissioner for Human Rights said the actual number of civilian deaths in Ukraine could be higher, as armed conflict could delay reporting of deaths.
The agency said the majority of civilian casualties recorded were due to the use of explosive weapons with a wide range of effects, including artillery shelling from heavy artillery and rocket launchers, rocket launchers and air strikes. .
According to the United Nations, the Russia-Ukraine war has left 17.7 million people in need of humanitarian assistance.
The agency warned the crisis could affect even more people as winter approaches.
Currently Ukraine is caught between the risk of financial crisis and the goal of standing on the battlefield, according to Financial Times.
Many businesses have been forced to close in conflict zones. Current fuel shortages could force many companies to go out of business.
The World Bank predicts that 55% of Ukraine's population will live in poverty by the end of 2023, a sharp increase from 2.5% before the conflict.
Meanwhile, Ukraine's tax revenues have plummeted while military spending has skyrocketed. The national government faces a budget shortfall of $5 billion a month.
The Central Bank of Ukraine has printed money and issued government bonds worth $7.7 billion in the past six months, but this is an unsustainable policy.
Given the prospect of prolonged hostilities, Ukraine could experience soaring inflation, further eroding the value of Ukraine's hryvnia currency, which has fallen by about a third since the conflict. Inflation forecast in Ukraine will definitely reach 30% by the end of this year.