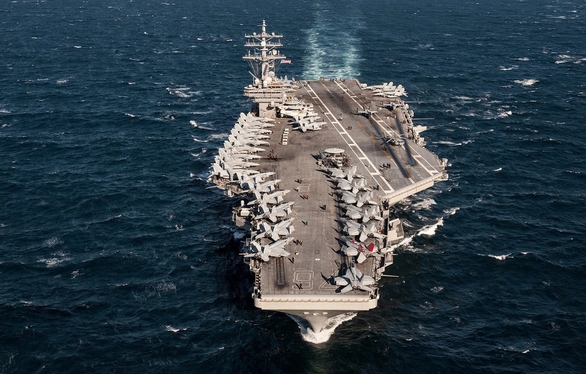 In this photo on October 28, 2015, the aircraft carrier USS Ronald Reagan passes through the waters east of the Korean peninsula – Photo: YONHAP
According to Reuters news agency, this is the first time in four years that a US aircraft carrier has returned to South Korea.
Currently, the aircraft carrier USS Ronald Reagan and its corvettes have docked at a naval base in the city of Busan, 390km south of Seoul, amid concerns about the possibility of North Korea conducting a nuclear test. or other provocative actions.
The appearance of the ship – the center of America's naval power – comes after South Korean President Yoon Suk Yeol and US President Joe Biden reaffirmed their commitment to deploying US strategic assets in a "timely and coordinated manner as necessary" during their summit in Seoul in May 2022.
"The deployment of the aircraft carrier here is aimed at demonstrating the strength of the South Korea-US alliance and deterring North Korea's nuclear and missile threats," a Seoul official told Yonhap.

South Korean President Yoon Suk Yeol has pushed for joint drills and other displays of military force as a warning to North Korea.
On the North Korean side, earlier this year, the country tested missiles with a record number. Observers say Pyongyang also appears to be preparing for a nuclear test again. If true, it would be North Korea's first nuclear test since 2017.
North Korea condemns previous demonstrations of military force by the United States and South Korea, viewing their joint drills as rehearsals for war and evidence of the hostile policies of Washington and Seoul.
The last time a US aircraft carrier visited South Korea was in 2018. That year, the United States and South Korea scaled back many of their joint military activities amid ongoing diplomatic efforts with North Korea.
But those denuclearization talks have stalled. This month, on September 9, North Korea passed a law authorizing pre-emptive nuclear strikes, and declared the country a "nuclear state", according to the report. Korean Central News Agency KCNA.